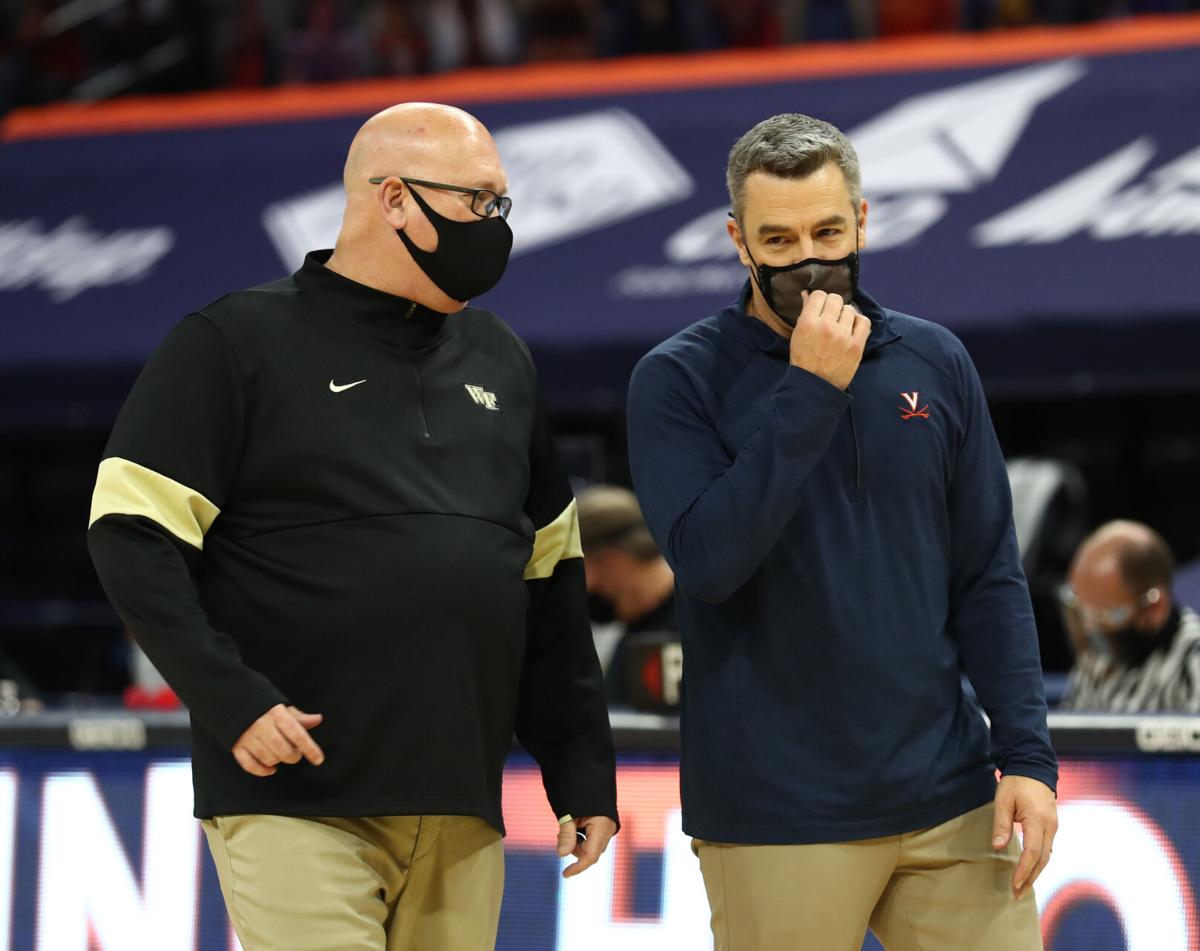 Growing up a coach's son, Jeff Capel never understood why basketball coaches wore suits and baseball managers dressed like they were about to start at shortstop. Neither game-day outfit seemed appropriate to him.
"When I was younger, I used to ask my dad all the time, 'Why is it only basketball coaches that have to wear suits?'" Capel, Pittsburgh's head men's basketball coach, said. "I've also never understood why the hell a baseball manager has to wear a uniform. I don't think that's a good look either for some of these managers."
Fortunately for Capel, he hasn't needed to wear a suit this season.
ACC men's basketball coaches agreed before the season to wear more casual clothing, with many coaches grabbing polos out of their closets rather than designer suits.
UVa head coach Tony Bennett agrees with Capel's sentiment. Despite showing up on internet lists of the best-dressed and most handsome coaches, Bennett much prefers the casual attire he's worn this season to the suits in years past.
"There's no way that coaches should ever go back to wearing suits," Bennett said recently on his radio show. "Come on. We're basketball coaches. We're not curing anything important."
Bennett typically has worn a Virginia polo or quarter zip on the sideline this season to go with khakis. His assistant coaches do the same.
The change is a welcomed one for Bennett, who wore a suit and tie at the beginning of his UVa tenure in part due to the suggestion of then athletic director Craig Littlepage. He ditched the tie in recent seasons, wearing a dress shirt and sport coat.
This season, he's joined his ACC peers by letting loose and wearing team-issued polos. It's a change he's hoped for since the beginning of his time at Virginia.
"I'm like, if we ever can get good enough, I'd love it if I would never have to wear a tie," Bennett said. "Littlepage was like, 'Ah, it'd be good.' And the other thing was that we could keep the lights on and just get to playing the game instead of all the nonsense."
Some of the "nonsense" is gone this year, too.
There's significantly less activity geared toward fans than in previous seasons due to limited attendance figures, but it's unlikely the pregame pageantry at John Paul Jones Arena is gone for good. When fans return in droves, expect plenty of festivities ranging from hype videos to lengthy and dramatic player introductions before tipoff.
Wearing suits on the sideline, however, could be a thing of the past for Bennett and ACC coaches.
Wake Forest head coach Steve Forbes chuckled at the notion that he might be in a hurry for coaches to return to wearing suits. The new ACC coach spoke on a Monday teleconference while wearing a Wake Forest hoodie.
"Do I look like a person who would miss wearing suits?" asked Forbes. "I mean, come on, man. I got the Belichick look going on today."
A few coaches, including Boston College's Jim Christian, said the change makes perfect sense this season with games feeling almost like practices or scrimmages due to the lack of attendance stemming from COVID-19 restrictions. Georgia Tech's Josh Pastner says he's not one for dressing up, although his wife misses the formal attire since game days were the only time he'd put on a suit.
Forbes says wearing less formal clothing doesn't alter how he approaches game days, and it's a change he likes.
"I'm not coaching any different," Forbes said. "I'm just more comfortable, and that's kind of important for me. You know, some of these guys who look like GQ models, probably doesn't affect them as much as it does me. I'd rather have a little more arm room when I'm coaching, so I've actually really enjoyed it."
Forbes isn't alone in supporting the change, but it's not a unanimous decision among ACC coaches to stray away from suits beyond this season.
Virginia Tech head coach Mike Young doesn't miss the traditional suit, but he expects to go back to the look next season when leading the Hokies.
"I'll wear a coat and tie," Young said. "I think that's how we're supposed to dress."
N.C. State head coach Kevin Keatts didn't commit to wearing a suit next season, but the Wolfpack's leader possesses an array of impressive ensembles. From plaid outfits to blue jackets to a classic black suit, Keatts owns options.
He's even known to rock a red suit from time to time, pulling off a look in line with N.C. State's school colors. It's daring, but Keatts makes it work.
"You think about all those years that we've invested in buying suits, and now we don't wear them — and I'm not saying that's where we should go back to — but it is a different feeling," Keatts said.
The stylish coach of the Wolfpack hinted about a possible return to a more elegant look this season.
"I miss my lucky suit," Keatts said. "I've got a suit that I've never lost in before, so I may even put that on."
As superstitious N.C. State fans wonder why Keatts doesn't choose his lucky — and undefeated — outfit every game, Notre Dame's supporters ponder just how far Mike Brey will push the limits of business casual.
Notre Dame's head coach, who previously wore shorts and a Notre Dame t-shirt when the Irish won the Maui Invitational in 2017, once again caught the attention of basketball fashion fans when he wore shorts for a Jan. 2 game against North Carolina this season.
The look likely made West Virginia head coach Bob Huggins proud. Huggins is arguably the college coach best known for dressing casually, as he usually sports a windbreaker on the sidelines and has for years.
Huggins is the king of comfort in the college basketball world.
"I have a feeling moving forward that it may be hard to get a lot of coaches back in suits, and I'm sure going to be one of them," Brey laughed. "Actually Bob Huggins is gonna run a seminar this summer on sideline attire, and I will be attending that."
ACC coaches have plenty to worry about this season. From keeping their players and coaches safe from COVID-19 to trying to win at home without packed arenas to crafting game plans for challenging opponents, coaches are busy.
When it comes to packing for a road trip, tossing team-issued polos into a suitcase makes for one less concern. The reigning national champions seem gleeful about that change.
"Trust me, it's been discussed multiple times with our staff," Bennett said. "We're not a GQ staff."