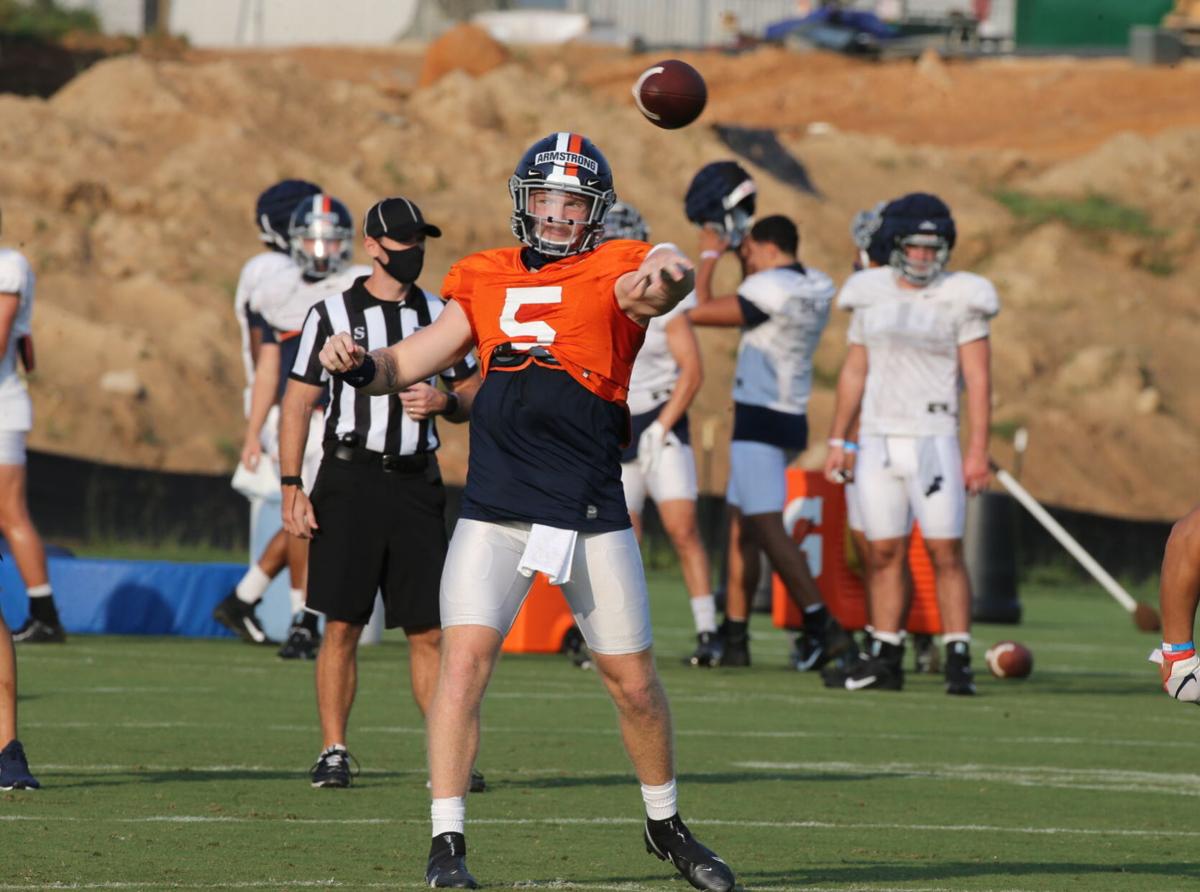 National coverage of the Virginia football team questions how the Cavaliers can put together a successful season without Bryce Perkins.
Bronco Mendenhall is well-respected in the coaching ranks, but can the Cavaliers be an ACC factor without one of the most dynamic athletes in the conference?
With Perkins gone, Mendenhall aims to answer the question with Brennan Armstrong.
While there's no mistaking the left-handed quarterback for Perkins, Armstrong brings a dynamic element to UVa's offense. The quarterback from a blue-collar Ohio town brings an on-field fire UVa fans have yet to witness.
"One of Brennan's greatest strengths is work ethic," quarterbacks coach Jason Beck said Friday. "I mean, he's a really hard worker. He's a competitor. You know, he's kind of a fighter. Bryce was very calm. Brennan's more intense on the field."
In his two virtual media sessions this offseason, Armstrong appeared stoic. In April the quarterback assured the media he's a fiery competitor on the field, but he hasn't yet been in a position to showcase his fire in a game.
With UVa's 2020 fall schedule finalized, Armstrong's first career collegiate start comes in Blacksburg against the Virginia Tech Hokies. The important in-state rivalry opens UVa's fall slate.
Sounds like a good spot to showcase his intensity.
"In my mind, I knew if I played after Bryce after two years, I was like, 'Oh shoot, I'm gonna have Georgia,' so that was a big game to start with and then when those got canceled and we went to Virginia Tech I was like, 'Well, it's still another a big game,'" Armstrong said. "I was kind of prepared the whole time that it was gonna be a big game for us and just a huge step for the program being that first game that I was gonna start."
Despite feeling prepared to showcase his playing style and fiery nature in an important season opener, it wasn't a guarantee Armstrong would earn the starting nod earlier this offseason. The coaching staff brought in Keytaon Thompson, a transfer from Mississippi State.
Thompson brings more athleticism to the table, possessing traits similar to Perkins.
He appreciated the coaching staff being transparent during the process of seeking out a graduate transfer for increased depth at the position. Armstrong relished the competition once Thompson arrived.
"The competition was great," Armstrong said. "It makes everyone better, so you can't ask for much more than that."
Beck credited Armstrong's understanding of the offense in helping the redshirt sophomore win the job. Armstrong himself admits Thompson's task of learning offensive coordinator Robert Anae's offense in a matter of months was a challenge.
The result was an advantage for Armstrong, who used accuracy and field awareness to put his knowledge of the playbook on display.
"I think a lot of it has to do with his experience in the system, his knowledge of everything that we do," Beck said of Armstrong winning the starting job. "And so with that big head start with being here for two years just gave him a big leg up and it kept him ahead in the competition throughout it."
Mendenhall leaned on data throughout the competition to name an eventual starting quarterback.
"Really, when I'm under pressure or I'm making critical decisions, it's a pretty simple mantra I use, that facts are our friends," Mendenhall said. "So the numbers matter to me. And so completion percentage, how the offense is moving the ball, touchdowns scored, all the things that are relevant to helping our team win. We chart everything and I was just really impressed with his numbers and the results and that led to a body of work and that was over time, a cumulative effect that made it clear to me that he was the best player for us at that spot."
A simple, data-driven approach led to the fiery Armstrong winning the job.
After years of waiting for his turn behind Perkins, Armstrong earned the right to become Virginia's starting quarterback.
"I'm just very grateful," Armstrong said. "That's what I came here to do, eventually start, and I'm just grateful that my teammates are the people that I have around me. Just super excited."
Be the first to know
Get local news delivered to your inbox!