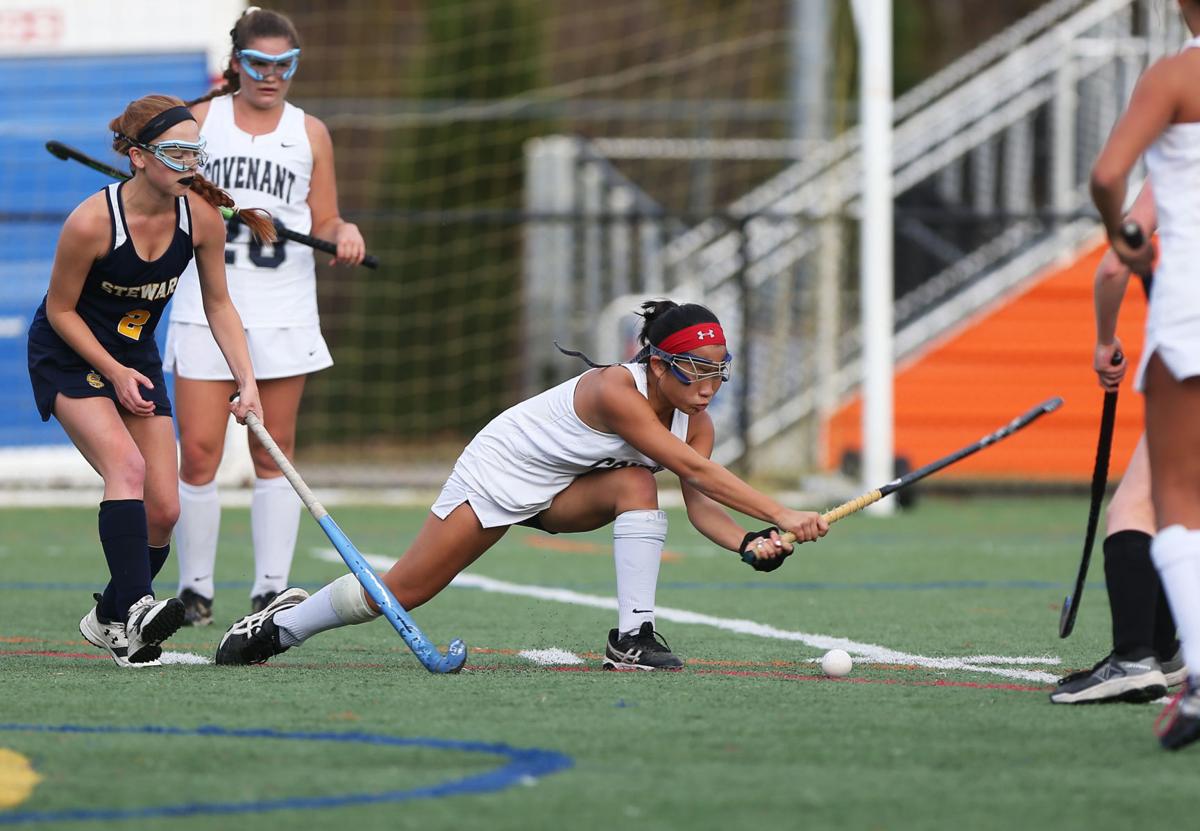 Abigail Shim grew up playing field hockey just a stone's throw from the University of Virginia.
The 2019-20 Central Virginia field hockey player of the year will have an opportunity to showcase her talents on UVa's blue turf after committing to the Cavaliers.
"Having grown up in Charlottesville, I have always known that UVa was the school that I wanted to go to," Shim said. "Throughout my recruiting process, various Division I schools reached out and offered me spots in their program. However, UVa has a very high level of academics and athletics, which was something that I was looking for."
Shim has been a dominant force in Central Virginia field hockey over the past several years, following in the footsteps of her older sister Lizzy, a rising senior with the Cavaliers' field hockey program.
As a high school freshman at Covenant, Shim garnered Blue Ridge Conference player of the year honors and was a first team all-state and All Central Virginia selection for the Eagles.
The following year, Shim took home even more hardware after scoring 10 goals and tallying six assists in 13 games to earn all-state honors and lead Covenant to another state tournament appearance.
On the club circuit, Shim has been a Futures/Nexus National Champion selection in U14, U16 an U19 and was an AAU Junior Olympic gold medalist. She also was invited to participate in the U19 Stars and Stripes Elite game.
"As a player, I am very attack-minded, which helps me in various parts of my play," Shim said. "The coaches particularly like my contributions to the press and my ability to carry the ball."
Shim projects to play either in the midfield or as an attacker at Virginia. Shim's familiarity with Virginia's program because of her sister has provided a sense of comfort with the program and school.
Shim believes her skill set and work ethic should blend in nicely at UVa.
"Every team has its own style of play, so, heading into the next level it is really important that I learn and adjust quickly to UVa's specific style," she said. "For my own personal improvement, I am going to focus on gaining explosiveness and speed in my play in order to match up to the level of competition of D1 athletics."
After a year away from competitive field hockey because of COVID-19, Shim said the recruiting process for her and others in the 2022 class was tedious. The NCAA granted current college athletes an extra year of eligibility, which limited roster spots on teams as well as available scholarship money, which Shim said became a factor to consider throughout the process.
"Not having hockey throughout the summer and fall of last year also played a big impact in the recruiting process," Shim said. "The stretch of time in which coaches could not see my play added extra pressure to improve dramatically when tournaments started up again."
While unable to play in games, Shim did have the opportunity to train with her sister Lizzy.
"Having already had experience at the college level, she has helped me learn different aspects of collegiate play to help me improve my game and have a smoother transition from high school," Shim said. "When she came home because of COVID, she was able to train and teach me specific skills and parts of the game that I don't get to see during high school play."
Academically, Shim plans to apply to the McIntire School of Commerce at UVa and pursue a degree in business. With her college plans finalized, Shim can now focus on her final year of high school. Shim's original plan was to play and study abroad to give her a new experience heading into college. After the pandemic quelled those plans, Shim elected to pursue other opportunities.
Shim will remain in Charlottesville for her final high school season, but has elected to transfer to St. Anne's-Belfield, a place that provided a great academic and athletic challenge that she was looking for.
"I am very excited to play for STAB this upcoming season," she said. "Coach [Tara] Harington and all of the girls on the team have been so welcoming to me. Coach Harrington has D1 coaching experience, which is also something I am very excited about."
After playing her senior season at STAB, Shim could potentially play alongside her sister at Virginia, which would be a moment should would treasure.