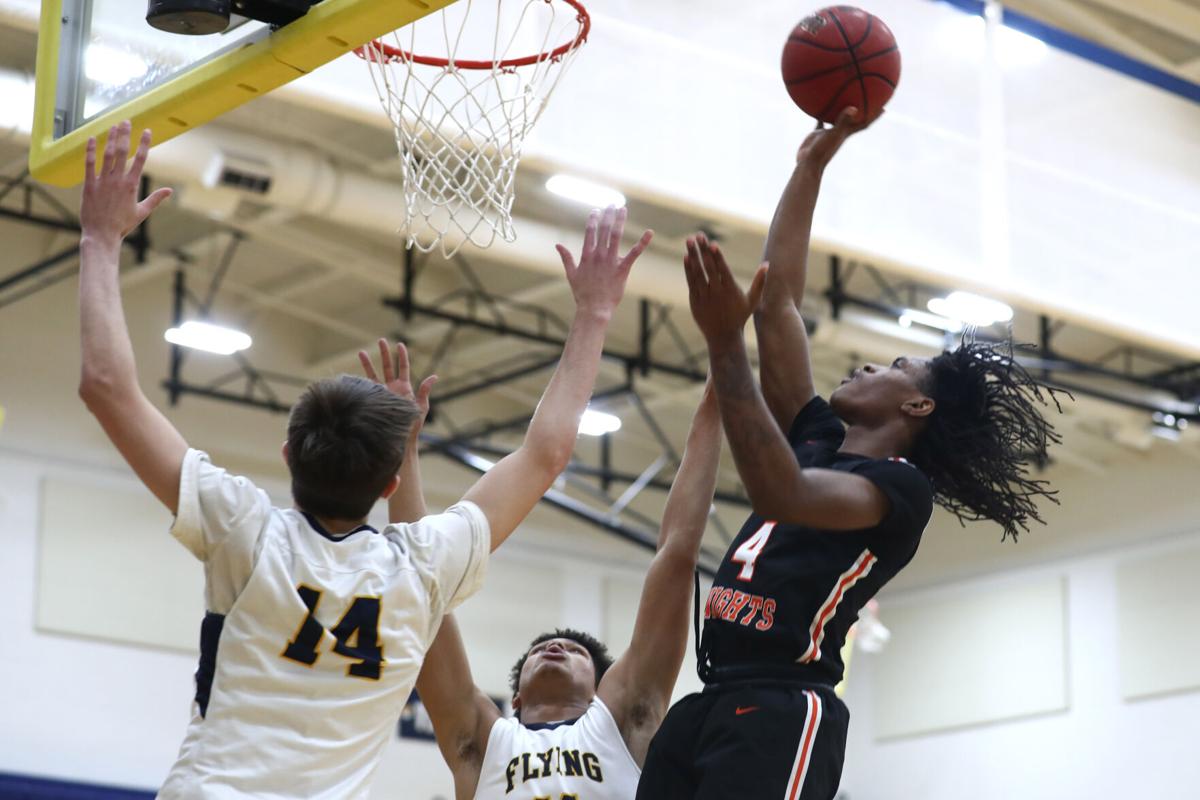 PALMYRA — Zymir Faulkner has played in a lot of big games during his career at Charlottesville High School, but there was a little something special in the air Tuesday as he took the floor for the Black Knights' season opener at Fluvanna County.
Last month, Charlottesville City Schools elected to delay the start of the winter sports season because of a surge in COVID-19 cases. So after nearly three weeks of team practices, the Black Knights were excited to have an opportunity to take the floor again as a unit.
Faulkner and his teammates made the most of the opportunity as the Black Knights posted a 67-56 victory over the previously undefeated Flucos.
"It was so exciting," Faulkner said. "I haven't played in a VHSL game in like a year and my nerves were just blurred by my excitement. I went to sleep real early last night and I never go to sleep early. I'm really excited and glad we're back out here."
Charlottesville (1-0, 1-0 Jefferson District) were without head coach Mitch Minor, who continues to recover from an offseason surgical procedure. Assistant coach Andy Jones assumed the head coaching role and the Black Knights didn't miss beat as they raced out to an early lead.
Khishan Gary scored 11 points off the bench and Nic Motley added five more as the Black Knights took a 33-14 lead into halftime. Gray wasn't the only reserve to make an impact. Aiden Gray, Quincy Edwards and Nasir Lindsay helped combine for 16 CHS bench points in the first half alone.
Faulkner was excited with the way the team spread the wealth on the scoresheet.
"Last year we were deep," Faulkner said, "but I feel like if we're tired, these guys can come in and do the same job that we were doing."
Charlottesville continued its strong play in the third as Motley converted a steal into a layup with 5:36 left to give his team a commanding 40-21 lead.
After a timeout, Fluvanna County finally found its legs offensively behind the potent 1-2 punch of Xavier Copeland and Kobe Edmonds. The duo combined for 10 points, including Copeland's buzzer-beater at the end of the third to trim the lead to 48-35 with eight minutes left.
The Flucos' comeback continued in the fourth. Copeland scored eight points during a 10-2 run that pulled Fluvanna County within 50-45 with 5:30 left to play.
That would be as close as the Flucos would get as Charlottesville turned to Faulkner to take over the game. The senior guard scored eight points in the final frame, including a baseline runner with 56 seconds left to push the lead to 15 and put the game out of reach.
Faulkner said the team's experience showed down the stretch.
"Nic is a good leader, and I've got to step up as a leader because I'm a senior," he said. "I feel like the leadership [was key] and Coach Jones was staying on our butts about staying focused."
Faulkner scored 21 points to lead the way for Charlottesville. Christian Stewart-Carter added 10, Motley finished with nine and Hicks tallied six in his varsity debut.
Copeland led all scorers with 25 points for Fluvanna County, while Edmonds finished with 20 in the loss.
Charlottesville's players are hoping Tuesday's win is the start of a special season.
"It gives us a lot of confidence," Faulkner said. "Fluvanna was undefeated and like I told the team before the game, let's go knock an undefeated team off."