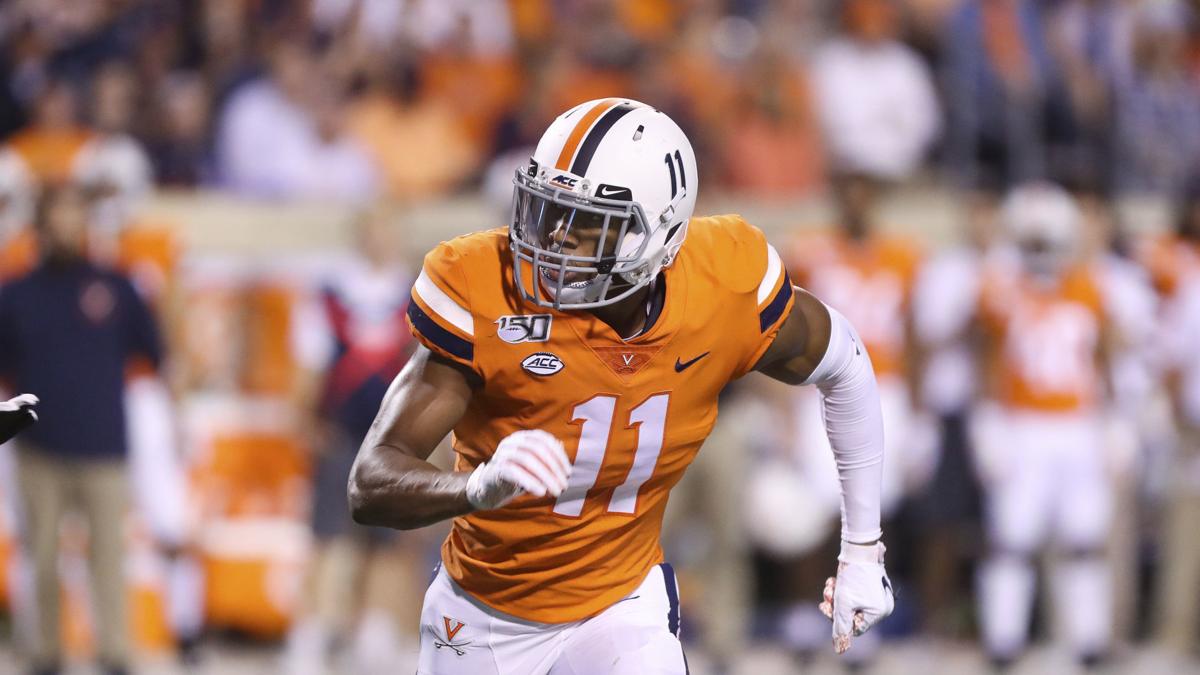 Bronco Mendenhall wants to win football games. Make no mistake, UVa football's head coach expects excellence on the field.
Off the field, Mendenhall wants to see his players representing UVa in an honorable fashion. Through community involvement and academic achievement, Mendenhall encourages his players to be much more than athletes.
No player meets that expectation as well as senior linebacker Charles Snowden.
Standing 6-feet-7-inches tall and weighing 235 pounds, Snowden possesses a blend of speed, size and length that makes NFL scouts drool.
He finished the 2019 season with 72 tackles, including 11 tackles for loss and five sacks. Long arms aren't just good for tackling — he's broken up 15 passes in the past two seasons.
A menace in passing lanes and a disruptor in the backfield, Snowden has started in all 27 of Virginia's games in the past two seasons. Athlon Sports named him a preseason second team All-ACC player entering the 2020 season.
He's a star on the gridiron.
"Talking to an NFL scout last week, I told him I don't know if I've been around a player that has as much energy as Charles," co-defensive coordinator Kelly Poppinga said in late May. "Every single day Charles shows up, pumping the arms up, hyped up. It doesn't matter if it's a run, if it's a lift, if it's a practice. Charles is always bringing that energy and trying to be contagious with it."
Snowden brings the on-field energy in bunches. Given his commitment on the field and his engagment off it, Snowden earns the respect of his peers.
When the massive linebacker speaks, players listen.
"You walk into a room and that guy, man, he fills up the room," Poppinga said. "His personality, his character, the presence that he has, the way that he talks — he kind of has this booming voice — kind of carries through the room, so people listen to him when he talks."
Bronco Mendenhall singled out Snowden and wide receiver Terrell Jana as two players stepping up virtually as the Cavaliers try to navigate an offseason amid COVID-19. Even without the opportunity to lift in groups or meet in-person to discuss scheme, Snowden stands out.
"Those two are exemplary in how they're leading, and I'm impressed," Mendenhall said.
Snowden's impact extends beyond the football field, though.
In recent weeks following George Floyd's death, Snowden has traveled from his Maryland home to Washington D.C. on a handful of occasions to protest racial injustice. He's vocal in his support of the Black Lives Matter movement, and he's willing to use his platform – he has a few thousand followers on various social media platforms – to speak out.
"My parents raised me to know right from wrong, and I'll stand up for what I believe is right, and I'll speak on it," Snowden said. "I'm not one to hold my tongue."
Sharing photos of him at protests led to plenty of media opportunities for Snowden to further use his platform to spread the word about why he's protesting.
He made a radio appearance on ESPN Richmond, and he's spoken to several local news outlets in the past few weeks.
It's hard to follow UVa football and not hear about Snowden protesting racial injustice in the nation's capital.
Snowden also spent roughly 10 minutes on the ACC Network's "Packer and Durham," sharing his message to a sizable television audience.
"I've been given this platform, and I just feel like I needed to do something with it to bring some good, some changes," Snowden said.
During the time away from grounds due to COVID-19, the linebacker came up with the idea for a social media campaign called "'Hoos your Hero." Snowden and other Virginia athletes share photos of their respective jerseys. On the back, where their name would usually go, they've taped over their own name and written the name of a healthcare worker helping out amid COVID-19.
Snowden, who calls medical personnel "the real heroes," wanted to give credit to front line workers putting their own health at risk to help care for sick patients. Snowden's hero is Beth Frackleton, a medical professional within the UVa health system that helps patients manage chronic health.
The two speak frequently, as Snowden aims to use his infectious energy to bring some added positivity to Frackleton's day. From his description, he also benefits plenty from the chance to chat with Frackleton.
"Her and I talk all the time now, and she's just one of the nicest, sweetest people I've ever met," Snowden said. "I can tell, like it really just turned her mood around. The fact that I was able to help her makes it all worth it."
'Hoos Your Hero engaged plenty of other UVa athletes, including some in sports other than football.
Without Snowden's idea, which he brought to the athletic department in April before launching in May, the recognition for those healthcare professionals may not have occurred.
A video of Snowden and others thanking healthcare heroes even made its way onto UVa social media channels. The linebacker spearheaded the effort, reaching out to those he wanted to be in the video and assuring everything was taken care of before Virginia shared it on its social media channels.
"It's incredible," Kevin Thurman, UVa's director of marketing and a social media strategist, said. "It's completely invaluable, and I mean, Charles Snowden is the perfect embodiment of a student and athlete at the University of Virginia. What he brings in the classroom, in the community especially and on the field is second to none."
Snowden believes that his platform, which has grown given his on-field production in recent seasons, affords him the opportunity to impact others.
He wants to make sure that platform is put to good use.
"I've been blessed and fortunate to be put in this position where I can just make change for the good and just touch people's lives," Snowden said.
Despite not taking the field in months, Snowden is making his presence felt in a variety of ways.
From being a leader virtually to protesting racial injustice to supporting healthcare workers, Charles Snowden is much more than a talented linebacker with NFL aspirations.
"He's amazing," Mendenhall said.
Be the first to know
Get local news delivered to your inbox!