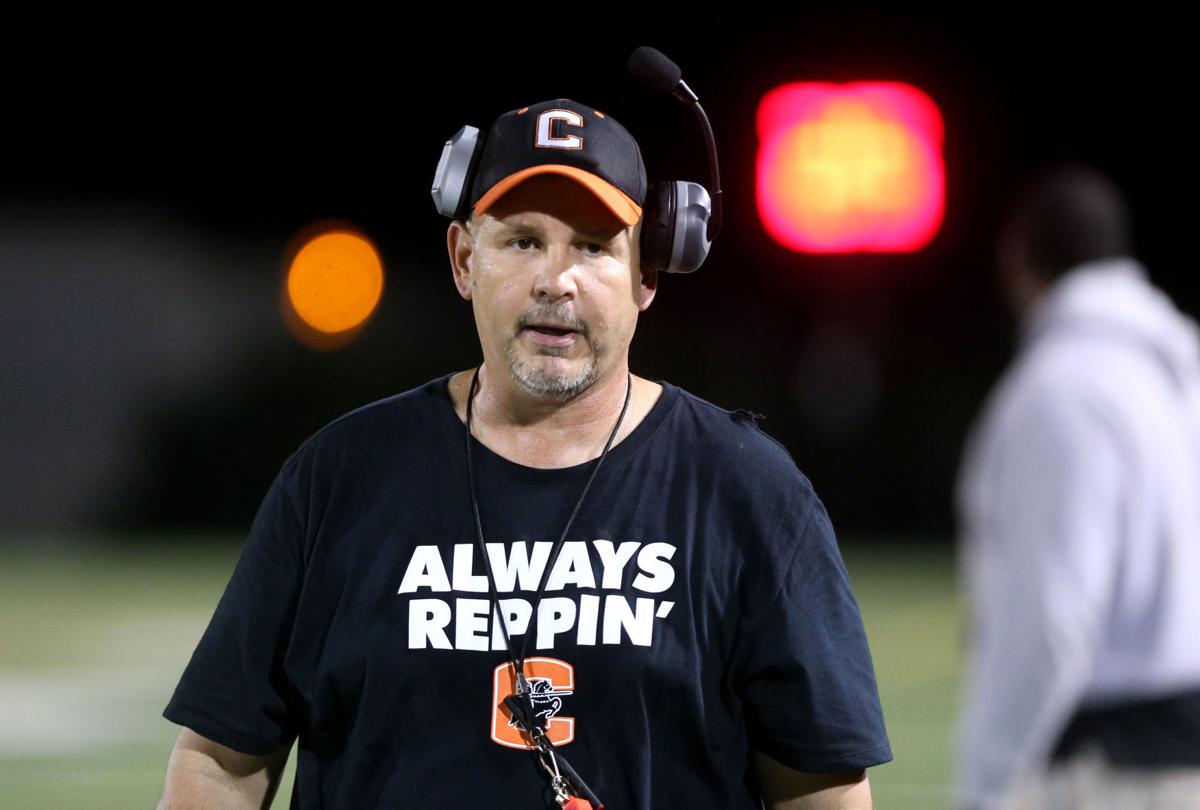 Friday Night Lights are a part of the fabric of life in Central Virginia.
Each fall, thousands of fans spend their Friday evenings supporting their local high school football team. Those bright lights will remain dim this fall.
The Virginia High School League Executive Committee met Wednesday and was presented three recommended proposals for member schools to return to play this fall. All three options included one common theme: No high school football in the fall.
"I've been involved with football since the fifth grade and it has always been in the fall," Fluvanna County football coach Mike Morris said. "It is going to be really strange without football in the fall, but I am all for moving the season rather than not having one altogether."
Wednesday's discussions by the VHSL executive committee are not new. Morris said administrators and coaches throughout Central Virginia and the state have prepared themselves for the possibility of a shortened season as they developed scenarios for a potential return to school and athletics.
Of the three options, the third model of moving fall sports back to the spring appears to have support from football coaches in the area.
"I like Option 3. It allows us to make up lost time in the weight room and see how the year goes with COVID-19," William Monroe football coach Jon Rocha said. "If we start in the fall and the season has to stop because of COVID-19, then we never get it back. It would be lost. This way gives us time to get the kids back in shape and more time to work through any virus issues."
According to the VHSL, member schools remain in Phase II of the return to play plan, which permits only low-risk sports such as golf and cross country a chance to compete, while other fall sports such as football, field hockey, volleyball and cheerleading would be forced to cancel their seasons.
"All three plans have pluses and minuses," Western Albemarle football coach Ed Remond said. "I believe from the perspective of opportunities for all athletes, Model 3 provides the most hope."
Charlottesville football coach Eric Sherry agreed.
"I'm not certain. I know social distancing and playing football is not possible," Sherry said. "My hope is that we follow the guidelines and wear a mask, washing our hands and social distancing while being afforded the opportunity to train safely. I am hopeful we will learn from our mistakes and actually listen to those educated in the field of science and medicine and not the mobs on social media."
Athletes are also supportive of the spring football option.
Louisa County running back Robert Morgan IV suffered a season-ending injury midway through last season and has been champing at the bit to get back on the field. The rising senior said pushing back the season a few months wouldn't be that big of a deal for him.
"If we have to play in March, it will be different, but I will adjust," Morgan said. "My mindset is to control what I can control. I'm just looking forward to getting back out there on the field with my teammates."
Fluvanna County quarterback Kobe Edmonds echoed those sentiments.
"I think it's smart what they're doing to be on the cautious side," Edmonds said. "It will definitely give a lot of people more time to get in better shape.
"I would love to play football in the spring. It would be great weather and it would definitely be different around school because usually in the spring is when a lot of people are playing travel sports and offseason workouts, but the idea is great."
One of the downsides to the condensed schedule is the possible adverse effects it could have on multi-sport athletes. Especially with smaller schools, coaches work together with other programs in their school to come up with plans to allow athletes to train and participate in multiple sports during a season.
For example, Will Trent has been an all-state track and field standout at Monticello the past two seasons. Last fall, he played football and was a two-way performer for the Mustangs. Under the Model 3 plan, several of his sports would overlap.
"I think that as long as I have a chance to play football one last time in high school, I am fine whenever we play," Trent said. "The same goes for track. We all just want to play and will do what it takes to be back on the field."
The rising senior, who has college interest in both sports, doesn't think it will affect him too much, but could see where it would cause issues with other athletes.
"These changes hopefully shouldn't affect me too much due to football and track being played during different times," Trent said. "However, I am worried about how football and lacrosse being played in the same season will work. I think that will cause conflicts of interest between many players and as a result, both teams will suffer."
New Monticello football coach Matt Hicks spoke to his players and coaches on a group chat after Wednesday's meeting and was encouraged by the plans.
"We love that two of the options give us an option for a season," Hicks said. "I personally would love to see Option 3. While I would be in favor of either option that gives us a season, I feel like Option 2 could present some issues with our lacrosse players and coaches."
Hicks said he spoke with the Monticello players' leadership council and they signed off it too.
"Our plan is to keep working together as long as we can," he said. "The procedures put in place have made our conditioning sessions very safe and I have been very encouraged by the maturity of our players during these very challenging and uncertain times."
Logistically, Orange County football coach Jesse Lohr thinks football in the spring could have its positives.
"It's going to be weird not having football in the fall," Lohr said. "But normal is different and we must get ready for the new normal. Decisions are being make to help these student-athletes to have a season. Starting practices with less light in February, in the cold instead of the heat, will be different. Most kids probably would like that."
The later start could serve as a benefit as coaches will have opportunities to improve the program, both on and off the field.
"I will use the extra time to maybe do some fundraising to help make up for lost time and opportunities," Morris said. "And just rearrange my lifting and conditioning schedules. I may be able to better evaluate my personnel and put them in the best positions to help the team and themselves succeed."
Morris acknowledged it could be helpful for the athletes too.
"A lot of kids can change tremendously over a summer break, so imagine what an extra six months can do," he said. "And who knows, by maybe that old saying, 'absence makes the heart grow fonder' will apply to a lot of players who miss the game of football this fall. 2020-21 is definitely a different year."
Whichever plan is chosen, Sherry said the main focus is keeping everyone healthy during the pandemic.
"It's so much bigger than football," he said. "If COVID allows us to play ball in the spring, that would be great. First and foremost, you make sure your kids are doing OK. This has been a unique and difficult time and you want to make sure they are OK. It will be challenging, but you ask your team to look at these obstacles as a way to learn and grow. We will adjust to the change and rise above."
Be the first to know
Get local news delivered to your inbox!