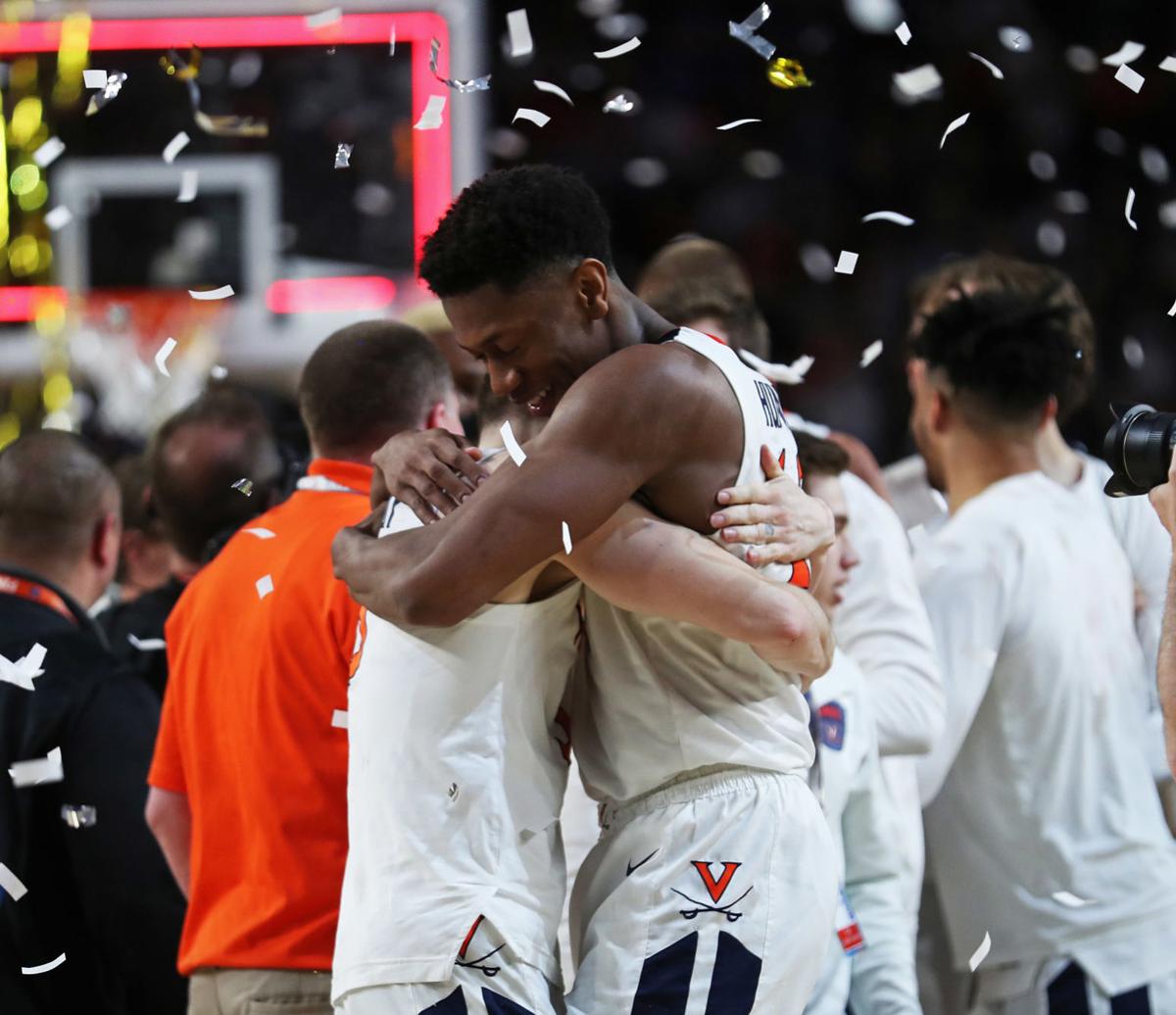 You're in luck, Virginia fans.
Despite a lack of collegiate sports, UVa men's basketball will grace your television set for six hours Tuesday night.
While sports are noticeably nonexistent at the moment, the Cavaliers' historic 2018-19 run to a national championship offers ample content to help fans of the Wahoos through this global pandemic.
After UVa's national title game win over Texas Tech aired on CBS on Sunday afternoon, CBS Sports Network will air back-to-back-to-back broadcasts from Virginia's 2019 NCAA Tournament run Tuesday night beginning at 6 p.m. The network will air UVa's final three NCAA Tournament games in order.
At 6 p.m., UVa's Elite Eight win over Purdue begins. The Cavaliers won the game 80-75 in overtime to make the Final Four. The game is most remembered for Mamadi Diakite's iconic buzzer beater in regulation off a pass from Kihei Clark to tie the game and send it to overtime.
Once in overtime, Virginia outlasted a red-hot Carsen Edwards and Purdue to win the contest by five points. Edwards dropped 42 points for the Boilermakers, but Diakite and company prevailed with a thrilling triumph.
At 8 p.m., CBS Sports Network will broadcast Virginia's win over Auburn in the Final Four. In yet another exhilarating matchup, UVa won 63-62.
Kyle Guy starred in the Final Four bout, making three free throws in the final second to pull UVa ahead 63-62. He also made a 3-pointer just seconds before his free throws to cut the deficit from 61-57 to 61-60. Guy proved clutch in the final seconds.
At 10 p.m., the network will air the national championship game against Texas Tech. This nailbiter ended with Virginia winning 85-77 in overtime. De'Andre Hunter led the way with a career-high 27 points despite a slow shooting start.
As fans practice social distancing and spend time indoors to help slow the spread of the coronavirus, there's no better time to binge UVa's run to the national title.
Diakite honored
Diakite earned All-District 2 second-team honors from the National Association of Basketball Coaches on Monday. The redshirt senior forward ranked eighth in the ACC in blocks (1.3), 11th in defensive rebounds (5.2), 13th in scoring (13.7) and 15th in free throw percentage (75.4) and rebounding (6.8).
Jordan Nwora (Louisville), Tre Jones (Duke) Vernon Carey Jr. (Duke), Devin Vassell, Florida State and John Mooney (Notre Dame) were named to the NABC All-District 2 first team. Joining Diakite on the second team were Elijah Hughes (Syracuse), Landers Nolley II (Virginia Tech), Markell Johnson (N.C. State) and Aamir Simms (Clemson).