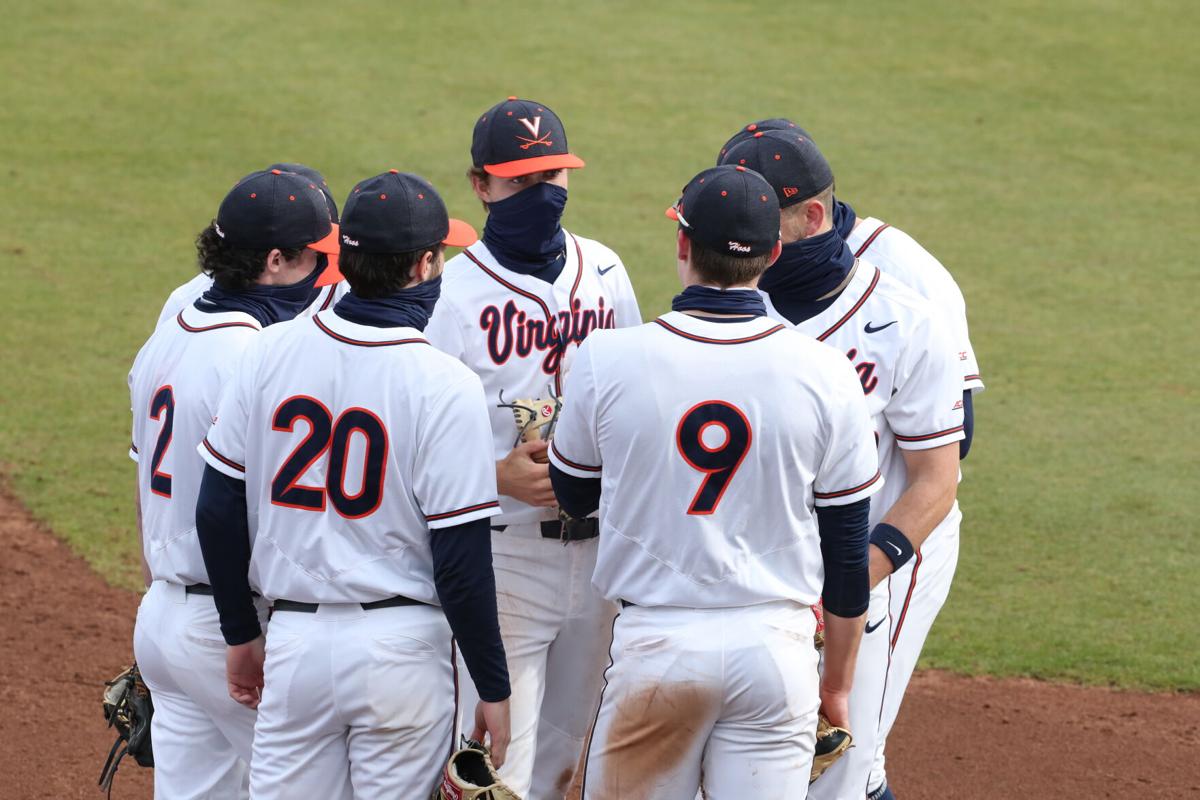 Virginia baseball coach Brian O'Connor realized something about his team last weekend at North Carolina, and it had nothing to do with the Cavaliers' on-field performance.
"I tell you the biggest thing that I learned is how much our players eat," O'Connor said Tuesday. "It is incredible."
In a normal season, O'Connor and his staff give their players meal money and student-athletes grab food with teammates or family members. This season, due to one of many COVID-19 protocols, the team gets food delivered to avoid potential exposure to the virus.
"When you're having to actually deliver them everything that goes into their mouth, I just can't believe, maybe at that age I ate that much, I don't know, but it's just one thing after another," O'Connor said.
While O'Connor joked about his team's appetite, an ACC road series in 2021 comes with major challenges. UVa's next road ACC test is this weekend's series at Florida State, which begins Friday at 6 p.m.
A shortened MLB Draft this offseason led to an influx of returning talent, making the league arguably the best it's been in the past 10 years. Seven ACC teams were included in the latest D1 Baseball top 25 poll, including UVa (5-3, 1-2 ACC) at No. 16. The Seminoles (2-4, 0-3 ACC) weren't ranked this week, but they entered the season in the top 25.
The conference is loaded with talent, and playing on the road only enhances the challenge of winning a series. Road trips mean following strict health protocols to limit exposure to COVID-19. The team used three busses to travel to North Carolina last weekend.
Sophomore Max Cotier only experienced one road series last season, and he never played an ACC road game until facing UNC. Cotier says the experience in 2021 isn't too bad, and the biggest adjustment for him is the spacing on the bus.
"I got my own seat on the bus," Virginia's second baseman smiled. "So I'm OK with that."
Cotier enjoys the extra space during travel, but following protocols against a team as far away from Charlottesville as Florida State presents a challenge. The coaching staff worries about COVID-19 in addition to the planning required to beat some of the best teams in the country.
Once the team safely arrives at its road destination, the on-field challenges are massive. UNC's stellar pitching staff stifled UVa's lineup last weekend, allowing just six runs.
The Cavaliers have scored two or fewer runs three times this season, going 1-2 in those contests. They're hoping to build off a good showing Tuesday, when they posted 11 runs against George Washington.
"We need to keep going back to our fundamentals and what we're taught," senior outfielder Brendan Rivoli said after the win.
Rivoli says the team tried to hit the "reset button" heading into the George Washington game. He felt the Cavaliers were swinging at bad pitches in the UNC series, giving the Tar Heels the advantage most at-bats.
Against Florida State, plate discipline can prove to be an advantage. The Seminoles are walking an average of 6.8 batters per game, the most in the ACC.
O'Connor wants his team to start innings with better at-bats.
"I think I can count it on one hand the amount of times in 27 innings that we had a leadoff guy on," O'Connor said of the UNC series. "And [against George Washington] we had five out of the eight innings, and certainly it makes a difference in your offensive production."
The Cavaliers head to Tallahassee hoping to win an ACC series. When they have time in between meals, their focus lies squarely on offensive production.