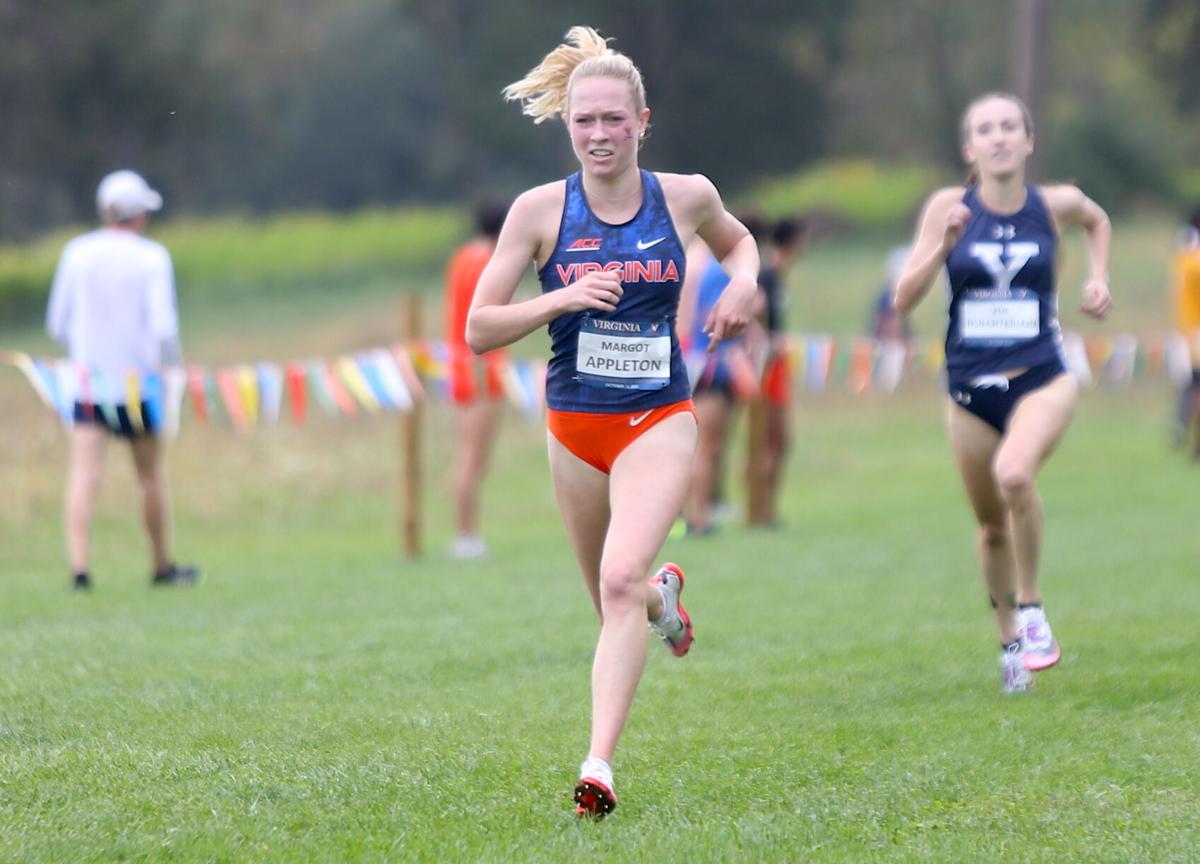 The Virginia men's and women's cross country teams both finished second in Friday's XC23 Invitational at Panorama Farms.
Yale was victorious in the women's 5,000-meter race, while Penn took first place in the men's 8,000-meter event.
Virginia freshman Margot Appleton was the runner-up in the women's race with a time of 17:13.8. Yale senior Kayley DeLay cruised to the victory with a time of 16:39.0.
UVa graduate student Michaela Meyer, who won the 800-meter national championship at the 2021 NCAA Outdoor Track & Field Championships, had her best finish of the cross country season, placing sixth with a time of 17:31.3.
First-year runner Mia Barnett, who won the Virginia Invitational in the team's last home meet, was seventh at 17:33.6. Taylor Jones finished in 20th place (18:14.0), while Lila Fenner crossed the finish line in 23rd (18:17.6) to round out the team's scoring.
UVa finished with 58 points, while Yale managed 32 points to secure the win.
In the men's race, Rohann Asfaw led the Cavaliers, finishing fifth in a time of 24:13.3. Yasin Sado was 10th at 24:40.1 to give UVa two top 10 finishers.
Jacob Hunter was 15th in 24:43.5, Colin Peattie was 17th in 24:46.2 and Johnny Rogers rounded out the team's scoring in 18th place at 24:48.1.
Eastern Kentucky's Ahmed Jaziri won the men's race with a time of 23:52.9.
"Whenever you have a young team, you're going to have to roll with the punches," Virginia head coach Vin Lananna said. "I think we have a first-year heavy group. We just need to be patient and take it one step at a time. There were some really positive things that happened today. We are finally starting to get people back and healthy. Margot was great in the women's race. On the guys' side, we had all sorts of people who were sick but now we're starting to get things together."
The meet was Virginia's final competition of the regular season. The Cavaliers will compete at the ACC Championships at Notre Dame on Oct. 29.
"I'm excited about what the next couple of weeks will work like," Lannana said.