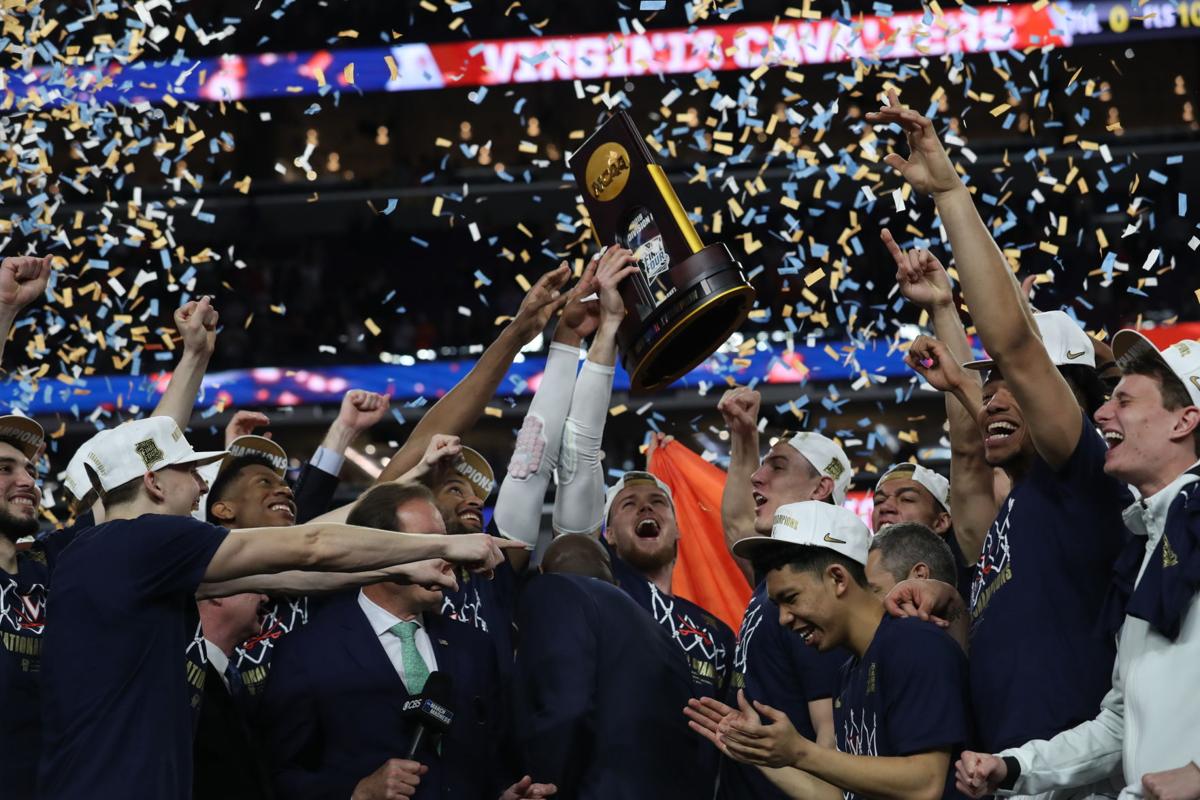 The Virginia men's basketball team will raise its new national championship banner and players will receive their championship rings during a special ticketed event at John Paul Jones Arena in September, the school announced on Wednesday.
"A Night with the National Champions" will begin at 7:30 p.m. on Friday, Sept. 13 and will include speeches from Virginia men's basketball coach Tony Bennett as well as several players from last season's national championship team.
The event also will include video tributes that will play on the Hoo Vision board. The evening will conclude with the presentation of championship rings and the raising of the national championship banner into the John Paul Jones Arena rafters.
Raising the national championship banner prior to the start of the next season has become the norm in college basketball in recent years.
Villanova raised both of its recent national championship banners (2016 and 2018) during its annual "Hoops Mania" event in October. In 2017, North Carolina raised its national championship banner in October during its annual "Late Night with Roy" event at the Dean Smith Center in Chapel Hill.
In 2015, Duke raised its national championship banner just 17 days after winning the national championship, then players received their championship rings during a ceremony at the National Archives in Washington, D.C. in September, 2015 prior to visiting the White House.  
Having the event in the mid-September will allow players from last year's championship team who have moved on to the NBA ranks to come back and attend the event. That includes De'Andre Hunter (Atlanta Hawks), Kyle Guy (Sacramento Kings) and Ty Jerome (Phoenix Suns). NBA training camps open in late September. 
The school is selling tickets for the event as well as sponsored tables that will be on the arena floor.
Tickets cost $50 for lower bowl seats and $25 for upper bowl seats. All seating will be general admission.
Sponsored tables for the event will cost $5,000 and $3,000, respectively.
A $5,000 table will include a reserved table on the floor for a group of eight people along with a basketball team member or coach as well as dinner and admission to a pre-event VIP reception with members of the Virginia men's basketball staff from 5-6 p.m.
The $3,000 table includes a reserved table on the floor for a party of eight, dinner and admission to the pre-event VIP reception.
Doors will open at 6:30 p.m. for general admission lower and upper bowl seating and at 4:45 p.m. for VIP and sponsored table guests.
Parking for the event will be free at John Paul Jones Arena and surrounding lots. The JPJ garage will be reserved for table sponsors and their guests.
Concession and merchandise stands will be open for the event, which also includes a silent auction. Fans who are not able to attend the event can still bid on silent auction items online at VirginiaAthleticsFoundation.com starting on Friday, Sept. 6.
Tickets for the event are available at the UVa Athletics Ticket Office in Bryant Hall, by phone at 1-800-542-8821 or online at VirginiaSports.com. Sponsored tables can be reserved by calling the Virginia Athletics Foundation at 1-800-626-8723.
Be the first to know
Get local news delivered to your inbox!