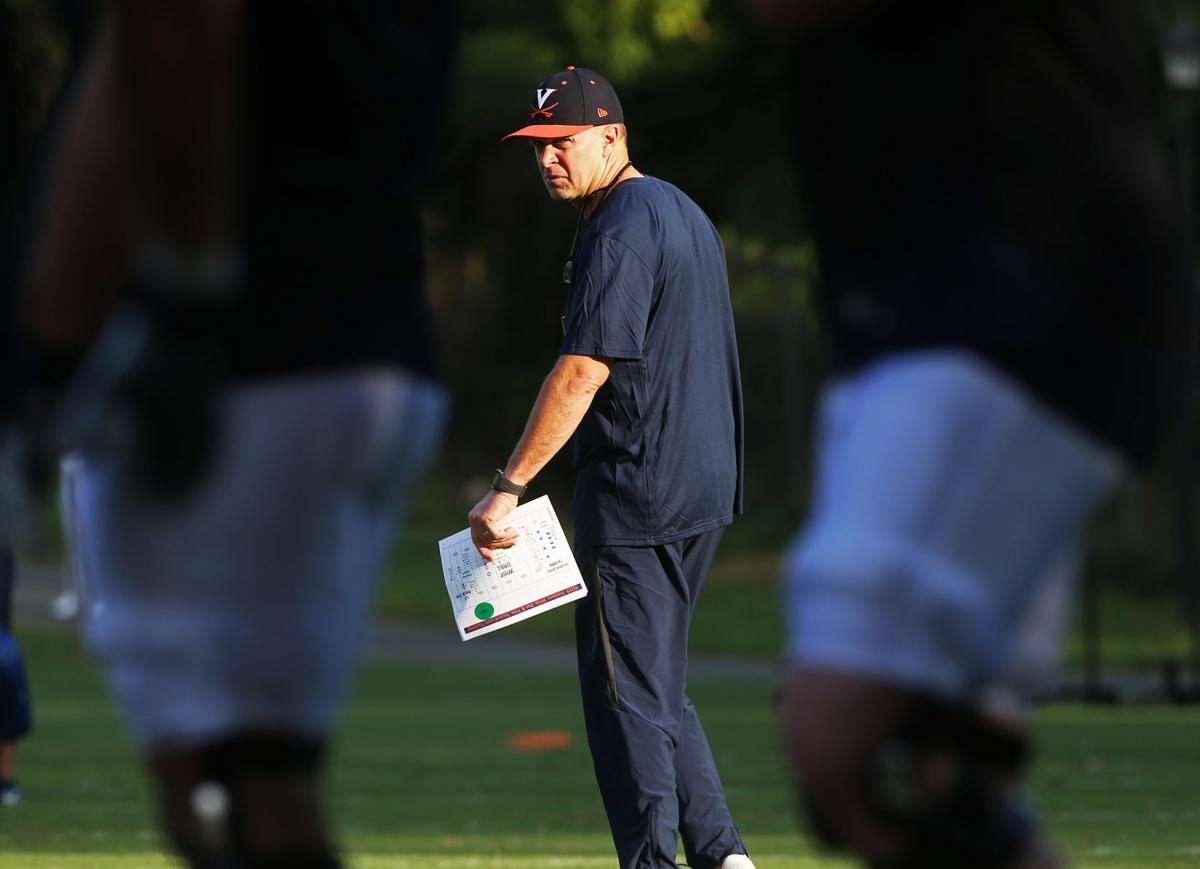 In 2017, 17 true freshmen appeared in a game for the Virginia football team. Last season, 13 first-years saw action in a regular-season game.
Virginia head coach Bronco Mendenhall said with his staff now in its fourth year recruiting the East Coast and so many returning starters, that number could drastically decrease this fall. But that doesn't mean a first-year won't still find himself on the field.
"Our intent every year and our model is to bring in players that are greater than, not equal to, what we currently have," Mendenhall said. "I don't see it as a bad thing that in year four, first-years are playing. That mixed with experience, I think, reflects a healthy football team."
On such freshman already earning starting reps is defensive tackle Jowon Briggs — the first four-star recruit Mendenhall landed at Virginia. Last week, Mendenhall said Briggs was working with the starters in practice.
"Not only is he a great player, he's a great fit a UVa. He has other interests, but he's passionate about football," Mendenhall said. "The star rankings, he never even considered them at the start. He's come in and measured up to what he hoped."
This comes a week after Mendenhall praised freshman running back Mike Hollins and the same day he mentioned first-year wide receiver Dontayvion Wicks as a standout.
At the end of the summer session, strength and condition coordinator Shawn Griswold mentioned cornerbacks Fentrell Cyprus and Major Williams, both of whom put on 18 pounds since arriving on Grounds, and inside linebacker Nick Jackson, who is the first true freshman in Griswold's tenure to jump to orange in the Cavaliers' conditioning program.
Briggs can play end or nose in the Cavaliers' 3-4 scheme. At end, he'll rotate with senior Richard Burney, junior Mandy Alonso and sophomore Aaron Faumui — one of two freshmen who started last season on the defensive line. At nose guard, Virginia returns second-year Jordan Redmond and ironman Eli Hanback, who can also play nose or end and has started 36 games the past three seasons.
Still searching for an RB
Much like in the spring, Mendenhall hoped the team's first intrasquad scrimmage last week would shed some light on the competition to replace workhorse running back Jordan Ellis.
"The first scrimmage didn't clarify, it just continued to say by committee is where we currently are," Mendenhall said. "I would prefer it not to be that, but that's currently where we are."
Heading into fall camp, Mendenhall said junior PK Kier and freshman Mike Hollins were leading the pack. Coming out of spring, it was Kier and sophomore Wayne Taulapapa. Junior Lamont Atkins and senior Chris Sharp also are competing for snaps.
Anthony in line at long snapper
One pivotal senior the Cavaliers must replace from last season is long snapper Joe Spaziani. Redshirt freshman Lee Dudley came into the offseason as the favorite, but freshman Enzo Anthony has a slight edge so far in camp.
Anthony comes in as a consensus five-star prospect and the No. 1 long snapper in Florida, according to Kornblue Kicking, and the No. 20 long snapper in the country, according to Rubio Long Snapping. Dudley played at nearby Woodberry Forest, where he didn't botch a single snap in three seasons. 
"[Long snapper] essential because it's points and field position, which determine outcome," Mendenhall said. "We chart every single snap and every single situation and its accuracy, so, yea, that's a heated battle."  
Virginia named its annual Dirty Dozen workout warriors this week, honoring each with a black and white T-shirt.
The Dirty Dozen is determined in the final week of summer conditioning, and it's based on how a player performs in the bench press, squat, clean, vertical jump, broad jump and agility drills.
Many of the usual suspects are in this year's group: quarterback Bryce Perkins, cornerback Bryce Hall, middle linebacker Jordan Mack, wide receiver Joe Reed and outside linebacker Charles Snowden. They're joined by outside linebacker Noah Taylor, Hanback, Burney, Alonso, senior cornerback Nick Grant, junior punter/kicker Nash Griffin and redshirt freshman offensive lineman Joe Bissinger. ​
Ron Counts covers University of Virginia athletics for The Daily Progress.​ Contact him at rcounts@dailyprogress.com, (434) 978-7245, or on Twitter @Ron_CDPsports.