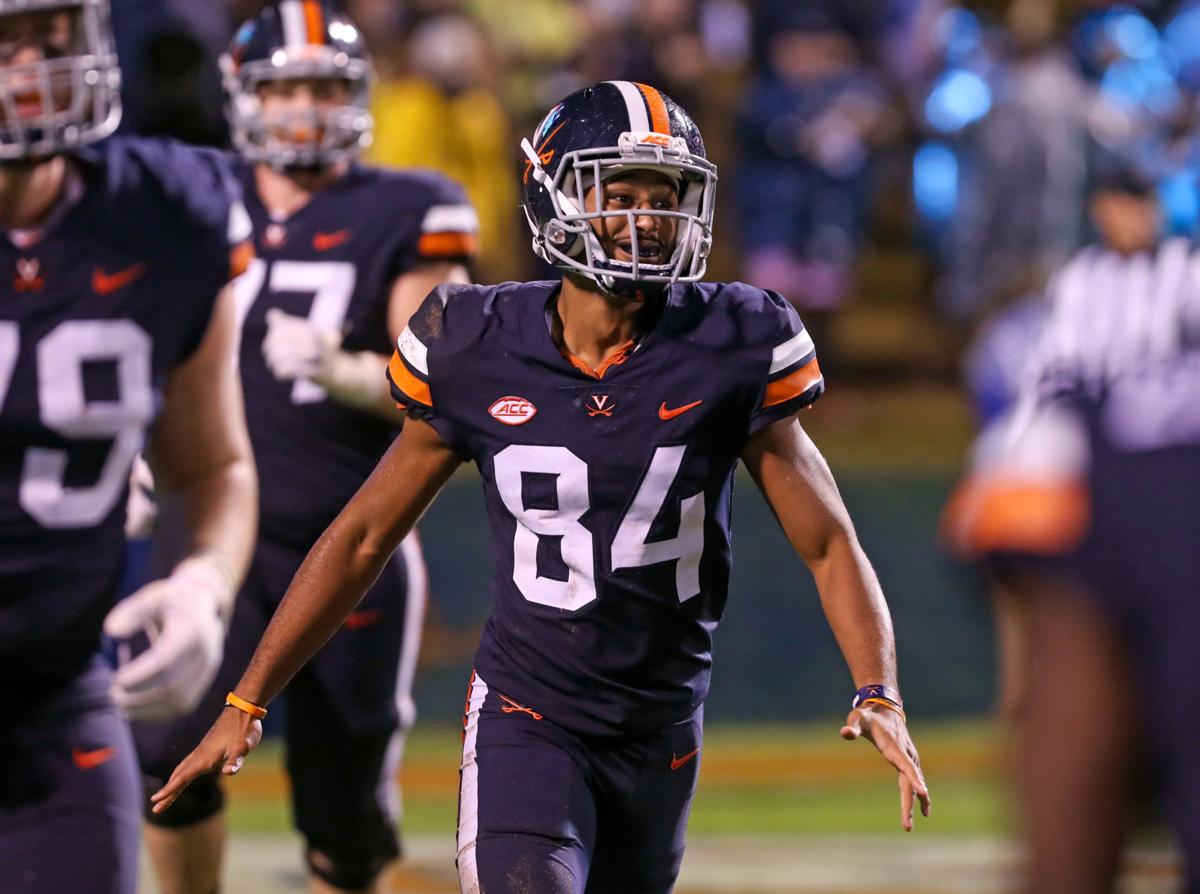 Virginia wide receivers coach Marques Hagans talks a lot about legacy, which he believes is more based on how a player invests in his teammates than what he does on the field.
Hagans said former slot receiver Olamide Zaccheaus was the living embodiment of that ideal, and he believes junior Terrell Jana is cut from the same cloth.
"His legacy lives in Jana because he approaches the game the same way," Hagans said. "So now, whoever Jana can be a mentor to and help develop, then his legacy is tied to that guy."
Jana and Zaccheaus grew close during their two seasons together, and they were often found on the turf practice field beside the McCue Center working on how to finish a route and catch passes with their hands instead of their bodies.
"He showed me a lot by the way he played and also how he carried himself in the locker room and around his teammates," Jana said. "He definitely took some time to invest in me and I think it's paying dividends now."
In limited action last fall, Jana, who finished his final two years of high school not far from Charlottesville at Woodberry Forest, caught 11 passes for 151 yards and hauled in his first career touchdown pass in a home loss to Pittsburgh. Less than a week removed from Virginia's 2019 season opener, he'll get another shot at the Panthers, and this time it will be as a starter.
On Monday, Jana joined seniors Joe Reed and Hasise Dubois and sophomore Tavares Kelly as starting wide receivers on the Cavaliers' first depth chart of the season.
"We knew about Joe Reed. We knew about Hasise. They're both playing at a high level," Virginia head coach Bronco Mendenhall said. "Terrell Jana has emerged from spring through summer to where he's also playing at a really high level, and having another trustworthy option is going to be big for us."
Jana's name popped up this offseason in just about every media scrum. From the respect he's earned in the locker room to the crisp routes he runs, the Vancouver, British Columbia native is primed to step into a prominent role on this year's team.
"Terrell continues to emerge as a leader, and he's a guy who just does things the right way," Mendenhall said. "He's a hard worker and a player who other's want to follow."
Jana (6-0, 190) and Reed (6-1, 215) are similarly built, but Reed is more of a straight-line speed guy while Jana relies on precise route running to beat his man. Dubois is a different beast all together. He uses his 6-foot-3, 215-pound frame to out muscle defenders.
"Me going out there and being more physical than the guy in front of me is my job," Dubois said. "As long as I box somebody out, I feel like my job is done and I'm helping the team."
Mendenhall compared Dubois to a great rebounder who knows how to fight through contact under the basket to get to the ball.
"The biggest thing with him this year is the contested catches," Mendenhall said. "There are players hanging all over him every play and he's making those catches."
As a sophomore, Dubois struggled to hang onto the ball, but last season, he emerged as the second-most reliable receiver on the field, behind only Zaccheaus. Dubois finished last fall second on the team with 52 catches for 578 yards, and he hauled in five touchdowns. This season, he wants that reliability to translate more in the red zone.
"Having the quarterback's trust is important to me," Dubois said. "If we're on the same page and I know I'm out there doing my best, I'm satisfied."
Virginia's wide receivers' room is also suddenly pretty full with the addition of two graduate transfers and a hefty class of first-years.
Former Arizona State receiver Terrell Chatman (6-4, 195) is on the depth chart behind Dubois. Richmond transfer Dejon Brissett wasn't on the Cavaliers' initial depth chart, but Mendenhall said on Monday that he expects him to be available against Pittsburgh. Both graduate transfers have already made valuable contributions, though.
"We've been fortunate to bring in two guys that really mesh with that culture, and the dynamic has changed because now we have a few more numbers so the competition level is rising, which is always a good thing," Hagans said. "Our room is different because we do have older guys now who can help with leadership, and we have a group of young guys who are coming into the program and buying into everything that's being asked of them."
One of those young guys, true freshman Dorien Goddard (6-3, 220), enrolled in January, and his physicality impressed the coaching staff enough to appear on the season's first depth chart as Dubois' starter. The staff also is high on first-year deep threat Dontayvion Wicks. Both seem like seaworthy vessels to carry Jana's legacy into the future.
"I want to leave being the best person I can be, a hard worker and be someone who contributed, whether that be on the field or just by helping build the program through character," Jana said.
Be the first to know
Get local news delivered to your inbox!