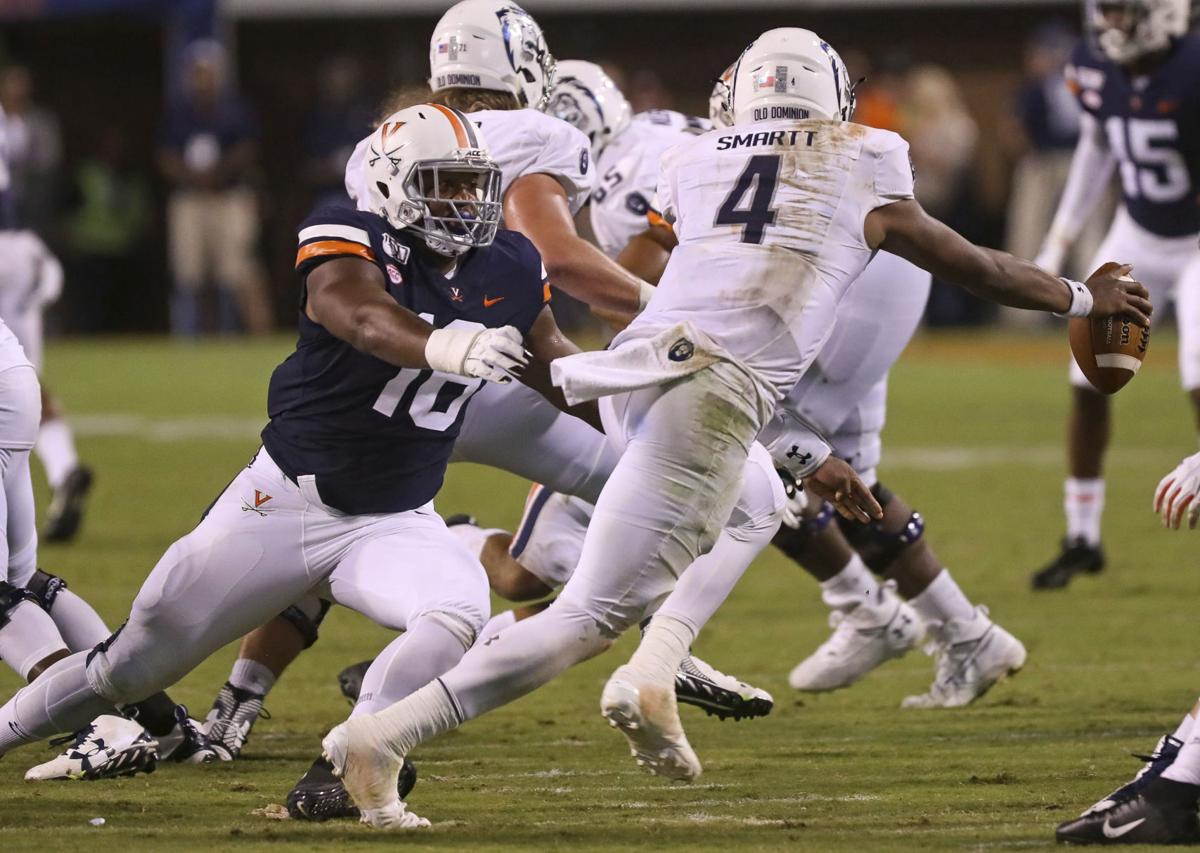 Defense carried the Virginia football team during the early portion of last season. The Cavaliers opened 2019 with a gritty 30-14 win over Pittsburgh, which included a pair of interceptions and a second-half shutout.
The defense held strong in a tough October loss to Miami, which also marked the game cornerback Bryce Hall saw his senior season end due to injury.
Injuries, like the one suffered by Hall, played a critical role in the decline of UVa's defensive unit, which dipped dramatically late in the season. As inexperienced players took the field, opposing offenses took advantage.
In the first eight games of the 2019 season, Virginia allowed an average of 281.5 yards per game. If the Cavaliers maintained that average all season, they would've ranked fourth nationally in yards per game allowed.
The final six games of the season didn't go nearly as well. Against better competition and with UVa reeling from injuries, the defense allowed an average of 492.3 yards per game. If UVa maintained that measure all season, the Cavaliers would've ranked second-to-last nationally in yards allowed per game.
Virginia started the season as one of the best defenses in the country before ending the year as one of the nation's worst units, at least statistically.
For the first seven games of the 2019 season, no Virginia opponent reached 350 total yards. Each of the team's last seven foes surpassed that mark.
"The expectation is for them to be better than last year's defense from Game 1 all the way through Game 13 or Game 14 or however many — 12 — whatever the season calls for this year, as many as we can possibly play," head coach Bronco Mendenhall said. "Last year, we started very strong and through about Game 7 I think [the defense] really carried our team. Our offense caught up and then when the defense, especially the secondary, was depleted, our offense kind of took over and became the team's identity down the stretch."
Bryce Perkins and UVa's offense bailed out the defense toward the end of last season, but the offensive efforts weren't enough against Clemson or in the team's Orange Bowl defeat against Florida. Virginia allowed a combined 98 points in its final two games of the season.
Entering this fall, the most recent on-field memories of UVa's defense fill players and coaches with anger and frustration.
"We have a bad taste in our mouth right now," co-defensive coordinator Nick Howell said this spring.
Fortunately for Virginia, the team returns an abundance of defensive experience.
Richard Burney, Jowon Briggs and Mandy Alonso start on the defensive line. All three played critical roles last season, with Briggs being one of two sophomores expected to start on defense this season.
At linebacker, Charles Snowden headlines a veteran group that also includes Zane Zandier and Noah Taylor. Sophomore Nick Jackson earns a starting nod entering Week 1.
The secondary, which struggled last season, returns a healthy group of contributors.
Nick Grant and De'Vante Cross will start at cornerback, while Brenton Nelson and Joey Blount take safety roles.
Of the 11 starters on Virginia's defense, nine are upperclassmen.
"I know we have the talent, and I know we have the want to, now it's just kind of going out and doing it," Snowden said.
Given the risk of players missing time for COVID-19 in addition to regular injuries, depth takes added importance this fall. Two James Madison transfers add important depth at key positions.
Aaron Faumui isn't with the team this fall, leaving them in need of defensive line help. Adeeb Atariwa, a graduate transfer from JMU, is expected to see time in his place.
D'Angelo Amos, a safety from JMU, is listed as the primary backup to Blount in the secondary. Should injuries pop up, it wouldn't be a surprise to see Amos earn more snaps as the season progresses.
Other returners defensively include cornerbacks Darrius Bratton and Heskin Smith. Ben Smiley III is a redshirt freshman defensive end who teammates and coaches compliment regularly.
At linebacker, Matt Gahm, Elliott Brown and Josh Ahern are among the group of key returners. Rob Snyder won't be available for Week 1, but the linebacker should work into the rotation later in the season.
"It definitely puts fire on us because right now we're all healthy and we're all ready to play, and it hasn't been like that in a while," Alonso said. "It feels good to have the group all together and intact right now, and we're looking forward to playing together on the field."
On paper, there's potential for Virginia's defense to perform like it did at the beginning of last season, when it helped the Cavaliers win games. If the defense can become an elite ACC squad, it will take pressure off new quarterback Brennan Armstrong and Virginia's offense.
Mendenhall's group wants to be more consistent this fall, and it has the pieces to achieve that goal.
"I think the defensive players are anxious to reestablish what they can play like with a full and healthy roster," Mendenhall said.