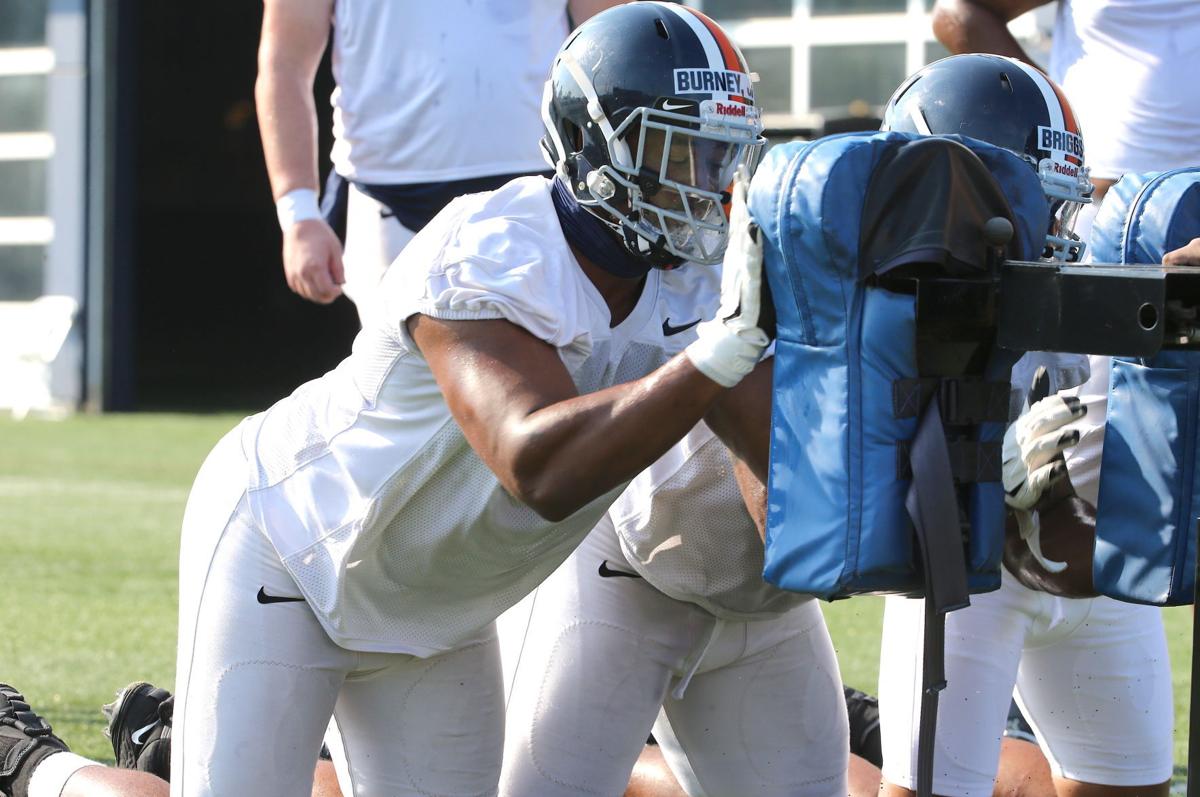 Virginia's task unit leaders gathered together, deciding which Wahoo deserved the first jersey number selection for the 2020 season.
The group landed on sixth-year defensive end Richard Burney.
While he pushed back, the leaders wouldn't budge. Burney picked No. 16.
In a program that requires opportunities and accolades to be earned rather than given, the Cavaliers feel Burney earned the top choice through years of consistent hard work and selflessness.
"Burney's sixth-year, but I mean he still shows up every day, embracing the young guys." senior linebacker Charles Snowden said. "This is not an easy program, and he still comes every day with his hard hat, ready to work."
Burney, who started his career as a tight end, has earned playing time on offense, defense and special teams while at UVa. He's caught a touchdown pass, sacked an opposing quarterback and snapped for punts. He's worked through blood clots that forced him to miss the majority of the 2018 season and made at least one appearance in each of the past five seasons.
He's been around town longer than Bronco Mendenhall. Burney saw the Cavaliers limp to a 2-10 record in Mendenhall's first season before taking down Virginia Tech and reaching the Orange Bowl in 2019.
After working his way through the program, Burney wants to step outside his comfort zone this fall. In addition to playing meaningful snaps, he wants to step up as a leader on a defense filled with personality and on-field production.
"I think Burney as of late has been really intentional about trying to be a leader and trying to lead by example," defensive line coach Clint Sintim said. "Burney just like everyone else in the group needs to continue to improve, but I'm pleased with what I've seen thus far."
In conversations with Snowden, Burney talked about wanting to be more of a vocal leader, too. The role of vocal leader doesn't always come easily to the defensive end, but he's been leading by example for years.
In private, more individual settings, Burney's leadership shines. He hosted sophomore defensive tackle Jowon Briggs for Briggs' official visit during the recruiting process, and he's kept a close watch on Briggs ever since.
"Early on, I got to know him and he's kind of been like that older brother type, always motivating me, making sure I know what I'm doing," Briggs said. "He's definitely been watching over me, and I'm very grateful for that."
Unfortunately for Burney, uncertainty surrounds his sixth year. With COVID-19 posing a threat to the community and in turn the college football season, it's unclear if he'll lead the Cavaliers' formidable defense onto the field this fall.
Regardless, Virginia remains in fall camp. Preparing for games in September remains a goal until players learn otherwise.
Burney and company don't know what tomorrow, next week or next month might hold, but they know they're going to embrace every moment together throughout camp. He doesn't want to focus on the what-ifs, but rather the positives of competing as a unit.
As he embarks on year No. 6 in the program, Burney is ready to lead.
"Yeah, it's hard, but at the same time we're with each other," Burney said. "Being with each other, it's fun. We're out there practicing. It's hard. It's hot. It's hard to breathe but at the end of the day we're with each other and we're getting better."