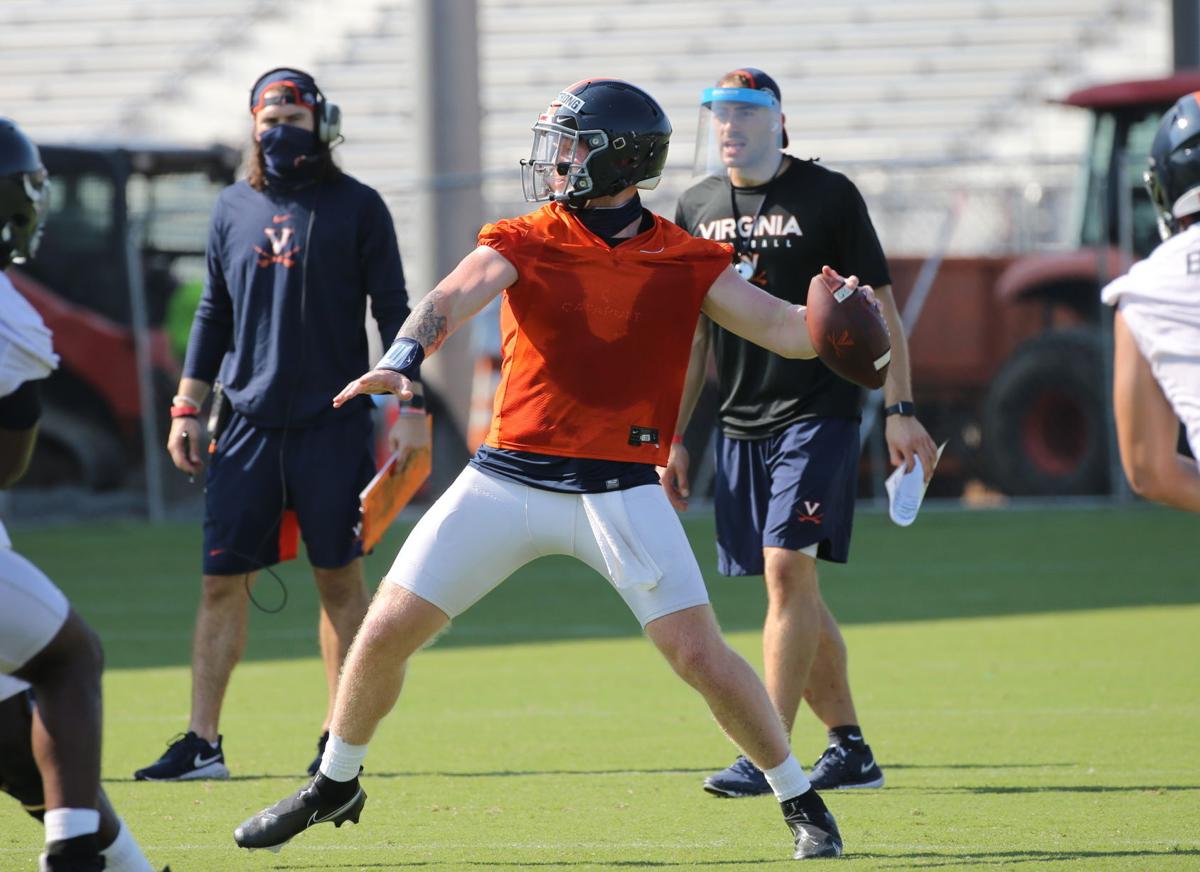 Brennan Armstrong will be the Virginia football team's starting quarterback for the start of the 2020 season.
Head coach Bronco Mendenhall announced that the redshirt sophomore would be the team's QB1 following Thursday morning's practice.
Armstrong edged out Mississippi State graduate transfer Keytaon Thompson for the starting job. Mendenhall said last week that he gave Armstrong a "slight nod" in starting quarterback race but the competition was ongoing. Armstrong did enough on the practice field this week to cement his place atop the Cavaliers' depth chart.
One edge Armstrong had over Thompson is a familiarity with Virginia's offense. While Thompson is still learning the playbook, Armstrong is entering his third season in Robert Anae's offense and spent the past two seasons as Bryce Perkins' backup.
Armstrong has appeared in 11 career games for the Cavaliers, going 17-of-25 for 258 yards and two touchdowns. The Shelby, Ohio native also has rushed for 93 yards on 16 carries.
He will be the first left-handed quarterback to start a game for Virginia in more than a decade. The Cavaliers' last southpaw signal-caller was Jameel Sewell, who started 32 career games for the Cavaliers over the 2006, 2007 and 2009 seasons.
Armstrong will be tested immediately. His first career start will come in a little more than three weeks against rival Virginia Tech at Lane Stadium in Blacksburg. Despite the pressure that comes with opening the season against a rival, Virginia special teams coach Ricky Brumfield said Thursday that the Cavaliers are excited by the opportunity.
"For us, it's better," Brumfield said of opening with the Hokies. "We get to focus all of our attention on that game. Typically, it's always at the end of the year and we want to beat Tech and it's always in our minds to beat Tech, but we also have to go through our whole schedule before we get to that point completely. But now we can focus on that game."
Scholarship surprise
After Thursday's practice, Mendenhall had a surprise waiting for Virginia walk-ons Coen King and Hayden Mitchell.
As Mendenhall was addressing the team following practice, Gerry Capone, Virginia's Associate Director of Athletics for Football Administration, pulled up on a moped.
"Gerry, what are you doing?" Mendenhall said in a video posted to the Virginia football team's Twitter page.
Capone then handed Mendenhall two letters.
"I got a special delivery for you, coach," he said.
It was scholarships for King and Mitchell.
When Mendenhall announced King and Mitchell's names, the entire team erupted in joy. As he received his scholarship letter, King, a Culpeper native, was visibly emotional.
"Talk about earned," Brumfield wrote in Twitter post congratulating Mitchell and King on becoming scholarship players. "These two are the epitome of hard work."
King, a redshirt sophomore defensive back, appeared in eight of Virginia's 14 games last season on special teams. He made one tackle against Florida in the Orange Bowl.
Mitchell, a junior wide receiver from Richmond, saw action in every game last season. He hauled in his first two career catches last season against William & Mary and made a catch against Clemson in the ACC championship game.
"I could not be more proud of [Mitchell]," Virginia receivers coach Marques Hagans wrote on Twitter. "He is the epitome of selflessness, sacrifice and humility. All he does is show up everyday smile and work hard."
Search committee
Virginia athletics director Carla Williams will be part of a 20-person search advisory committee that will help select the ACC's next commissioner, the conference announced Thursday.
The committee, which is led by Wake Forest President Nathan Hatch and Notre Dame President John Jenkins, includes 15 conference administrators (one from each ACC school) as well as five student-athletes.
"The search advisory committee will play an important role in helping us define the qualities we are looking for in our next Commissioner," ACC Board Chair Kent Syverud said. "By bringing together a diverse group of people from across the ACC to inform our process, including our student-athletes, we will position ourselves to find highly qualified candidates, and ultimately select the right Commissioner to lead the conference into the next era."
They will help to find the replacement for longtime commissioner John Swofford, who is retiring at the end of the 2020-21 athletic year. The ACC plans to have his replacement in place by next summer.
Be the first to know
Get local news delivered to your inbox!