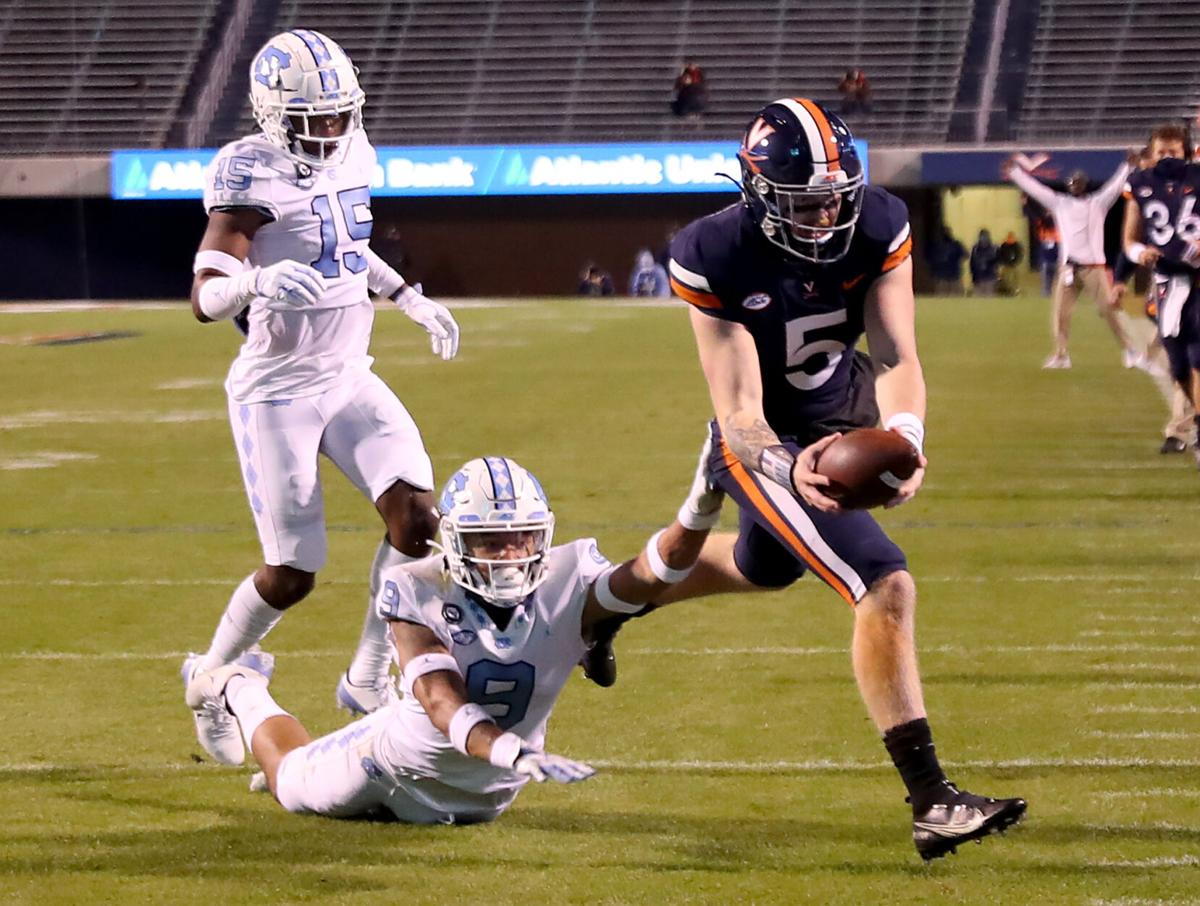 Tuesday brought with it negative injury news for the Virginia football team. Sixth-year defensive end Richard Burney and freshman quarterback Iraken Armstead were both ruled out for the rest of the fall.
Wednesday's injury news leaned much more positive, as two of the Cavaliers' top offensive weapons returned to practice.
Starting quarterback Brennan Armstrong suffered an injury at the end of UVa's victory over North Carolina on Saturday night. Armstrong left the game late, and didn't return for the final few plays.
Fortunately for Virginia fans, he's expected to return to the field this weekend against Louisville.
"Terrible that he got hurt. However, he practiced Monday," Virginia offensive coordinator Robert Anae said Wednesday. "We had yesterday off, and he was out there running around today. So far we've been given the thumbs up by the medical staff."
That's ideal news for a Virginia offense that is playing well with Armstrong under center.
The starting quarterback has tallied five passing touchdowns to just one interception in the team's last two contests. He completed 12 of his 22 passes for 208 yards and three touchdowns against North Carolina. He also added 66 rushing yards as Virginia posted a season-high 44 points against the Tar Heels.
Armstrong has surpassed 50 rushing yards in games against Clemson, Miami and North Carolina, showcasing an ability to generate yards with his arm and his legs.
In the passing game, the Cavaliers may also add an important piece ahead the Louisville game. Freshman wide receiver Lavel Davis Jr. missed the Cavaliers' games against Miami and North Carolina. Signs point to him returning this Saturday, according to Anae.
"Lavel was out there today running around, so it looks like we got the green light with him," Anae said. "Big target, he's a big physical blocker, and man, his legs looked fresh today, so we hope to get him going."
Davis Jr. didn't record any receptions in his most recent game, which came against Wake Forest.
In the first three games of the season, however, he recorded nine receptions for 210 yards and three touchdowns. He earned ACC wide receiver of the week honors after a 101-yard, two-touchdown showing against Duke in the season opener.
Standing at 6-foot-7, Davis Jr. gives the Cavaliers a reliable red zone threat on the outside as well as a dynamic downfield passing option.
A healthy starting quarterback and dynamic wide receiver allows the Cavaliers to compete with a nearly full arsenal of offensive weapons entering this weekend's matchup with Louisville.
Be the first to know
Get local news delivered to your inbox!