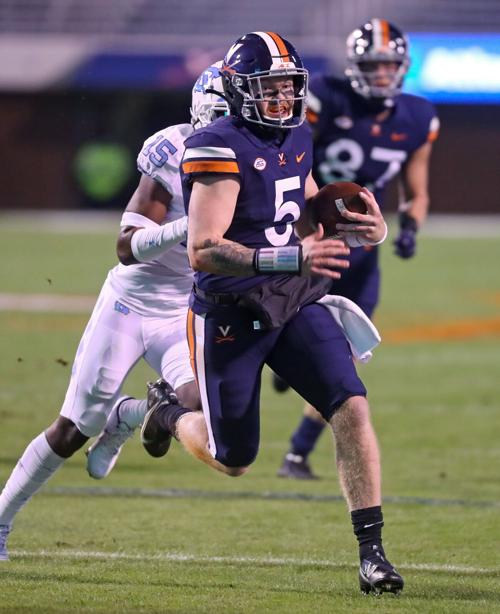 When Bryce Perkins' time at Virginia ended, questions lingered about whether the Cavaliers could effectively replace the athletic signal caller.
Through six games this fall, new starting quarterback Brennan Armstrong seems up to the task.
Excluding the N.C. State game, which Armstrong left in the second quarter with a concussion, the left-handed quarterback is averaging 232 passing yards per start. He also averages 73.3 rushing yards per game in games he finishes, even when including lost yardage from sacks.
When Armstrong is on the field, the Cavaliers look formidable on offense. When he's injured, the offense takes a step back and lacks a consistent passing threat.
With Armstrong sidelined with a concussion, the Wahoos mustered just 23 points and averaged only 4.5 yards per passing attempt in a 40-23 loss to Wake Forest. UVa struggled when it needed to throw, only scoring three points in the second half and moved the ball inconsistently once Wake Forest stretched out a fourth-quarter lead.
"We're a different team with Brennan," head coach Bronco Mendenhall said earlier this season.
UVa's offense has looked more dynamic in games with Armstrong than when Lindell Stone started in relief of Armstrong against Wake Forest. A healthy Armstrong offers dual-threat ability, and he's the team's most reliable passer.
Armstrong runs for 57.4 yards per game when viewing his stats against N.C. State as a full-game performance, which puts him just half a yard behind Miami quarterback D'Eriq King in rushing yards per game. UVa's signal caller doesn't receive the same recognition as many other ACC quarterbacks, but he's shown rushing production matched by few of his ACC quarterback peers.
At the same time, his first season as a starter has included plenty of bumps in the road.
Armstrong tossed six interceptions in the first 2.5 games of the season, and he's yet to complete 60% of his passes in a game when playing the entire contest. The offense only mustered two touchdowns against Miami, a game he played from start to finish.
There's still significant room for growth.
"I think what was slowing us down early on in the season was me turning the ball over," Armstrong said. "If I can take care of the ball, we're gonna be able to put up points."
When Armstrong stretched the field against North Carolina — his 12 completions went for 208 yards and three touchdowns — the Cavaliers scored 44 points. He also only threw one interception in the win over the Tar Heels. That came one week after he didn't throw any interceptions against Miami, despite the offense only scoring two touchdowns.
In Armstrong's first 2.5 games, he threw six interceptions. In his past two starts, he's tossed just one. He's shown improvement throughout the season, even while missing a game and a half due to a concussion suffered against N.C. State.
Virginia's quarterback has demonstrated an ability to make dynamic plays, using his legs to scramble and find his receivers for 10 touchdowns through the air this fall. If Armstrong limits the back-breaking mistakes that end drives and give opposing offenses the football, the Cavaliers possesses the athletes on the outside to average more than 30 points per game.
Offensive coordinator Robert Anae gives ample credit to the offensive line, which he feels improved in recent weeks and allowed Armstrong to scan the secondary without much worry.
"I think our offensive line did a really good job working," Anae said. "Any time a quarterback has got less stress right on him, he makes better decisions. The more stress right on him, the worse, and that goes for any quarterback on any level."
Armstrong frequently credits his offensive line. He also feels refreshed after returning from his concussion and working back to full health.
He did suffer a knee injury against North Carolina, but is expected to suit up Saturday against Louisville after practicing each of the past two weeks. He's hoping to continue his streak of limiting turnovers, and he's credited good film study for improved ball security.
"Going back through and watching, I would force a lot of things on third and long," Armstrong said.
Now, Armstrong says he tries to pick up what he can on third down knowing head coach Bronco Mendenhall is aggressive enough to roll the dice on fourth down, depending on where the Cavaliers sit on the field. That knowledge has led to fewer interceptions, because Armstrong feels slightly less pressure to convert every third down.
Lavel Davis Jr, one of Virginia's top receivers, should return Saturday after missing time. That's great news for UVa's passing attack, which struggles at times to consistently move the ball vertically.
Davis Jr. is averaging 23.3 yards per reception.
"When he wasn't there, I still felt like we were fine," Armstrong said. "I think Ra'Shaun Henry stepped up big for us, but yeah, Lavel is 6-7, he's a different person. The defense has to game plan for what he has to offer."
Stopping Davis Jr. will be a key for Louisville, but limiting Armstrong is the most pressing concern.
UVa's starting quarterback leads an offense finding its groove after scoring a season-high 44 points against UNC. While Armstrong might not possess the same game-breaking speed as Perkins, he's showing that he's plenty capable of leading Virginia's offense for years to come.
"When we're moving the ball, we're unstoppable, I really believe that," Armstrong said after defeating North Carolina. "We're just getting started."
Be the first to know
Get local news delivered to your inbox!