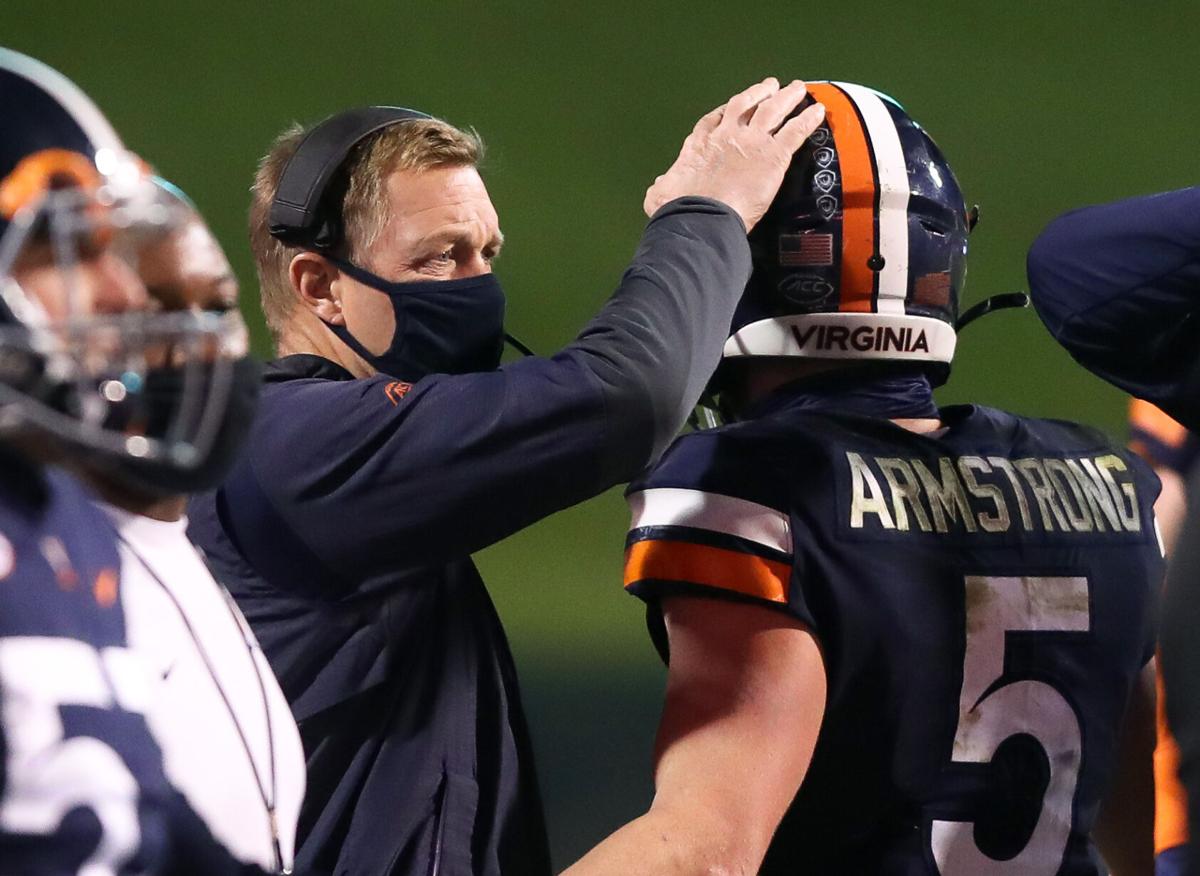 Quarterbacks and coaches receive tremendous praise after victories and intense scrutiny after defeats.
A week ago, Bronco Mendenhall's time management was questioned after he used all three of his timeouts before the 12-minute mark of the fourth quarter in a 19-14 loss to Miami. Saturday, Mendenhall delivered a coaching and game management performance best described as inspired.
With the Cavaliers leading 44-41, Virginia faced a fourth-and-three from its own 42.
A first down would effectively end the game with just two minutes left on the clock, while a punt would give the ball back to Sam Howell, who finished the night with 443 passing yards.
Mendenhall called a fake punt.
The Cavaliers' Keytaon Thompson gained five yards, giving UVa (2-4, 2-4 ACC) the 44-41 victory.
"It's my call because, man, if you don't get that they're in great field position and that's a game winner or probably a game loser, and the head coach is the only one that makes those," Mendenhall said. "It is a lonely, lonely feeling. But, I trust the fake. I've seen it work in practice and I loved who was doing it."
Thompson went away from the play design, avoiding options to the right and cutting back left after a few missed blocks up front. He outran everyone to the first down marker, doing enough to give the Cavaliers the victory.
Mendenhall ends the game a hero for the decision.
"When you're facing a ranked team in a close game, you've gotta take risks," linebacker Charles Snowden said. "Coach took the risk, and it paid off."
Virginia went a perfect 4-4 on fourth-down conversions Saturday.
While Mendenhall deserves praise, so does starting quarterback Brennan Armstrong.
The redshirt sophomore excelled Saturday, finishing the game with 274 total yards, four touchdowns and one interception. He averaged an impressive 17.3 yards per completion Saturday, spreading the wealth to six different receivers. Three different players caught touchdown passes.
Perhaps most important to the offense's success was Armstrong's attitude.
The scrappy left-hander runs with a toughness that inspires teammates. He eventually left the game with what appeared to be a leg injury after a run late in the fourth quarter. He carried the ball 20 times, leading all players on both teams.
Teammates rave about his on-field leadership.
In the team's 40-23 loss to Wake Forest, which Armstrong missed with a concussion, the offense lacked consistency at the quarterback position. As a passer, runner and leader, Armstrong brings all three when he's under center.
"Brennan Armstrong, the way that he led this team today was just ridiculous," running back Wayne Taulapapa said after Saturday's win.
With Armstrong spearheading the charge, Taulapapa believes more offensive fireworks sit on the horizon. UVa scored a season-high in points Saturday, scoring its most points against a top-25 team since dropping 48 on West Virginia in the 2002 Continental Tire Bowl.
It's the first time UVa surpassed 40 points in an ACC game since a 48-14 victory over Duke last October.
"I think this is the offense that we truly are," Taulapapa said. "We just got to show it every game."
A healthy Armstrong remains critical for UVa's offensive hopes.
His status moving forward dramatically affects the team's chances at ending the fall with a winning record. When he's on the field, the Cavaliers play their best football.
"So proud of Brennan, I thought he played an amazing game, and that's just the beginning," Mendenhall said. "As we saw from the Duke game to the Clemson game when he had a chance to go back to back, now you see Miami to this game back to back, he has such, such an amazing future in running and throwing and leading."
Due to their position, Armstrong and Mendenhall subject themselves to intense scrutiny and analysis each week.