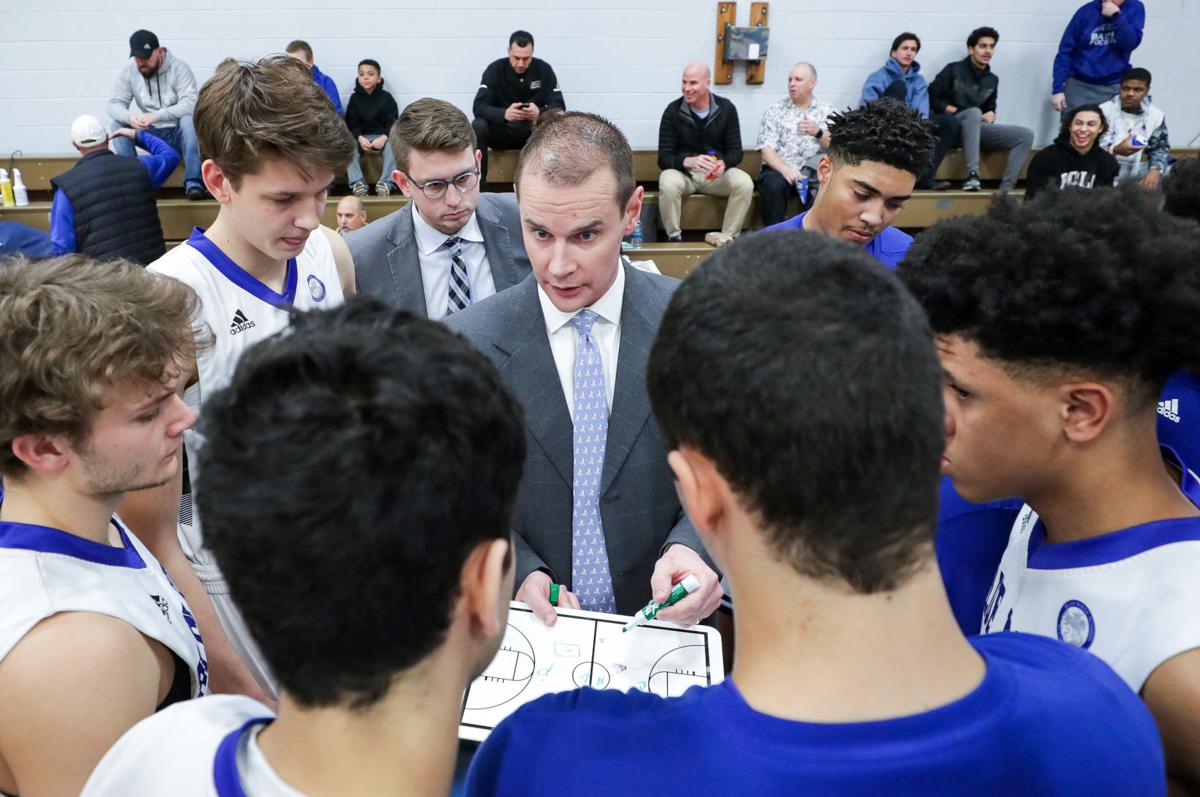 Typically, November is an exciting time for the Blue Ridge School basketball program as it makes final preparations for its annual pursuit of a Virginia Independent Schools Athletic Association state championship.
The tone this fall is a little more reserved as the team embarks on a season filled with a uncertainty due to the COVID-19 pandemic.
"The great Coach [John] Wooden always preached how he cared less about the upcoming opponent and more about his own team and just working to make them the best version of themselves each and every game," Blue Ridge coach Cade Lemcke said. "If there was ever a season when us as coaches should try and follow that for our teams, it's this year."
Lemcke's duties have expanded beyond coaching this fall as he's tried to navigate ways of carving out a season while also keeping the safety of his players and staff paramount. The veteran coach has worked hand-in-hand with Blue Ridge athletic director Bryan Puckett and the school administration to devise a plan to allow the Barons to compete.
"We are committed to our boarding school safety protocols and are trying to do as much as we can with safety as the number one priority," Puckett said. "Every game we have played takes a lot of planning and agreement on protocols and mitigation steps. We live in an ever-changing world, so we always have a lot of irons in the fire and take our time exploring each opportunity and designing each contest to assure safety. Looking much past a week is nothing more than a guess."
Late this past summer, Puckett and Lemcke realized the 2020-21 schedule they had put together would need to be scratched and revised because of the pandemic. The Barons, who have won three of the past four VISAA Division II state championships, had coordinated a challenging schedule, which included games and showcases in Pennsylvania, Maryland, Georgia and Virginia.
"There are opponents that might never play this year," Lemcke said. "There are showcase events that rely solely on ticket revenue to make it possible. No fans means no event. Certain tournaments are in 'hot spots' around the country that make it too risky to attend. We need to find out what other teams and tournaments are doing to mitigate risks, what are their plans to keep everyone as safe as possible."
Like Blue Ridge, certain boarding schools are operating in "bubbles" which makes it easy to coordinate plans and schedule games. In addition, there are other schools and events that aren't in a bubble, but have protocols and procedures that the sports department has signed off on and believes can be done safely. Conversely, there are other situations where it's just not possible to play games.
"It is extremely hard to schedule," Puckett said. "You have to find schools of similar mindsets and get to know their school's plan inside and out, then move on to looking at extra steps that would be needed in order to play, then agree on game-day protocols and find a date that makes sense. There are so many factors in making decisions, it is hard to make definitive statements other than we are focused on safety and providing our student-athletes with opportunities to compete. What that looks like is constantly changing and hard to define, but we are making it work an feel fortunate to be able to do more than most."
Puckett said Blue Ridge's plan requires athletes and coaches be tested for COVID-19 before and after each game. He said its imperative that both teams and coaches understand the agreement and are prepared to execute them. In terms of travel, the team takes more buses to games because of social distancing and since they can't stop to eat, coaches have to pick up the food to allow players to eat on the bus.
"There are a million logistics and takes days, if not weeks, to do it well and right," Puckett said. "Our mentality is expect nothing and appreciate everything. We believe we are doing way more than most and we just work hard every day to make ourselves and our students better. Control what we can control and stay focused."
Blue Ridge held its first game of the season last week with its annual showdown with Fork Union Military Academy's postgraduate team. Lemcke said it was great to get back on the court, even with the added safety measures.
"Getting back on the court Tuesday night was a great feeling," Lemcke said. "Our guys have been working hard, battling versus each other since mid-August. To finally have a different player/team to go against was awesome."
Still the Barons coach admits it was a learning process.
"There are certain parts of the game that we had to get used to," Lemcke said. "It's not ideal for me to coach with a mask on. My facial expressions typically help do the talking, but that's tough when half your face is covered up. Players are used to hearing me and reading my lips as I communicate on the sidelines. Now it's important that players listen more carefully and other players repeat the play call or game adjustments to make sure everyone hears what I'm saying."
Another aspect is sportsmanship.
Regardless of the outcome of the game, Lemcke and his team gather in a circle at half-court and share a prayer. With the safety measures currently in place by the Governor's office, those exchanges can't happen.
"I feel a big part of the game is the sportsmanship and opportunity to congratulate the other team and coaches after the game," Lemcke said. "Now we stand there and try to express our gratitude with a waive and a head nod, but it's not the same. At the end of the day though, we are thankful to be on the court with a chance to play the game we love. Our team understands that most teams around the country have not been given this opportunity yet, and might not get a chance to play the entire year. Regardless of the new procedures, it feels great to be on the court."
Puckett said Blue Ridge is in discussions with a handful of schools to play games next month.
"If I had to guess, we will be able to play five to six games in December," he said. "When they are and who they are against will probably not be known, with any level of certainty, until 24 to 48 hours before each contest. Unfortunately, that is what scheduling looks like these days."
The VISAA announced that this year's state tournament will be an open invitational format with eight teams qualifying. In preparation for that, Lemcke hopes to continue to challenge his team for another state tournament chance. Puckett said there is still a possibility for the Barons to play teams out of state, but proper protocols must be met.
"We are used to looking at our entire schedule, understanding how games are put on the calendar to help prepare for other games, to keep the team improving more and more with the hopes of playing our best basketball as we enter the state playoffs," he said. "This year, though, we just need to be ready each and every day. There are opportunities in-state and out-of-state that makes sense for us. Unfortunately, what makes sense today, might not make sense tomorrow, or vice-versa. We have to continue to be flexible and be thankful for every opportunity we get to be on the court."
Lemcke and team are grateful for the school's administration for allowing them to pursue the chance to play.
"Our administration is doing a great job to make sure our players, managers and coaches are as safe as possible for every game," Lemcke said. "We realize there will be some risk every time we step on the floor, but there are ways to mitigate that risk and give players a chance to compete safely. It is vital to keep our kids mentally and emotionally positive at a time when it's easy to become isolated, depressed and discouraged about life during this pandemic."
Lemcke credits his players for remaining focused and driven during a challenging time.
"We are blessed that the VISAA is committed to hosting a state tournament this season," he said. "We do not take this for granted as we know other states and associations aren't as committed as VISAA. If there was ever a year to play each game like it could be your last, this is it."
Be the first to know
Get local news delivered to your inbox!