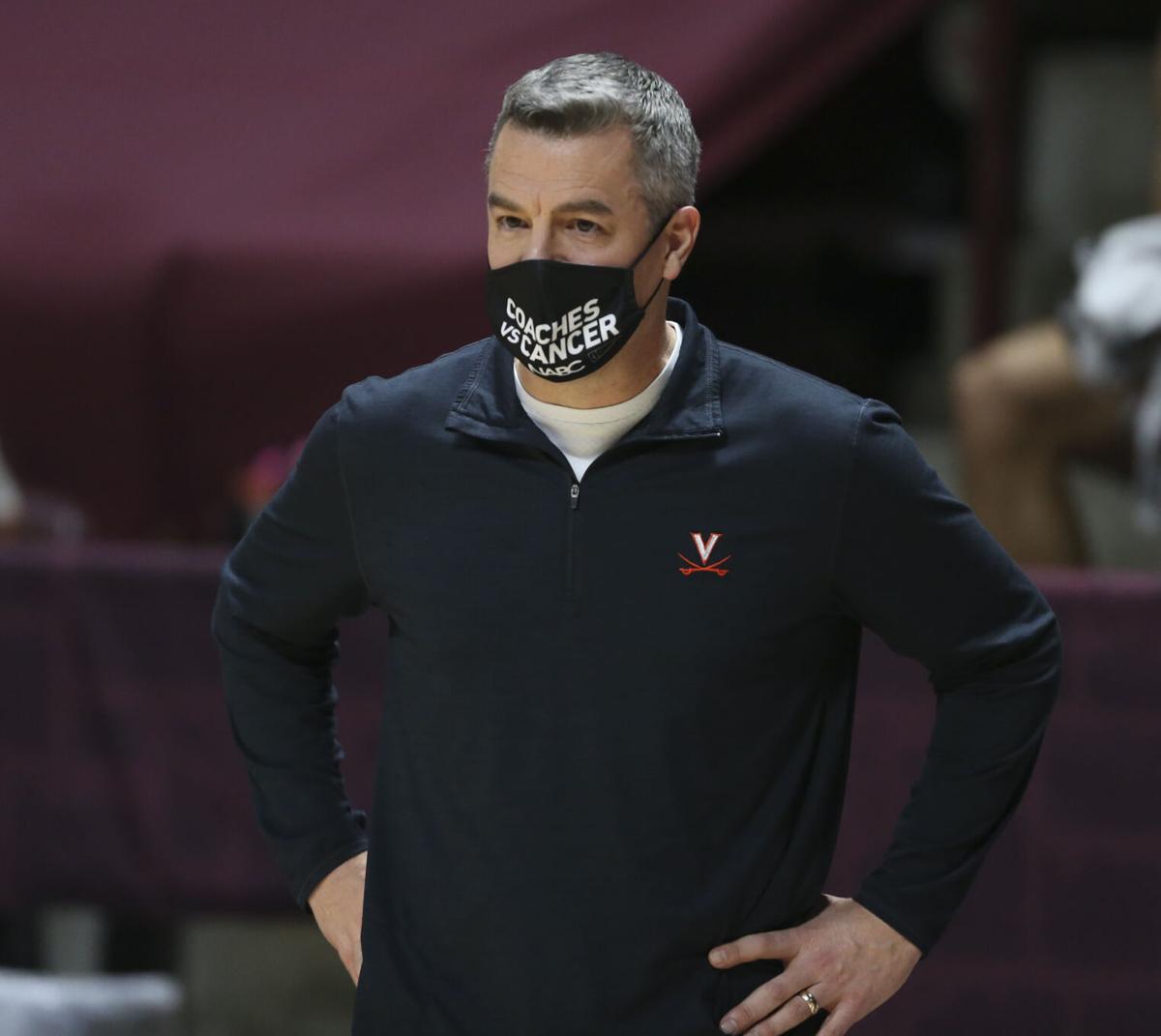 Tony Bennett, perhaps bewildered by his team's performance in the final eight minutes against Virginia Tech, created a new word to describe his team's loss to the Hokies: "Finesse-y."
Bennett thought his team lacked toughness and assertiveness in the 65-51 defeat, and the stats back up his claim.
Virginia Tech outscored UVa 24-12 in the paint. The Hokies also grabbed six more rebounds than the Cavaliers, matching the best rebounding differential for a Virginia opponent this season. Mike Young's team took 14 free throws. UVa took just four.
Against an aggressive and physical Virginia Tech squad, UVa looked, as Bennett described it, "finesse-y."
"I don't know if that's a word or not," UVa's Jay Huff said of Bennett's description, "but I think a lot of it was just they made plays, we didn't."
The Hokies, especially Keve Aluma, certainly made plays.
A Wofford transfer, Aluma handles the center duties for Virginia Tech despite being just 6-foot-9. He's not as tall as Huff, but Aluma's blend of quickness and toughness gave UVa problems. As many as five defenders attempted to stop Aluma, but none succeeded.
Aluma finished the game with a career-high 29 points and 10 rebounds.
Perhaps most alarming was the team's inability to slow Aluma in the post despite using every available defensive option. Huff, a potential candidate for ACC Defensive Player of the Year, struggled to contain Aluma off the dribble and in the post.
"He had a great night," Huff said. "I'm hoping next time I can just slide my feet a little bit better."
Sam Hauser, Justin McKoy and Trey Murphy lacked the strength to consistently stop Aluma in the low post when asked to defend him. Francisco Caffaro, who often draws comparisons to former UVa standout Jack Salt for his physical play, spent five minutes on the floor and picked up three fouls.
"It was too easy for them to just post up, do things and then make some plays and we just weren't right," Bennett said. "And boy, let that be a lesson because you can't survive like that."
UVa led 47-44 with eight minutes remaining, but the Wahoos — who relied mostly on 3-point shooting to that point — went cold and couldn't finish near the basket. They scored just four points the rest of the night. Aluma scored nine points in the final eight minutes, outscoring UVa by himself.
Virginia Tech went on a 21-4 run to close the game.
"I'm not saying we scored enough points, but you can't guard like that at the end — or that stretch — and fall apart and expect to beat a team, a good team like Virginia Tech," Bennett said.
The game wasn't a complete wash for Virginia.
The Cavaliers led or were tied from the 12:50 mark of the first half until the 7:08 mark in the second half. UVa shot the ball well from 3-point range early, although Bennett called some of those shots "fool's gold" as they came on tough jumpers at the end of the shot clock.
Regardless of how the points were scored, UVa sat in a position to win entering the final 10 minutes. The wheels fell off as the Cavaliers were beat up by a more physical and relentless Virginia Tech team at the end of the contest.
UVa failed to match Virginia Tech's toughness for the entire game.
Like they do every loss, the Cavaliers hope to address their weaknesses and improve. After losing to San Francisco, UVa won three games in a row. After a blowout loss to Gonzaga, UVa rattled off seven consecutive victories.
Playing more aggressively, especially inside, will be a priority in future games.
"We'll try to grow from it," Bennett said. "There were stretches where we got a lead, we ran some good stuff, had stretches of good defense. I'll always acknowledge that, but either a half of basketball or a part of basketball doesn't work, it has to be start to finish."