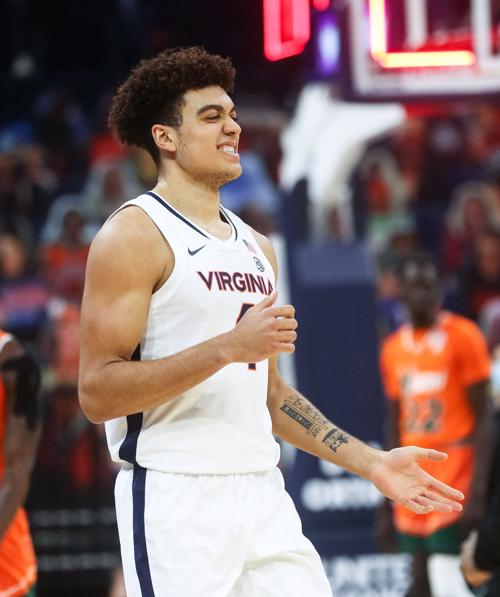 After most ACC home games this season, Virginia's Justin McKoy made his way back onto the floor for extra shooting work postgame. The sophomore forward wasn't seeing much playing time, but he wanted to get his work in on game day.
McKoy's postgame ritual was disrupted Monday.
Instead of quietly working on his jumper following a night spent mostly on the bench, McKoy spoke to the press after being one of Virginia's most impactful players in a 62-51 win over Miami.
"I've been very happy just trusting the coaches wholeheartedly when they say, 'Be patient, your time is coming, just be ready, stay ready, we're gonna need you,'" McKoy said.
UVa certainly needed the 6-foot-8 bundle of energy against the Hurricanes. With a small crowd and a subdued atmosphere, the Cavaliers leaned on McKoy's infectious intensity.
Usually known for his rebounding, McKoy went on a personal 6-0 run in the first half, leading to a Miami timeout. At one point, he snatched a loose ball and nearly drained a half-court shot as the first-half buzzer sounded.
"I love his heart and his energy," Virginia head coach Tony Bennett said. "It's that way at practice."
When the night was finished, McKoy had delivered eight points, six rebounds and two steals in just over 20 minutes of action. While his teammates occasionally look reserved and introverted on the court, McKoy bounces around with an ear-to-ear grin.
The North Carolina native brought his usual toughness to the floor.
"That's what this team needs and he brought that," Bennett said.
Perhaps most importantly, though, McKoy brought an unexpected scoring punch. He spearheaded the bench's scoring effort against the Hurricanes. The Cavaliers added 20 points from non-starters after scoring just 13 bench points over the last two games — both close losses.
Redshirt sophomore center Francisco Caffaro chipped in with four points, and freshman guard Reece Beekman produced four points and four assists in a solid outing. Beekman played well after being removed from the starting lineup against Miami.
"I think all those guys have stepped up when we needed them," redshirt senior forward Sam Hauser said.
Hauser led the team in scoring with 18 points on 7-of-13 shooting, but redshirt senior Jay Huff and junior Trey Murphy III were unusually inefficient. The duo went just 5-of-19 from the field Monday.
With two of the team's three most prolific scorers out of sorts, every point from other contributors helped UVa pull out a win over one of the ACC's bottom-dwellers.
"We've been playing five guys such heavy minutes and tonight, to be able to go to our bench when that group wasn't as sharp as they needed to be was very important," Bennett said.
The Wahoos went five minutes without a point in the early portion of the second half, scoring just two points in the first seven minutes. The two points belonged to Beekman, who scored all four of his points in the second half. UVa scored just 21 points in the second half, with eight of those belonging to guards off the bench.
Usually Virginia's strong point, the Cavaliers' offense let it down for lengthy periods Monday. Bennett liked the shot selection, but the shots didn't fall consistently.
Virginia's bench helped, bailing out the Cavaliers with a scoring jolt when some of its stars went cold. It's a positive sign ahead of postseason play, but there's work to be done after the starting group sputtered offensively against one of the ACC's worst per-possession defenses.
"My message was, we'll see you Wednesday," Bennett said. "We got to get better, let's keep working."