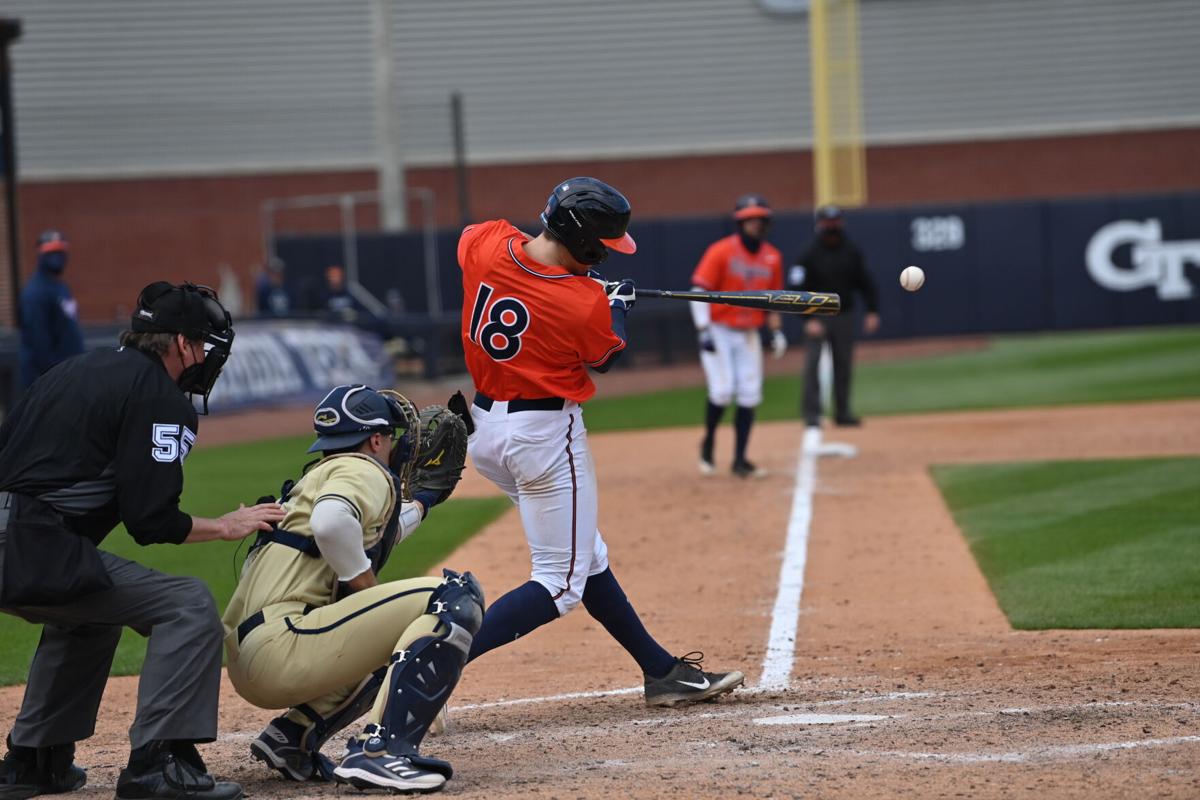 Through 15 ACC games, the Virginia baseball team had yet to win a conference series. The Cavaliers were averaging a mediocre 3.3 runs per game, and they scored five or more runs in a game just three times.
"We lost who we are and what Virginia baseball preaches," junior third baseman Zack Gelof said Tuesday.
That changed last weekend at Georgia Tech. UVa won two of three games for a series victory, and it scored 24 runs over the three games.
Coupled with a pair of midweek wins — UVa scored seven runs in each triumph — the Cavaliers (14-14, 6-12 ACC) enter this weekend's series at Clemson (14-11, 8-7 ACC) having scored five or more runs in five consecutive games for the first time this season.
Virginia has stressed the need for improved hitting in recent weeks, and the team showed signs of life last weekend, albeit against an inconsistent Georgia Tech pitching staff.
A lineup change from head coach Brian O'Connor helped spark the improved hitting. O'Connor moved Gelof, who often batted third in the lineup, into the leadoff spot for the Georgia Tech series.
In four games as the leadoff hitter, Gelof is hitting .444 with six RBI.
"I thought it was time to kind of move some guys around and see if it would spark them a little bit," O'Connor said. "It has for Zack."
Increased production from senior first baseman Devin Ortiz also has helped the lineup's resurgence. Ortiz ripped a game-tying two-RBI double in the bottom of the ninth in Tuesday's 7-6 win over William & Mary.
Ortiz, who started the year in a slump, has raised his batting average to .253. He's the team leader with four home runs, and he's second to only Gelof with 18 RBI.
As a result of increased scoring, the Cavaliers are gaining confidence. Instead of talking about trusting the process and believing hits will come, the team can point to tangible results.
"Guys are stepping up," Ortiz said. "Guys are happy for each other. Guys are trusting each other as always, but it just shows now and it means a lot more when we can actually do it out there on the field and show what we're capable of."
With the batting seemingly making strides in the right direction, UVa hopes to lean on its starting pitchers to put it in position to win ACC contests.
Weekend starters Andrew Abbott and Mike Vasil have done what they've needed to do in their starts. The pitchers are two of the nine ACC pitchers with an ERA under 3.00. As a team, UVa ranks second in the ACC in team ERA with a 3.53 mark.
Griff McGarry struggled as the third weekend starter. The senior's ERA sits at 6.85, and he's failed to pitch into the fourth inning in his last three starts.
Earlier in the week O'Connor said he'd evaluate the weekend rotation. UVa shared Thursday that McGarry would move out of that group, at least against Clemson. Abbott will start Friday's game and Vasil will pitch Saturday. In Sunday's series finale, sophomore left-hander Nate Savino will earn the nod.
The hard-throwing left-hander started the season as the team's midweek starter. In recent weeks, he spent time in the bullpen. This weekend he'll be asked to start an ACC weekend finale. It's not completely new territory for Savino, who started the Sunday game of last season's lone ACC series against N.C. State. He went four innings and earned the win.
If the Cavaliers can maintain their recent offensive production and lean on three steady weekend starters, they have a chance to thrust themselves back in the NCAA Tournament picture.
"Our backs are still against the wall," Gelof said. "There's a long way to go, but we're excited, and we're going in the right direction."