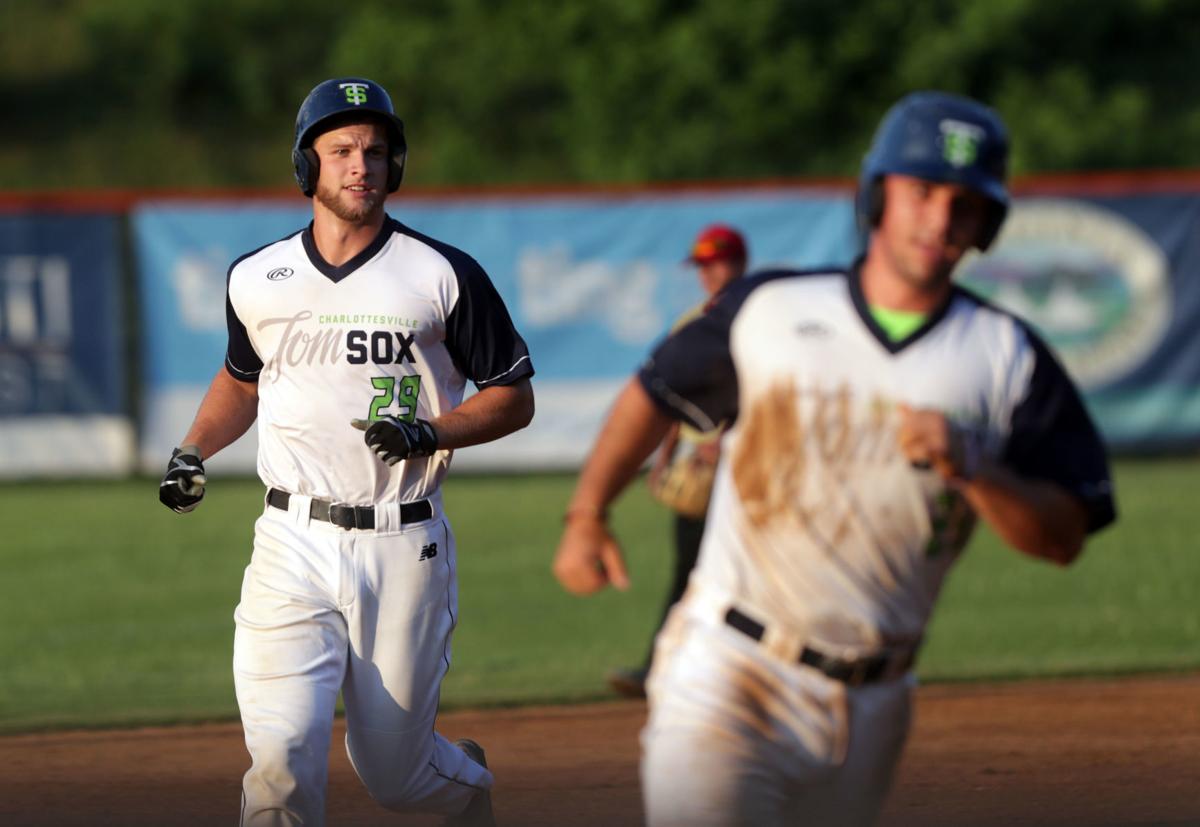 The Charlottesville Tom Sox reigned as Valley Baseball League champs in 2020 without having to play a single game, but that's about the only good thing the pandemic did for the team.
The Tom Sox won the league championship in 2019 and are slated for a full season this summer after last season was canceled. But they are starting out behind the count after COVID-19 crushed the nonprofit team's coffers.
The team is planning a golf tournament fundraiser and also is looking for host families to put up players and coaches for the summer season, which will stretch from May to August.
"With the Tom Sox being a nonprofit, we have an operating budget of about $100,000 every year. Because of COVID, we brought in zero dollars last year, so we're starting behind where we wanted to be," said John Raymond, team vice president.
"We are slated for a full season starting June 5 and the kids will be coming to town probably that week or before and play through the end of July," he said. "Typically with the Tom Sox, we'll be in the playoffs so we'll be playing through August."
Raymond said the team is aware that its normal lineup of sponsors also is struggling.
"Sponsors have been slower to come back to the table because everybody's had an economic upheaval," he said. "It's been a tough go for the last year. Typically, we'd have sponsorships sold out for the year and the entire outfield fence covered with banners by now."
To help fund the season, the team is holding its first-ever fundraising golf tournament April 19 at Spring Creek in Louisa County. Fans and folks who have missed golfing for the past year are invited to join the $600-per-foursome event.
The tournament will include breakfast, lunch, prizes and a silent auction.
"This will end up being our biggest fundraiser of the year and we're hoping it will provide a quick infusion of money to make sure we can pay for uniforms and bats and balls and all the things we need to have to have a good season," Raymond said.
The Tom Sox each summer invite about 40 players and hire about two dozen high school and college interns. The interns assist with gameday operations, media, data analytics, marketing, hospitality, mascot, promotions and social media.
The Sox were founded in 2014 and played their first game in 2015 in the Valley League. The team currently plays at the Charlottesville High School baseball diamond and has renovated the facility.
"We love it there. We have a nice partnership with the folks in the city and at the high school and have made some major renovations to the batting area and the press box," Raymond said. "We plan on being there for the foreseeable future."
As a nonprofit, the team relies on local families to host its college athletes and coaches.
"We need probably 10 more host families, if we average two players per household," said Chesley Mullins, host families coordinator. "We're still working through our list of the host families, but we can always use more. The more the merrier."
Host families are asked to provide a bedroom, access to laundry facilities and a bathroom. Many invite players to family meals.
Mullins' family also hosts players, as does Raymond's.
"Hosting a kid is probably my favorite part of the whole Tom Sox experience," Mullins said. "I have two boys and they've grown up with these players around them and have learned valuable things."
Some of those lessons include solid work ethics and where to find Pikachu in the greater Charlottesville area.
"They've learned what it's like to be college athlete and the work ethic required. They've learned how to carry themselves and represent a team," Mullins said. "One of our players was obsessed with the Pokémon Go virtual game and my youngest would go out with him five or six nights a week to hunt Pokémon. They had a great time!"
"The players stay in motion and they're not as long in the house as you might think," Raymond said. "You develop friendships with their families, as well. We still get Christmas cards from the parents of our first players. It's quite a community we've built here."
Registration for the golf tournament and information on host families can be found at tomsox.com.
The Valley League has been around since 1897, when it was formed to provide a low-level minor league for professional baseball. In 1961, the league became sanctioned to play under NCAA rules.
The league and all of its teams are now nonprofit organizations. Each team plays a 42-game schedule, which is followed by an eight-team playoff.
The league currently consists of 11 teams divided into two divisions. Current franchises besides the Tom Sox are the Covington Lumberjacks, Harrisonburg Turks, New Market Rebels, Staunton Braves, Waynesboro Generals, Front Royal Cardinals, Purcellville Cannons, Strasburg Express, Winchester Royals and Woodstock River Bandits.
The Tom Sox' first year in the league was rough as they finished with an 18-24 record. The next year was tougher, with a 15-27 showing.
In 2017, the team did an about-face with a 32-10 showing, the best in the league, and a 6-1 playoff record that won it the championship. The Sox were 24-18 in 2018 and 25-17 in 2019 with a 6-2 record in the playoffs, winning the team its second championship.