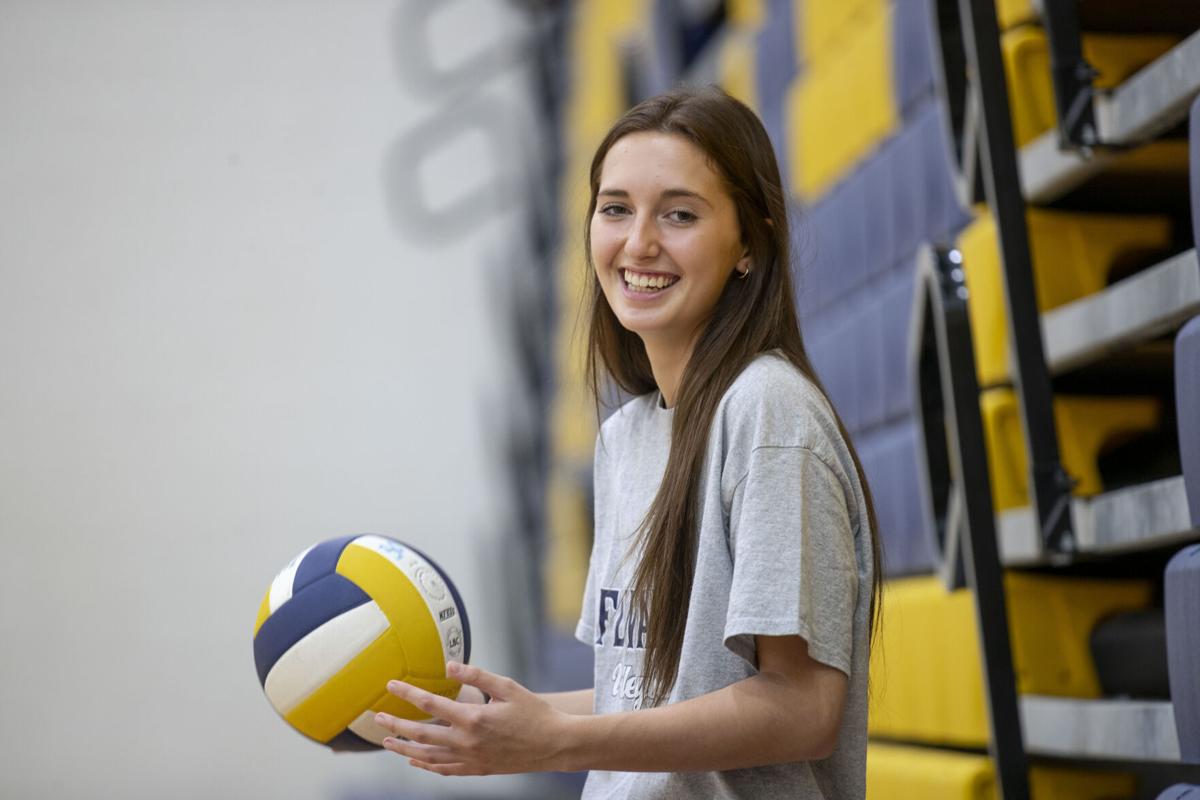 PALMYRA — Sophia Denby didn't pick up a volleyball until just before her freshman year at Fluvanna County High School.
Fluvanna volleyball coach Christi Harlowe-Garrett spotted Denby passing the ball around with a small group of classmates during her eighth-grade physical education class and was intrigued. The veteran coach invited Denby to come to an open gym.
"I was very excited to see her come to an open gym," Harlowe-Garrett said.
Things did go smoothly right away, however.
"Let's just say her athletic ability to pass a ball did not transition onto the court in semi-live play at all," Harlowe-Garrett said. "She felt like a fish out of water, but kept trying."
Denby agreed that her introduction to volleyball was not a smooth one.
"My coaches and teammates can back me up when I say I was absolutely awful when I first started," she said. "We all still joke about it to this day, but I ended up picking the sport up quickly."
Denby also gained confidence quickly as she figured out how to be successful on the court.
"When she got her first attack, she lit up like a Christmas tree," Harlowe-Garrett said. "As time went on and she got her first block, well, she was hooked."
Denby joined the Fluvanna junior varsity volleyball team as a freshman and spent a year refining her skills before making the jump to the varsity squad. As a sophomore, she split time as an outside hitter and middle hitter.
"It was a very intimidating role to fill, but I was ready," she said. "I then got moved back to outside during the club season following and have been an outside ever since and I then play three rotations in the back row."
Denby has thrived in her role with the Flucos.
She was named an all-Jefferson District performer as a middle blocker in her first varsity season. Last spring, she garnered first-team honors and was selected to the all-Region 3C second team.
This season, Denby has continued to raise the bar, both for herself and her teammates. She leads the team with 156 kills and has 85 digs and 24 aces and has helped guide the Flucos to a 13-2 record, including a 5-2 mark in Jefferson District play.
"My versatility on the court has helped me understand my position a lot better," she said. "It has benefited me on defending those positions because I can put myself in their shoes. It has helped me be a better teammate and given me many opportunities to improve."
But Denby also understands that individual success is part of a bigger picture.
"I have gained a pure passion for the game of volleyball over the past four years," Denby said. "I love the team aspect of this sport. One thing I have learned about volleyball is no matter how good one player is, they cannot be good without their teammates."
Denby credits Fluvanna setter Faith Shields with a lot of her success. The duo has developed a strong chemistry at the net over the past couple of seasons and it is evident on the court.
"Faith and I share a lot of trust," Denby said. "When I see the ball leave Faith's hands, muscle memory breaks out. I do what I know how to do and put the ball where it needs to go. The best feeling in the world is getting a kill that bounces right off the floor and turning around to feel the excitement with my team."
As the team's top hitting option every game, Denby understands that opponents are game-planning to try to neutralize her. That's where her background in martial arts has helped her handle the mental challenges of the sport. Denby earned her black belt at the age of 13 and competed nationally in Shotokan Karate.
"Confidence is key in volleyball and that is what produces most of my success," Denby said. "Volleyball is a huge mental game and can really challenge athletes emotionally. It is a very fast-paced sport that does not allow a lot of time to evaluate the other team, or to get upset after a bad play."
Denby has developed techniques to deal with the emotional roller coaster that volleyball can be.
"Over the years, I have worked very hard on keeping a positive mentality during a game," she said. "No athlete has a perfect game every time they perform and giving myself grace has been something I have learned to apply, although it has been quite challenging at times."
Denby also has a strong grasp of the tradition surrounding the Fluvanna program and the players that have taken the court before her. She credits former two-time Fluvanna all-state performer Maddy Kline for helping raise the bar for her.
Kline, a two-time Jefferson District Player of the Year, went on to play Division I volleyball at UNC-Wilmington. Although Denby never saw Kline play in person, the two of had a chance to talk this season and discuss how to improve her game.
"She's a player I have looked up to throughout my career," Denby said. "I have seen film of her, heard many stories and used her records as goals. She has come to practice with us a couple of times this season, which has been such a great opportunity for me. She truly is an inspiration and seeing her success now pushes me to become a better volleyball player each time I step on the court."
Like Kline, Denby will have an opportunity to play the sport she loves at the next level. She has verbally committed to play at Christopher Newport University in Newport News.
"I could not be more excited," she said. "CNU has the same mindset that Fluvanna volleyball has and that is very important to me. The will to win in both programs is huge. CNU is a high-intensity and highly competitive program, which I really love and that is exactly what I was looking for in my college search."
Academically she hopes to major in sociology and pursue a career path in pre-law or possibly business management.
"I could see myself as a defense attorney, but also have interest in owning my own business or working in a place of administration," Denby said.
When Denby's not playing volleyball, watching film or in the gym, she continues to be active in her school and her community. The senior anchors the sports desk for her school's news program, "In the Know," which gives daily updates to the student body.
She's also involved in the teacher cadet program and is slated to started a nine-week internship at the middle school as a teacher's aid for a fifth-grade math class. On weekends, she waits tables at Moose's by the Creek.
"I really enjoy spending time with my loved one and also love staying busy," Denby said. "If I am not working or playing volleyball, I am most likely getting dinner with my friends and family."
Whatever she is doing, Denby is fully invested.
"Sophia is committed," Harlowe-Garrett said. "She is driven to succeed and has an amazing work ethic. She puts her whole heart into everything she does. She puts in time on and off the court and shows a lot of initiative when it comes to learning the intricacies of the sport. Her passion for volleyball is contagious and so is her passion for her school and community."
That passion for volleyball began with an open gym session at Fluvanna four years ago and has continued to grow ever since.
"I came into the program as a freshman that didn't know what a serve was, and now I am in my senior season accomplishing things I never would have thought of," Denby said. "This program has helped me grow, not only as a volleyball player, but as an all-around person."