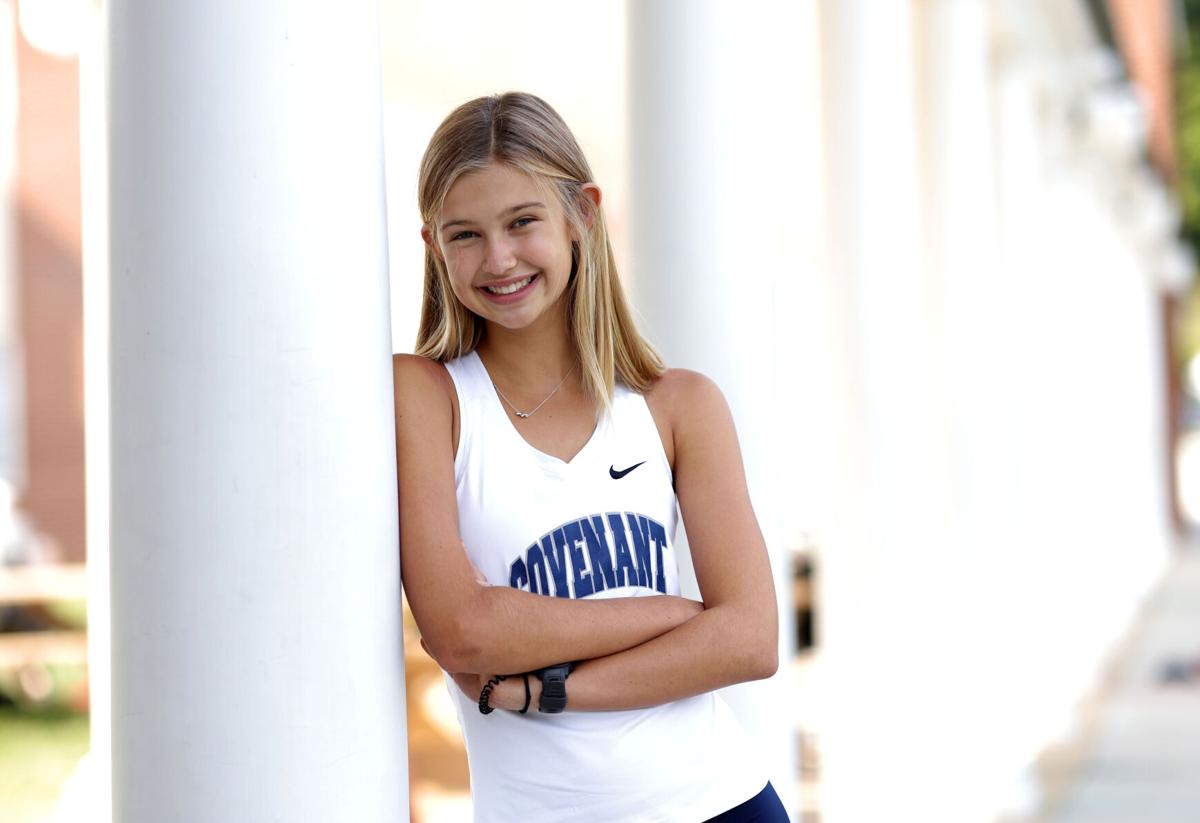 Maddie Gardiner's first cross country race was a forgettable one.
Battling anxiety and stomach pain, she was unable to finish.
"I ended up dropping out of the race before even the first mile mark and was carried off the course on a gator," Gardiner said. "I dropped out due to stomach pain, which was probably rooted from my pure nervousness and anxiety."
Three years later, the Covenant sophomore has put that experience — and her competition — in her rearview mirror.
Gardiner has emerged as one of the top runners not only in Central Virginia, but the entire commonwealth. Gardiner's talent was on full display in two prestigious local races, the Charlottesville Women's Four Miler and the Ragged Mountain Cup. She earned the best time in both events.
"I've been working closely with Maddie for almost two years now and it has been such a privilege to watch her develop as an athlete and person," Covenant coach Ann Dunn said. "For being only a sophomore in high school and very little experience in competitions, she has handled her first couple of races with incredible poise and confidence."
Gardiner's journey to distance running stardom has been a unique one. After getting cut from her travel soccer team as a seventh grader, Gardiner was looking for another sport to remain active. Her mom suggested joining Covenant's middle school cross country team because she had participated in the "Girls on the Run" program in elementary school.
Gardiner made her cross country debut at the Pole Green Invitational in Mechanicsville three years ago. After failing to finish that race, did not get much better for Gardiner in her next competition.
"The next race, I practically walked the whole thing, but still managed to finish," she said.
Early in her first cross country season, Gardiner said she would dread practices and races because of her nerves and anxiety. But after a few races, everything started to click.
"I was slightly scared, but ultimately, just a few races later I found my rhythm and discovered my love for the sport," Gardiner said. "Despite the difficult beginning, something mid-season just clicked. My nerves were slightly more controlled due to the more relaxed environment. I went out with a little more confidence and by the end, I was able to closely out-stride my opponent for a second-place finish. The adrenaline and pure bliss that hit me after crossing the line was incomprehensible. It was from then on that I decided that by leaving everything on the course, the discomfort of running hard becomes immeasurable compared to the state of euphoria that racing provides."
Since that euphoric second-place finish, Gardiner has continued to progress into an elite-level runner. Last year at the Charlottesville Women's Four Miler at Foxfield, Gardiner had a "breakout performance," finishing third overall with a time of 26:17. Earlier this month, she competed in the race again and shaved nearly two and a half minutes off her time en route to winning the overall title with a time of 23:41.
The success has carried over into her high school season as well.
Gardiner won the open race at the prestigious Ragged Mountain Cup at Panorama Farms, posting the best two-mile time of the day (11:06).
"Even though it is one of the harder courses, I love Panorama," Gardiner said. "It is so pretty and I find it very cool that we get to run in the same place UVa does. It's super hilly, but I feel like the uphills are matched relatively with downhills, which always make a race more interesting. I have run there a good number of times because we usually have multiple races there a season."
Despite her history at Panorama, Gardiner said this season's Ragged Mountain Cup is a race that she won't soon forget.
"It is special because it was slightly unexpected," she said. "Going into this season, I had, and still have no idea, what to expect given I had not really raced in over a year. However, the past year I started working with Ann and really buckled down on my training. This summer, one of my primary focuses was getting stronger and working hard to be a better runner."
That hard work continued to pay off last weekend, when Gardiner continued her winning ways at the Pole Green Invitational, the course where her distance running career began. She exorcised her earlier demons by winning the girls 5K event with a time of 18:10, beating two of the three highest ranked girls in Virginia in the process.
"As an athlete, she has consistently worked on all parts of her game — strength, speed, technique, nutrition, recovery, mindset and mental toughness," Dunn said. "She has developed outstanding endurance from her workouts and long runs that have been made possible because of the consistency she has put into all of those categories."
Gardiner credits not just her coach, but Covenant teammate Reese Dalton, for her success. The two sophomores train together often, both as teammates and individuals and bring out the best in one another.
"Reese is an inspiration, given she is able to find joy in everything," she said. "She happily and willingly pushes herself to her best abilities, which in turn, lifts me up to want to do my very best while still holding a smile."
"Maddie is also lucky to have an incredible teammate, Reese Dalton," she said. "Reese was very successful as an eighth grader and I think that friendly competition spurred Maddie's motivation in the sport. Now, as two of the best girls in the state, they have different strengths and can really push each other in practice. Right now, Covenant has yet to field a full girls team and I know that's something that Maddie and Reese really want."
With all of her recent running success, Gardiner is interested in trying other facets of the sport. This summer, she spent a lot of time watching the Summer Olympics and developed a strong admiration for U.S. steeplechaser Emma Coburn.
"I am interested in trying steeplechase and she is one of the best," Gardiner said. "As I continued watching her, I became inspired by her unwavering discipline and dedication, even in the face of difficulties, such as her crushing disqualification in the Olympic finals. Overall, I just admire her perseverance as well as her astonishing talent."
Outside of running, Gardiner has a variety of interests.
"I love spending time outside, especially near water, whether it is the beach or pool," Gardiner said. "Friends and family have always been super important to me, so making sure I spend as much time with them as possible makes me happy. I appreciate doing anything with them, such as going on a hike or watching a movie."
Academically, Gardiner enjoys English and history in school because they involve some of her favorite pastimes. She loves to read, especially mystery books. With college still two years away, Gardiner is still figuring out her academic and career aspirations.
"I feel like it changes every day," Gardiner said. "It is crucial to me that I find something I am passionate about. For right now, being a journalist of some kind is intriguing, given the number of topics you could cover and the places you could travel."
Becoming a college athlete also is high on Gardiner's list of priorities.
"I hope to one day run in college, and while competing at a high level, it is super important to me that I go to an academically strong school," Gardiner said. "I would love to travel and live in multiple places so I can see and experience the world."
That thirst for knowledge and improvement is one of Gardiner's biggest strengths and has helped her to overcome her initial struggles with competitive running to become one of Central Virginia's best runners.
"Maddie's strength is her curiosity, " she said. "She is always asking really good questions that end up making the difference in her training. If you've talked to Maddie, you know she is calm, kind, caring and really supportive of her teammates. Deep down though, she's a quiet fire, always looking to do things the right way and always trusting and always grateful."