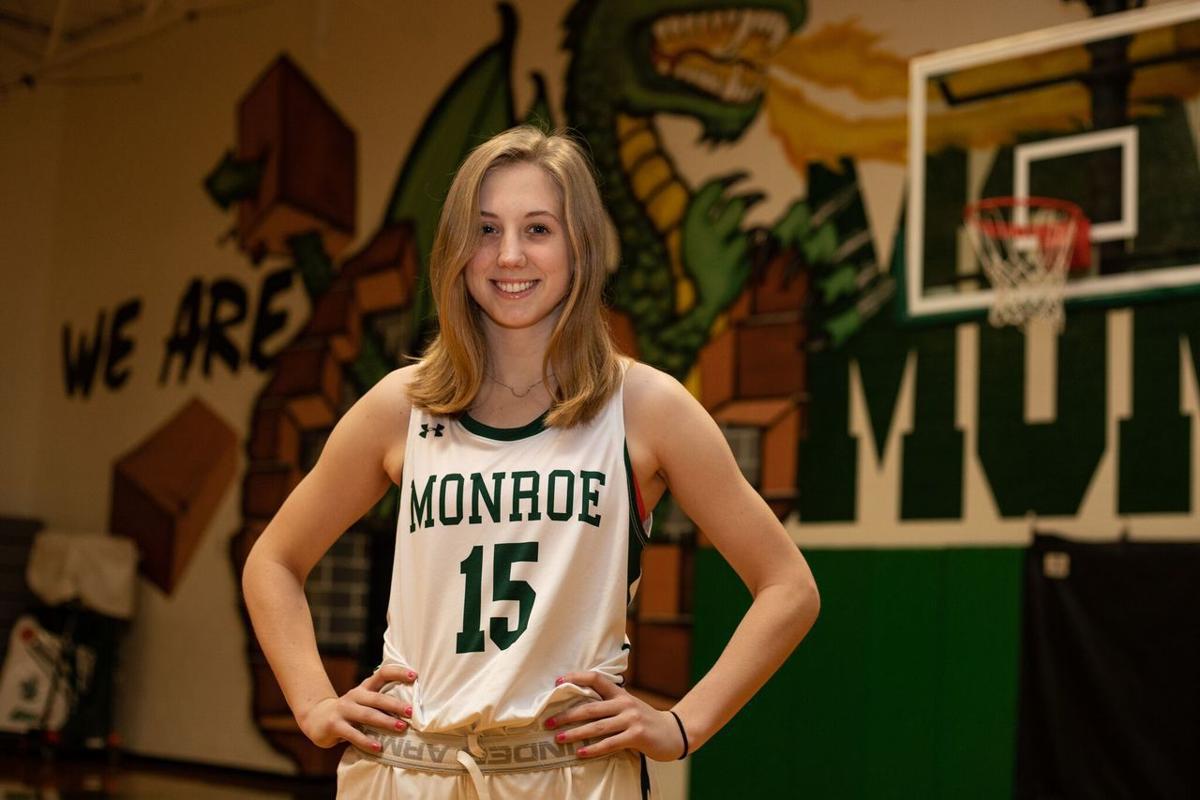 STANARDSVILLE – Martha Apple emerged as an offensive dynamo for the William Monroe girls basketball team last year, earning Northwestern District Co-Player of the Year honors in her first season with the program.
The senior forward has shown that last season was not a fluke, posting a pair of double-double games for the Greene Dragons last week to garner Daily Progress Athlete of the Week honors.
She opened the week with 22 points and 18 rebounds during William Monroe's impressive win over Fluvanna County. Two days later, Apple posted a season-high 26 points and 11 rebounds to help her team sweep the season series with rival Madison County.
"The season is going pretty well so far," Apple said. "We are really gelling and playing well together, faster than we expected, but we know that we need to keep improving and competing."
The Greene Dragons opened the season with a 4-0 record, with all the victories by double-digits. Apple noticed a good vibe around this year's group.
"Before we came out of the locker room at our home Madison game, we were all going through our cheers and I thought about how lucky I was to have a close-knit team and community supporting us," she said.
That camaraderie developed last season following the injury to Samantha Brunelle during the second game of the Daily Progress Holiday Hoops Classic. Apple said she and her teammates rallied around one another and spent the rest of the regular season establishing a new identity without the program's all-time leading scorer.
"Following Samantha's injury, I definitely think my role changed and that role change really gave me experience with court leadership," she said. "I think that I definitely learned how to treat teammates and lead very well from her and how to handle all kinds of situations with poise and discipline, because she told me to never be frustrated no matter what happens."
Apple admits she learned a lot from playing alongside Brunelle, who is now a freshman at Notre Dame. The Greene Dragons won the Northwestern District and Region 3B titles and reached the VHSL Class 3 state semifinals.
"Playing with Samantha was amazing," she said. "It was such a fantastic opportunity playing with one of the best players in the world. I can't tell you how much fun it is running the court with Sam knowing she is going to drop, sling or fire a pass at any time that will lead to a bucket. For me, that was the most exciting thing about playing with Samantha. Anything could happen."
Apple also credits Brunelle for helping her grow as a leader, both on and off the court last year.
"Samantha has a great attitude and is super fun to watch," Apple said. "You can't help but get excited when you play with her."
She also raved about Brunelle's ability to deal with conflict and adversity. Apple remembers watching Brunelle handle "trash-talkers" but never let it affect her play or demeanor.
Apple got a taste of some of that last year too.
"I started having to deal with that type of stuff last year and it has continued this season," she said. "I think watching Samantha handle it so well has taught me to ignore the negative and focus on playing basketball."
Brunelle also taught Apple how to become a leader. The William Monroe senior is more reserved and enjoys leading by example.
"I believe we want the same for our teammates," Apple sad. "My job as a senior is to not only play my best, but to play to my teammates' strengths to allow them to be successful. I think this is the way great teams are made, so I am working on that."
Apple, who signed last month to play at Thomas Jefferson University in Philadelphia, also has improved her all-around game. She considers herself a traditional post player that enjoys playing with her back to the basket.
However, the senior has improved her perimeter shooting this season, making her more difficult to guard.
"My skill-set is pretty versatile and I like to think that I can adapt to a few positions on the floor," she said. "I think my best strengths are defense and rebounding, because those things are all about heart and effort. My goal every time I touch the court is to give those two things."
Her favorite players are Seattle Storm forward Anriel Howard and reigning WNBA most valuable player Elena Delle Donne.
"Those two players are versatile and hardworking and they are always doing whatever their team needs them to do," she said. "That's really what I try to incorporate in my game."
Off the court, one of her top passions is fashion.
"It all started for me when I started shopping for clothes when I was little," she said. "Some of my friends ask for my fashion opinion, but my family is too stubborn to do that."
Apple hopes to one day design her own line of athleisure and streetwear clothing line for Nike.
The senior's first design opportunity will be for her sister, who just got engaged.
"I am going to try to sew her wedding dress," Apple said. "She is home for Christmas break and we are just starting to work on a plan. It should be a fun project to work together on because she is an art major. Hopefully, it will go well."
Although its early the season, Apple is pleased with the growth of the team thus far.
"I hope to create opportunities and quietly lead our team to a state championship," she said. "Our goals this year are to be better than we were last year as a team. Individually, I really just want to help my team get there and elevating my team to that level would be the goal."
Be the first to know
Get local news delivered to your inbox!