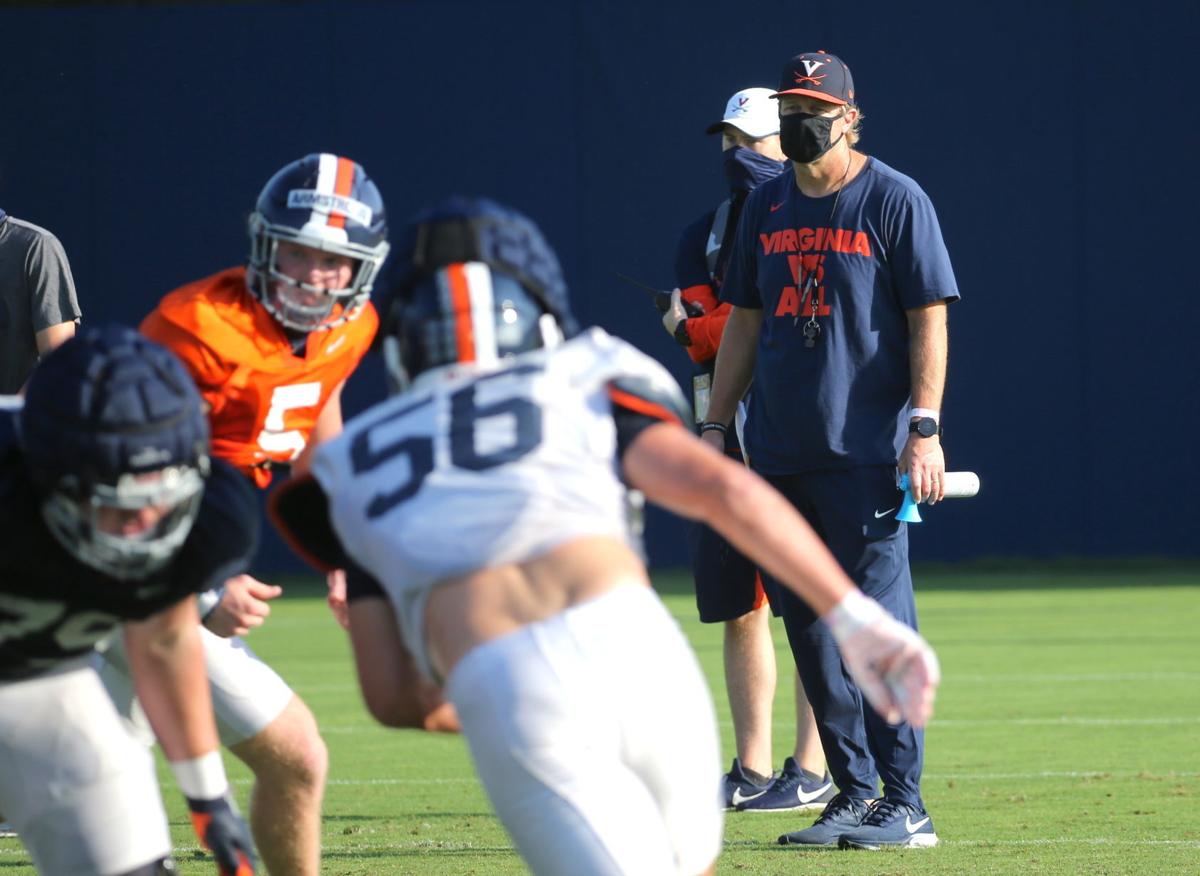 Bronco Mendenhall likes Virginia's current 10-game, all-ACC schedule.
The Cavaliers open with Virginia Tech on Sept. 19, face Clemson two weeks later and square off with high-powered teams such as North Carolina and Florida State along the way.
While Mendenhall feels comfortable with the slate, the ACC wants UVa to add another opponent.
"I would prefer it remain that way because I think 10 is safer than 11, in terms of games," Mendenhall said. "It's just a matter-of-fact statement, but it's been made pretty clear to me that the ACC would like us to have a plus-one, so there are options being pursued."
Under ACC COVID-19 guidelines, nonconference games need to come in the ACC team's home state. That leaves home games or road contests within the commonwealth as potential plus-one options.
Originally, Virginia was slated to play Georgia in Atlanta. After that game fell through due to COVID-19, UVa added VMI to the schedule. Shortly after the addition, VMI announced it wouldn't play football this fall.
That leaves UVa in its current position.
The Wahoos hold open dates for Week 1 — next weekend — as well as Sept. 26 and Nov. 21. There's still a chance logistics don't work out and the Cavaliers don't add another team to the schedule.
With the potential for an 11th game, however, fans want to know who might fit UVa's schedule.
At the FCS level, 15 teams plan to play at least one game this fall. All 15 of those squads are outside Virginia. For any FCS squad to join the schedule, they'd need to meet ACC COVID-19 health protocols, which could be a financial challenge unless UVa foots the bill. Those teams would also need to come to Virginia.
On the other hand, most FCS teams are only playing a few games, making those programs available for potential games on UVa's open dates. That's not the case at the FBS level.
Six FBS conferences hope to play fall football. That leaves AAC, Big 12, CUSA, SEC and Sun Belt teams as potential 11th opponents for UVa.
The Big 12 wants all nonconference games wrapped up by the start of conference action on Sept. 26. That takes the Nov. 21 date off the table, but leaves the Sept. 12 and Sept. 26 weekends open. Unfortunately for UVa, the closest Big 12 squad in geographic proximity — West Virginia — has games scheduled on both weekends.
The SEC went to a conference-only slate, taking potential matchups with that Power 5 league off the table.
Finding an opponent in September presents a challenge. Most teams have schedules lined up, and UVa has the majority of its weekends booked with games. Could a team like Marshall, which has an open date on Sept. 26, be a possible addition?
It's unclear who the Cavaliers might add, but the program is still looking for a possible 11th opponent at the recommendation of the ACC.
"We could announce a plus-one, and that's in the works, but if you're asking me what I would like to do, 10 is safer than 11," Mendenhall said.
Be the first to know
Get local news delivered to your inbox!