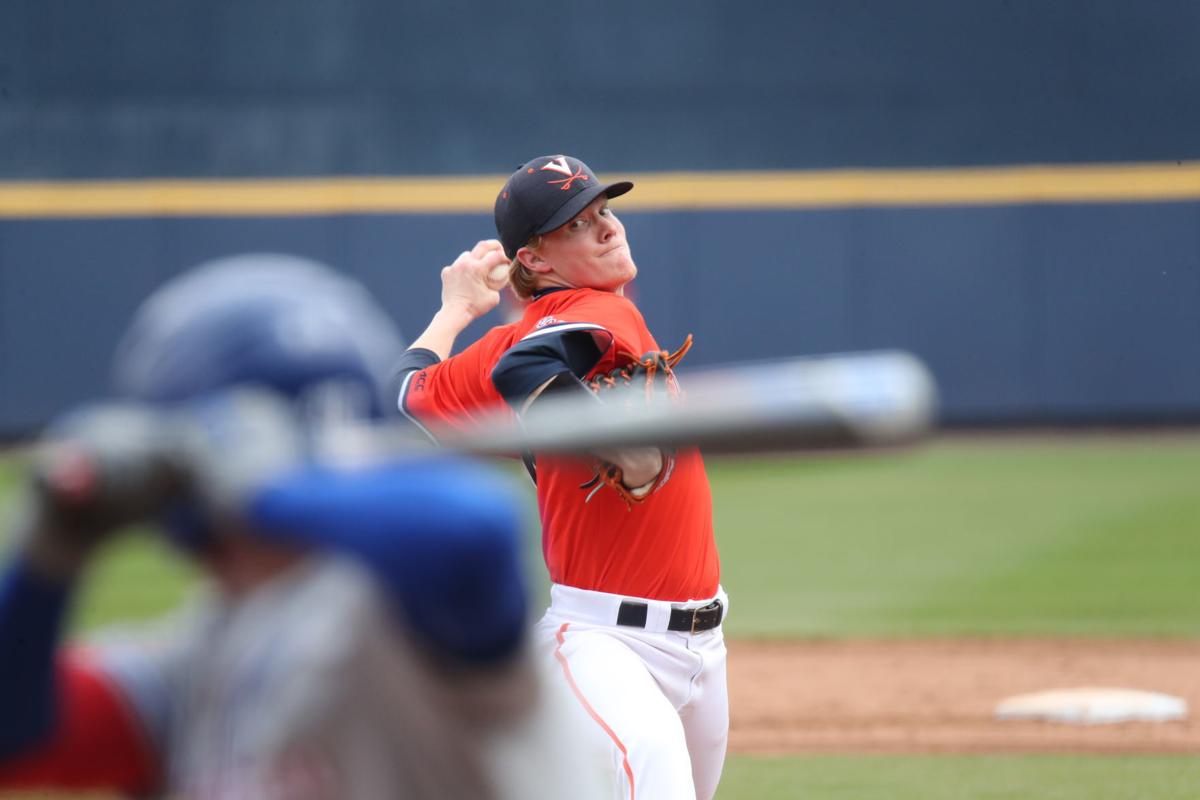 In Brian O'Connor's eyes, Andrew Abbott is a Major Leaguer wearing a Virginia uniform.
The hard-throwing left-hander decided to return to the Cavaliers for the 2021 baseball season after going undrafted in the shortened 2020 MLB Draft. In a typical season, Abbott was a sure-fire bet to be picked in the draft. Instead, UVa will move the pitcher from the bullpen into its starting rotation to try to maximize Abbott's impact this season.
"The kid should be in professional baseball right now," O'Connor, UVa's head coach, said. "The uniqueness of the draft did not treat him well. He's over that, but he's earned it and proven to his teammates that he can do this role and needs to do it. It's the right thing in every facet."
After not being selected in the five-round MLB Draft this spring, Abbott elected to come back to Charlottesville for a final season. Abbott is not the only UVa player to decide to stick around, which made the decision to move him into the starting rotation even easier for O'Connor.
Senior pitcher Griff McGarry likely would've been picked if the MLB Draft went its usual 40 rounds. Instead, he's back as a returning starter after posting a 1.35 ERA across 20 innings in 2020.
Stephen Schoch, a graduate student, planned on finishing his collegiate career last season. The NCAA granted eligibility relief, so the UMBC transfer turned UVa closer will stay in Charlottesville for a final year. He ranked second in the ACC with five saves in 2020.
Senior pitcher Kyle Whitten and graduate student Paul Kosanovich provide additional depth at the back of UVa's bullpen. With so many proven options at reliever, O'Connor wanted to put Abbott in a spot where he could best impact the team.
That led to Abbott entering the starting rotation alongside players such as McGarry, junior Mike Vasil and freshman Nate Savino. Abbott, who posted a 1.35 ERA in 13 1/3 innings in 2020, says he's happy in the rotation or bullpen, as long as it leads to success.
"Honestly, I just want to pitch," Abbott said. "It doesn't really matter to me, just help the team win. At the end of the day, that's the biggest thing."
He spent the fall ramping up his pitching load as he aims to enter the rotation. Instead of throwing an inning or two and maybe 15-30 pitches, Abbott will be asked to go 5-7 innings and toss 75-100 pitches depending on the game. It's a change, but one Abbott — who led ACC relievers with 28 strikeouts last season — is ready to embrace.
To prepare for his increased pitch load, Abbott slowly worked up to throwing more pitches during games in the fall. He also used long-toss drills and threw with weighted balls to build up his arm strength.
"Starting is more getting elongated, working longer, throwing more pitches, being able to go deeper in games," Abbott said. "That's the main difference between the two."
O'Connor credited Abbott with developing complementary pitches this offseason. Abbott's fastball and curveball have been effective in the past, but he's tried to add more to his repertoire over the offseason to help with the transition to the rotation.
Abbott and the returning group of pitchers will throw to a familiar face in Logan Michaels. The graduate student from Wisconsin, who decided to return for another season, is excited about the possibility of working with such talented pitchers. The catcher feels he knows Abbott and others well and can help maximize their talent.
"I know with certain guys what I need to say to get them back on track or like certain cues for them to get back locked in," Michaels said.
With a veteran like Michaels behind the plate and an abundance of talent in the rotation and bullpen, O'Connor feels confident in the possibilities for his group of pitchers. The Cavaliers were seventh in the ACC last spring with a team ERA of 3.39.
Virginia faces a problem most coaches would love to have. How will it spread out innings among all of its talented pitching options?
The Cavaliers' excess depth allows them to move Abbott to their starting rotation. With COVID-19 and contract tracing measures potentially sidelining players for weeks at a time, that additional depth may prove valuable this spring.
"There's no question because of the possibility of things happening throughout the year, the depth in the pitching staff, the depth in potential starters is, I think, really vital and going to play into every team's success or lack of success from the wins and losses standpoint," O'Connor said.
It's unusual for a player of Abbott's caliber to be back in college, but the Cavaliers won't complain. They're excited to give the experienced standout a new challenge this spring.