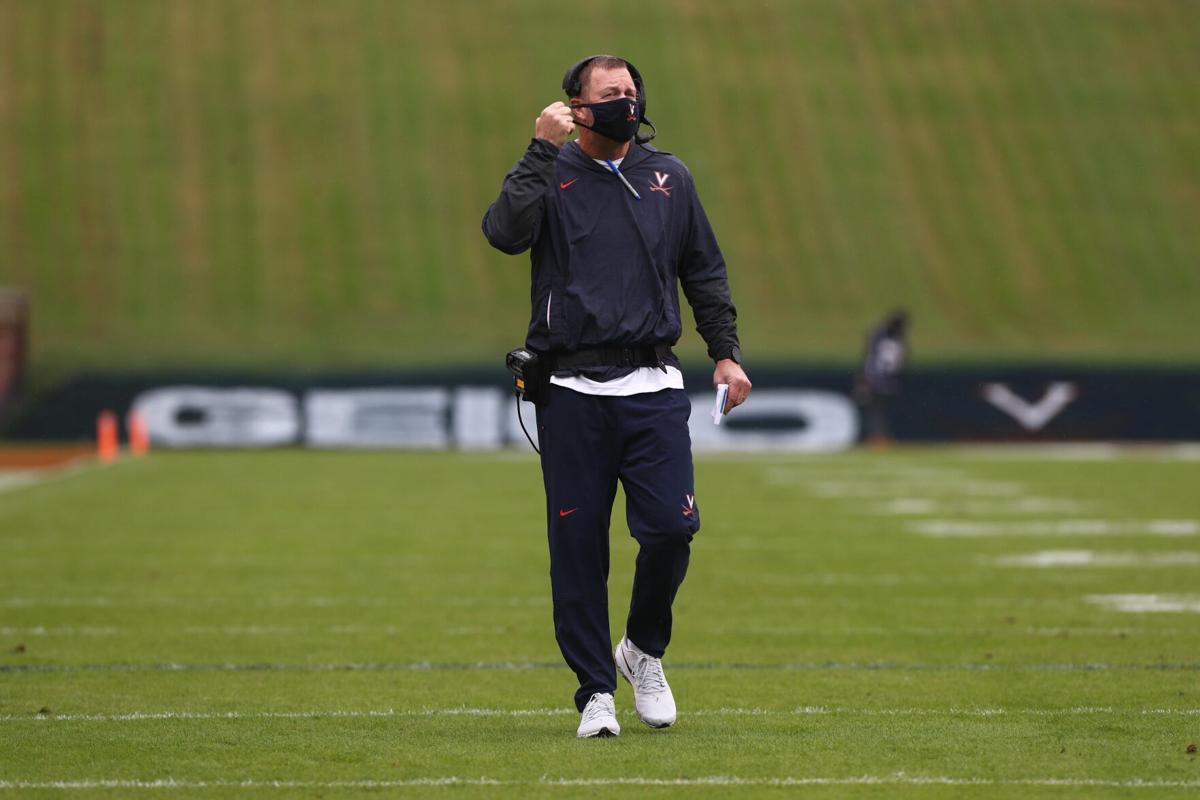 Louisville head coach Scott Satterfield and Virginia head coach Bronco Mendenhall were deep into their preparation last week when the announcement came that the matchup between the Cardinals and Cavaliers was off.
A postponement of the game to this Saturday came in the middle of last week, meaning game preparation for both teams was nearly complete. Game plans existed, and the additional week of preparation allowed each squad to fine-tune their plans for Saturday.
"More time equals more preparation," Virginia defensive coordinator Nick Howell said. "The on-the-field product, I mean, there's no guarantee but yeah, you'd like to say if you have more time, you can be more ready."
At the same time, teams want to keep much of the focus on themselves and their execution.
Satterfield and Louisville's game plan was just about finalized last week, and he's not putting in too much additional film study or making any drastic changes to his team's plan.
"You don't want to overanalyze an opponent," Satterfield said. "I've never been in favor of that. Even when you've had a long time or two weeks to prepare for a team, you don't ever want to overanalyze."
Satterfield says when he or other coaches analyze too much, there's a temptation to put new plays into the playbook. He doesn't want to spend too much time on UVa's scheme, believing he and his staff developed a suitable plan last week.
Returning to health — last week's game was postponed due to COVID-19 issues within Louisville's program — took priority for the Cardinals. Test results from early in the week yielded promising results, making both sides confident Saturday's game would occur.
That gives both sides freedom to prepare for Saturday with the assumption the game takes place.
When it comes to the pre-game work, UVa's players and coaches echoed similar sentiments to Louisville's staff about not wanting to prepare too much.
Starting quarterback Brennan Armstrong says it's helpful to know the game plan from last week. Coming into early-week practices, the Wahoos knew what they wanted to do against the Cardinals. Instead of implementing the entire plan to rack up points against a suspect Louisville defense, Armstrong and the offense just worked on executing the current plan while tweaking aspects of it.
"We had a lot in, so we're just kind of fine tuning now, and we're just gonna keep going," Armstrong said. "It's nice to be kind of ahead, though. It's kind of nice to have those practices in."
The mid-week postponement threw off UVa's typical bye week plan. The Cavaliers were well into game preparations and through many of their most challenging practices by the time last week's game was postponed.
Even with a rhythm-breaking postponement, the Cavaliers actually enjoyed the unexpected rest. They've grown into a rhythm and routine and an occasional change of pace helps break up the constant grind of the season.
"It was nice to have a break actually, even though we were expecting our bye week to be this weekend," Mendenhall said. "We received, or basically we executed, kind of a mini bye week. A subtle change in routine. A couple days off. A little bit of a break for our players. A chance for them to enjoy just watching college football and having a really nice weekend in Charlottesville with beautiful weather. Just a moment to pause, reflect on the first part of the season and to prepare for the second part."
UVa returns from its bye week hoping to maintain momentum from its 44-41 upset victory over North Carolina.
The Cavaliers and Cardinals both received unexpected bye weeks, offering them additional time to prepare for Saturday's showdown between teams toward the bottom of the ACC standings. For Louisville, the focus lied in getting its roster healthy enough to play this weekend. For UVa, the focus sat in taking a few days to rest and recharge.
It was unexpected, but the Wahoos are choosing to enjoy the positives from their week off. They feel rested and prepared — but not too prepared — entering Saturday's contest.