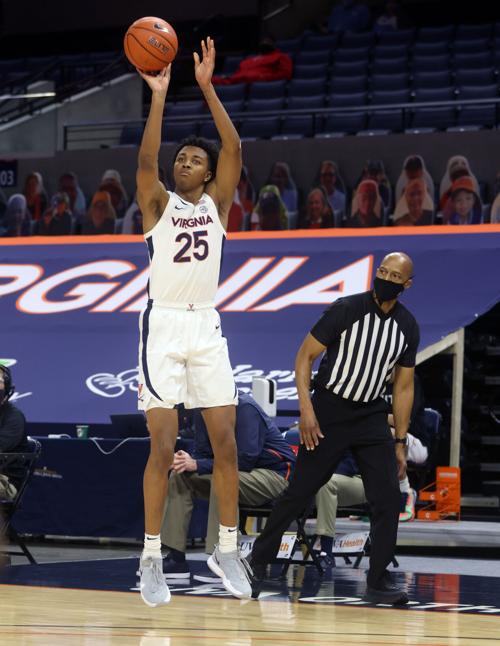 When the Virginia men's basketball schedule was released, the team's stretch from Feb. 13-20 seemed critical. A Saturday game against North Carolina was followed by a Monday battle with Florida State, the 2020 ACC champion. A few days later, UVa would visit Duke for a Saturday showdown.
North Carolina and Duke haven't lived up to their preseason billing and both teams sit on the NCAA Tournament bubble. Florida State, however, is every bit as good as advertised.
After trouncing UNC 60-48 on Saturday, No. 9 Virginia travels to Tallahassee for a Monday night matchup with the No. 17 Seminoles, who sit in second place in the ACC standings behind the Cavaliers.
A Monday game means a quick turnaround for both squads, who competed Saturday.
"I think the first-years will have to get used to that," redshirt senior center Jay Huff said of the short turnaround. "That's something they'll have to learn is there's no breaks in the ACC, and a team like FSU no matter what year it is, they're always solid."
Huff, who recorded a double-double in the win over North Carolina, shared that with fewer than 48 hours between games, most of the preparation for the Seminoles comes through strategy discussions and film study. There's not significant time to prepare for Florida State on the court.
UVa's other Monday ACC game this season came on Jan. 25, and the Wahoos destroyed Syracuse's zone defense in an 81-58 win. The situation with the Orange differed from this turnaround. UVa's previous Saturday to Monday turnaround featured consecutive home games against Georgia Tech and Syracuse. Monday's game against Florida State takes place on the road.
In the week leading up to the games with Georgia Tech and Syracuse, the Cavaliers didn't play any midweek games due to COVID-19 scheduling alterations. That gave the team time to prepare for both Georgia Tech and Syracuse.
While it's a different Monday test this time around for Virginia, Florida State sits in a similar position. The Seminoles will host the Cavaliers, but it's still a quick turnaround, especially for a team recently coming off a COVID-19 pause. FSU defeated Wake Forest on Saturday, and the overtime win was the Seminoles' first game in February.
Much like UVa, FSU plans on relying mostly on film study and a Sunday walkthrough to prepare for its Monday opponent.
"Virginia is probably one of the best teams in America in terms of execution, offensively and defensively," FSU head coach Leonard Hamilton said Saturday. "We have to be aware of what they're doing. We won't have the luxury of going out there and drilling it, so we're going to have to rely on it being mental."
When the game starts Monday, the on-court battle will pin two unique programs against each other. UVa uses a small rotation, relying on its signature Pack Line defense and efficient offensive action to beat teams. The Cavaliers have held their last two foes to season-low scoring totals.
Both UNC on Saturday and Georgia Tech on Wednesday failed to reach 50 points.
"That's always the goal, to make that opponent earn a quality shot," Virginia coach Tony Bennett said Saturday. "It's gotta be contested, and the majority of them were. We won the majority of the possessions, so it looked better the last two games. Now we'll have a great opportunity to test it against obviously an excellent team on Monday night."
Florida State uses a much deeper rotation than most ACC squads, relying on exceptional length at every position. Nine FSU players average at least 13 minutes per game this season, but no player averages more than 30 minutes. Depth, size and length help make the Seminoles a top-50 team offensively and defensively, according to KenPom's efficiency rankings.
The Seminoles are sound defensively, and they're also one of the best offensive teams in the country. In ACC play, FSU leads the conference in points per game (80.4), 3-point shooting percentage (41.8%) and field goal shooting percentage (50.2%). The Seminoles have been the most efficient offense in the conference since ACC play began.
"They're really good," Bennett said. "Coach Hamilton does a real good job, great job and their depth, they have great depth, play a lot of guys, [they] play hard."
Eight Florida State players average at least five points per game. Five of them average nine points per contest, with senior guard M.J. Walker leading the way by scoring 13.7 points per game. Even with sophomore center Balsa Koprivica's status in doubt after he rolled his ankle warming up for the Wake Forest game, Florida State possesses exceptional size and offensive talent at all five positions.
With Bennett and Hamilton having coached against each other for more than a decade, there shouldn't be major surprises Monday.
"They do what they do and if you can stop it, you can win and if you can't stop them, they are going to score," Hamilton said.
Sticking to what's worked in the past is leading to results again this season for both the Cavaliers and Seminoles. When FSU and Virginia meet Monday, they'll do so atop the ACC standings. That's no surprise to ACC basketball fans.