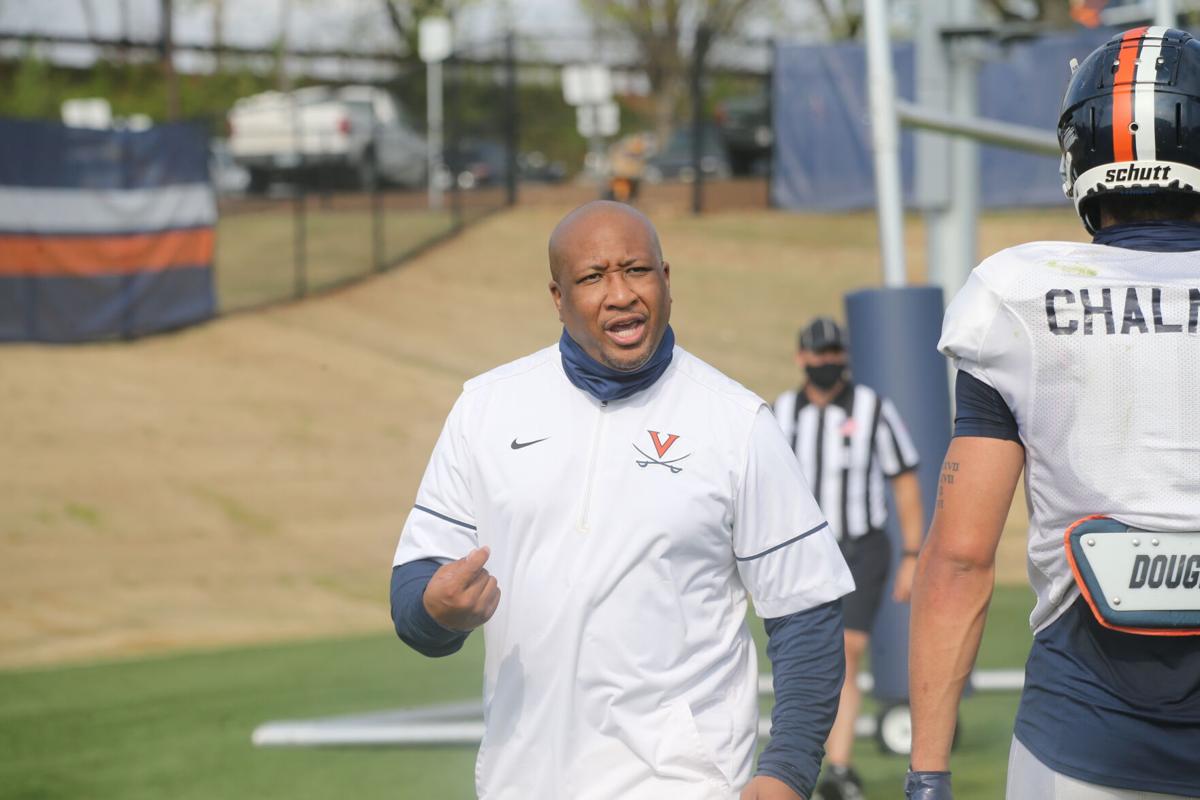 Bronco Mendenhall fondly remembers the 2017 and 2018 seasons, when his Virginia team allowed the second-fewest passing yards in the ACC. Both years, his secondary held opponents to fewer than 200 passing yards per game.
"Throwing the ball against UVa wasn't really an option," Mendenhall said.
In 2020, throwing the ball against UVa was the best option.
Virginia was the only ACC team to allow 300 or more passing yards per game last fall, giving up 304 yards per contest. Injuries to key contributors such as safeties Joey Blount and Brenton Nelson hurt the team, but even with its full assortment of players healthy, the Cavaliers struggled to stop the pass.
As a result, Mendenhall altered UVa's coaching structure this offseason.
Nick Howell, the co-defensive coordinator with linebackers coach Kelly Poppinga, will oversee the defense from a big-picture perspective. Shane Hunter, who had spent time with the inside linebackers, will coach the safeties. Ricky Brumfield, the team's special teams coordinator will move over to coach the cornerbacks instead of the tight ends.
The goal of the changes is to give the defensive backs designated safeties and cornerbacks coaches.
"I've just basically shifted resources now to compensate for what I think is a need to be addressed," Mendenhall said, "but more importantly an organizational imbalance issue with workload that needed to happen, probably a year ago."
Brumfield, who coached cornerbacks and special teams at Western Kentucky from 2013-15, believes the additional coaching oversight can help the defensive backs improve. With a safeties coach and a cornerbacks coach both sharing advice, Brumfield expects to see the team's passing defense take a jump forward.
"I think it's going to be really good," Brumfield said. "You'll see a lot of improvement, just because they're getting more individualized and specialized work."
Brumfield doesn't feel like UVa has a true lock-down corner in the mold of former cornerback Bryce Hall, but he likes the collective talent and experience of his unit. The most notable returners are seniors Nick Grant and Darrius Bratton, who figure to start at the position.
With Bratton, Grant and Louisville graduate transfer Anthony Johnson at cornerback, Mendenhall hopes senior De'Vante Cross can focus solely on playing safety this fall.
Perhaps the most stressed teaching point this spring for the cornerbacks is eye discipline. Watching the tape from last season, Brumfield felt like the corners were often caught with their eyes in the wrong place when in man coverage. He wants them to stay fundamentally sound as they move into the 2021 season.
"I think what got them in trouble a lot was trying to look at too much," Brumfield said. "Looking in the backfield and looking at the running back, like, 'It's man. Look at the receiver. Cover this receiver one-on-one and lock him down.'"
Brumfield admitted he still wants more consistency with the group's performance after seeing a few spring practices. He likes what he's seen from Bratton this spring, though, saying he's the closest thing they have to a lock-down corner. After missing 2019 with an injury, Bratton played in nine games in 2020, but didn't quite feel 100% until the final stages of the fall.
"I feel like myself," Bratton said Thursday. "I feel like the injury is behind us."
Grant, on the other hand, hasn't participated this spring due to injury.
The fifth-year senior cornerback has plenty to prove when healthy. He's earned consistent reps for UVa over the past two seasons, but some of the ACC's most dynamic quarterbacks and receivers have given him problems.
Grant returned for an extra season in no small part because he felt like he had more to give. He's excited about working with Brumfield, and Grant feels like the secondary can return to the form of a few seasons ago.
After UVa's cornerbacks and secondary thrived in 2017 and 2018, the passing defense took a dip in 2019 before falling to last in the conference in yards allowed in 2020. When Grant mulled over the decision to return, he thought of former defensive backs Tim Harris, Juan Thornhill and Bryce Hall, who left UVa's secondary as one of the top in the ACC.