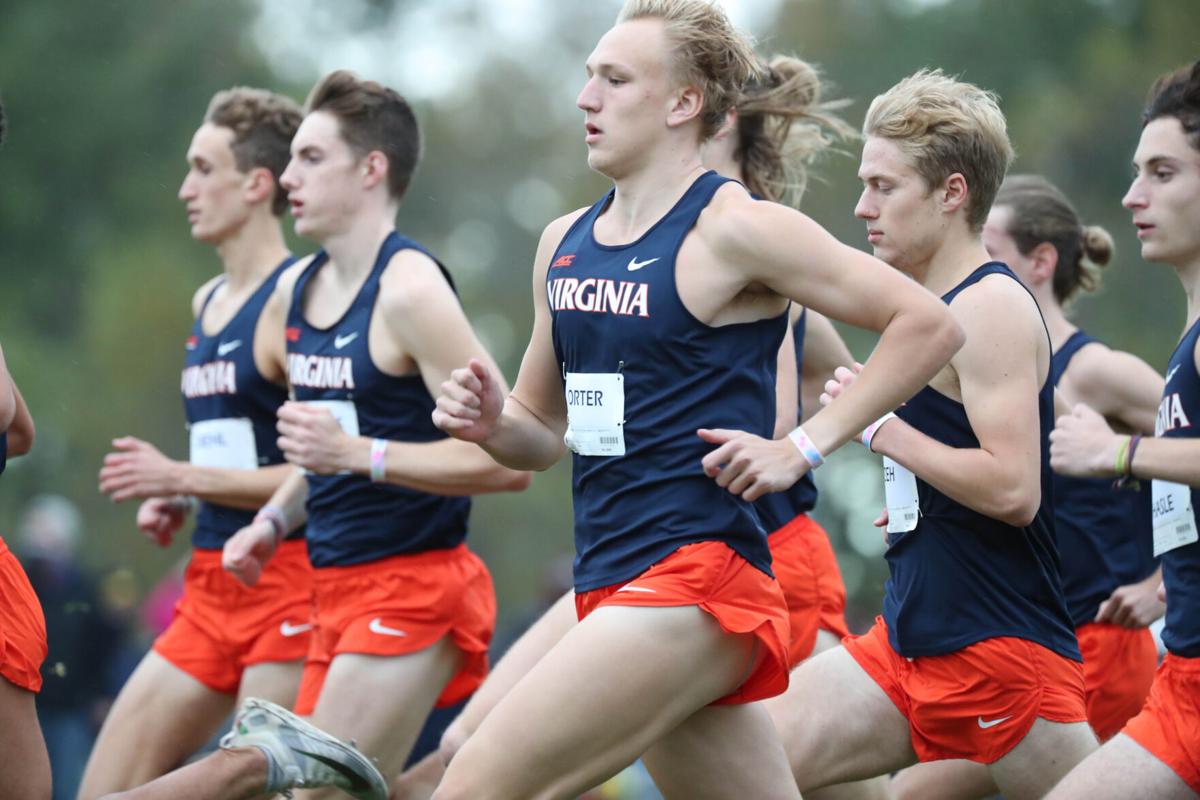 After three events this fall, including three team victories for the men's squad, the Virginia cross country program heads to North Carolina on Friday for the ACC Championships.
Due to COVID-19, no spectators will be allowed at the conference championship meet, but that hasn't diminished the excitement for UVa's programs.
With three wins this fall, the men's program figures to be in the mix for the ACC championship. Star senior Rohann Asfaw, who has won each 8K event he's competed in this fall, doesn't want to put too much pressure on his group, though.
"I want us to do well," Asfaw said. "I don't want to say anything super-specific. I want us to have a really good day and perform to the best of our abilities. That's what I want."
Even with three individual and team victories this fall, Asfaw tries to remain loose before each race. He tries to avoid the burden of expectations, instead taking every race as it comes and enjoying the process.
"I really do just go in and whatever my best is on that day, that's what I'm gonna give," Asfaw said.
If Asfaw's best Friday resembles anything close to his other performances this fall season, he'll find himself toward the front of the ACC pack.
Vin Lananna, UVa's director of track and field and cross country, echoed Asfaw's thoughts about expectations. He's looking for good performances from his team, but doesn't want to go in expecting a team title.
"I think on the men's side, it's probably six-deep," Lananna said of the ACC field. "We'll certainly be aiming to contend, but we'll see how it goes once we get to it."
Lananna stressed the youth on his men's roster. He's pleased with their current results, especially with many of last year's key contributors graduated.
Wes Porter has been particularly impressive. The freshman has been the second UVa runner to finish the 8K in each of the team's three races this fall.
On the women's side, Lananna loves the growth of the program since he arrived last fall.
"The most improved product from a track and field and a cross country perspective is our women's program," Lananna said. "I mean, I'm watching things that they're doing, which are really incredible, and the progress that they've made."
At the same time, he's realistic about their ACC title chances Friday.
"I don't think they're in a position to contend for the ACC title," Lananna said. "The ACC may be the deepest conference in the country on the women's side."
Even though the Cavaliers enter Friday's meet on the outside looking in, Lananna loves the development of the women's program. Senior Hannah Moran posted a career-best 5K time in the team's most recent meeting, taking 17 minutes and seven seconds to complete the race.
Fellow seniors Gabriella Karas and Kiera Bothwell also posted the best 5K runs of their Virginia careers.
"I think we have a very hard-working, very determined group of women who have decided they want to be really good, and they put in the work over the summer," Lananna said. "We give them a structure and guideline, but it's up to them. We don't check and see if they're doing whatever they're doing. They came back fit, prepared, healthy."
The offseason preparation made Lananna happy, and while the group likely won't compete for a title, Lananna thinks they're due for a better ACC showing than last year's 11th place finish.
"I have liked the way they've trained, the way they've performed, the way they've raced," Lananna said. "I think the women are poised to really improve dramatically over last year."
Be the first to know
Get local news delivered to your inbox!