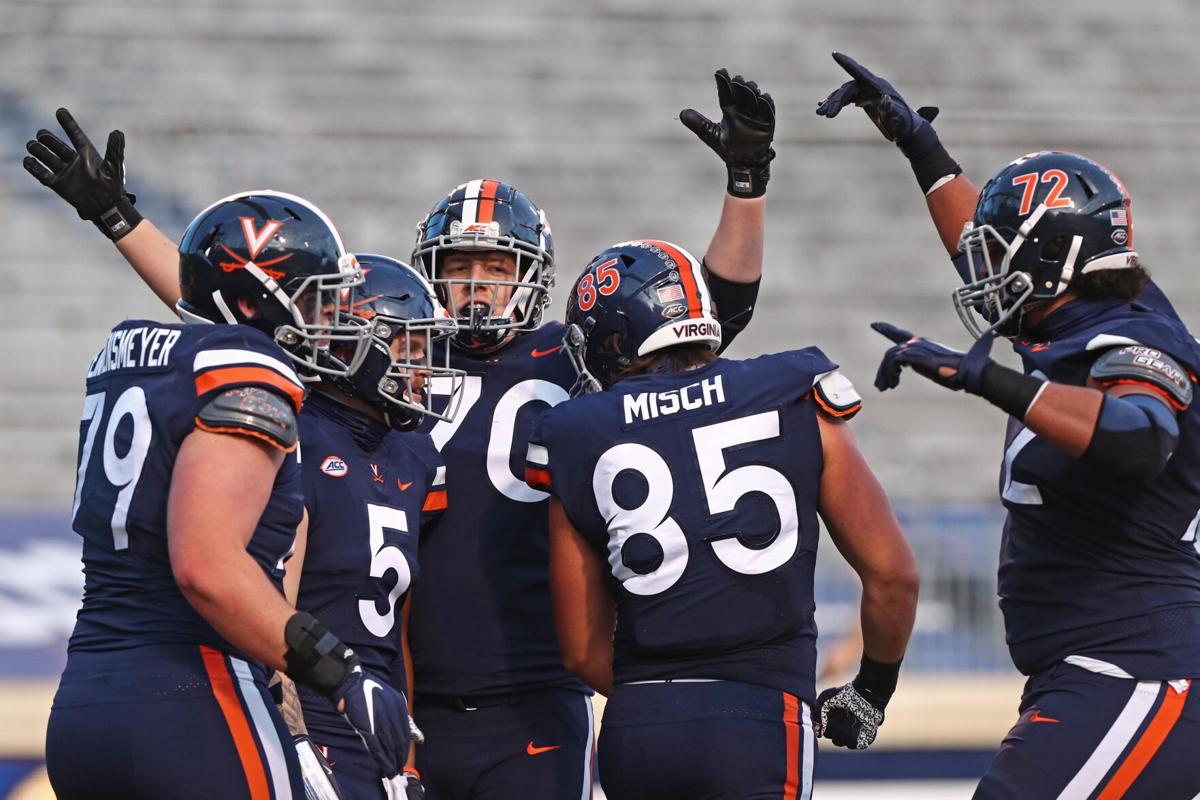 The Virginia football team returned home from Miami last month with a 1-4 record. With the Cavaliers hosting a ranked North Carolina team the following week, their record dipping to a 1-5 seemed likely.
Bronco Mendenhall's team insisted it was better than its record indicated leading up to the UNC game. Despite four consecutive losses, the Wahoos believed they were capable of competing with foes at the top of the ACC.
With their losing streak growing, the Cavaliers' offense caught fire in a 44-41 upset victory over North Carolina on Oct. 31. Brennan Armstrong played well, and the Cavaliers took down Sam Howell and the Tar Heels.
After COVID-19 issues within Louisville's program delayed the game against the Cardinals by a week, the Wahoos picked up their third win of the year on Nov. 14. Virginia (3-4, 3-4 ACC) won 31-17, beating a shorthanded Louisville squad.
This week, Virginia welcomes Abilene Christian to Scott Stadium. The Cavaliers enter the game as heavy favorites, and a win over the outmatched FCS squad would bring UVa back to .500 on the season while stretching its winning streak to three games.
"It'll be a huge milestone, because losing four games in a row was pretty rough for everyone," tight end Grant Misch said. "We never wanted to lose faith. Every week, coach would come up and tell us, 'Guys, you aren't a bad team, we just gotta put everything together to win these games.' I think we're starting to see that."
Putting everything together essentially boils down to performing more consistently in all three phases.
In the opening weeks of the season, the Cavaliers struggled with turnovers and inconsistent play. The defense allowed too many game-changing big plays, and the special teams unit made costly errors.
Recent performances from the Wahoos show growth in all three phases. The special teams unit blocked a field goal against Miami and used a fake punt to seal the victory over the Tar Heels. The Cavaliers also limited turnovers against Miami, UNC and Louisville.
Virginia is 3-0 this year when winning the turnover battle and 0-4 when losing it. Part of the improved success in limiting turnovers also stems from a healthy Armstrong at quarterback.
The Louisville game marked the first time all season that Armstrong played the majority of three consecutive games. He missed the second half of the loss to N.C. State and missed the entire Wake Forest loss. With Armstrong healthy, he's grown into his starting role.
In his first three career starts, Armstrong threw six interceptions. He's thrown two interceptions over his three latest starts.
"Rather than making it bigger and broader, and other influences that I think are present, it's having Brennan back-to-back-to-back," Mendenhall said of the team's improved play the last couple weeks. "Just having our quarterback available to play football. I believe the season started strong with Duke and a good performance versus Clemson. Then there were two games where we didn't have him and did the best we could to innovate and develop and move our team forward."
With Armstrong back, the Cavaliers lost on the road to a top-tier Miami team by just five points. They fell 19-14, squandering legitimate chances to upset the Hurricanes.
The next week, Virginia upset North Carolina. Last week, Virginia beat Louisville. The Cavaliers are 3-3 in games started by Armstrong, with two of the three losses coming to nationally ranked Clemson and Miami. They're a respectable team with their starting quarterback active.
"Even though there are plenty of other factors, if you were just to say the biggest difference so we're not making it more or less than it is, having our quarterback back and healthy and putting some consistent practice reps in games together is pretty simple, but probably the most impactful answer," Mendenhall said.
After starting 1-4 this fall, the Cavaliers sit at 3-4 on the year. Virginia faces a low-performing FCS squad this weekend before traveling to Tallahassee for a matchup with a struggling Florida State squad.
Virginia's players and coaches kept saying they were better than their record showed when they sat at 1-4 on the year. Finally, Virginia's record is starting to reflect the team's talent and experience.
"With each win, it's a great feeling just going in the locker room and celebrating with everyone," Misch said. "To be able to do it twice in a row is a great thing, especially at Scott Stadium because we always love to say that we don't lose at Scott. This week coming up there's another game at Scott Stadium, so hopefully another chance for us to go in there and celebrate after the game."
Be the first to know
Get local news delivered to your inbox!