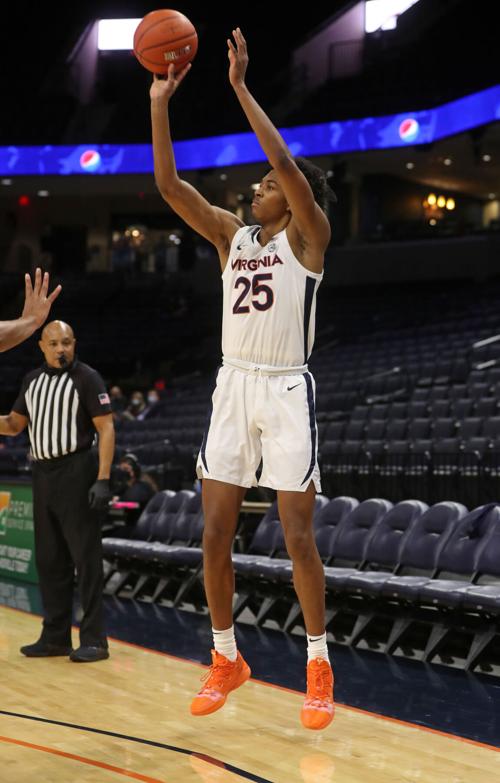 The Virginia men's basketball team's original nonconference schedule looked phenomenal.
Entering the COVID-19-altered year, the Cavaliers were expected to face Florida, Michigan State and Villanova. One by one, UVa lost those chances.
Florida was unable to compete in "Bubbleville" due to COVID-19 issues. Michigan State traveled to Charlottesville for a major matchup with the Cavaliers, but COVID-19 issues within Virginia's program led to a postponement the night before the game.
Virginia stopped team activity due to the issues with the virus, and the Cavaliers couldn't return in time to play Villanova. As a result, the game was called off.
"It was frustrating," Virginia forward Trey Murphy said. "At the time, my initial reaction was 'Yes, I'm a little mad about it,' but it's something I can't control. Things that you can't control, you can't have a negative reaction to it."
Fortunately, a quick schedule adjustment allowed UVa (4-1) to add one massive nonconference game to its schedule. Saturday, the 16th-ranked Wahoos face No. 1 Gonzaga in Texas. The game will tip off at 4 p.m. and air on CBS.
It's a particularly exciting game given Gonzaga's start to the season.
The Zags (6-0) opened the season with a 102-90 victory over Kansas. They've taken down ranked squads West Virginia and Iowa, dropping 99 points on the Hawkeyes in an impressive victory.
Kansas, West Virginia and Iowa were all ranked in the top 7 nationally entering this week.
Gonzaga has beaten all three.
"They are deserving of that No. 1 ranking, and we're excited for the challenge," Virginia forward Kadin Shedrick said.
Through six games, Gonzaga's offense looks close to unstoppable. It averages 94.7 points per game, and KenPom ranks Gonzaga's offense as the second-most efficient in the country.
Two Gonzaga players — forwards Corey Kispert and Drew Timme — average a shade over 20 points per game. Five Bulldogs average at least 9.7 points per contest. The squad is particularly adept at sharing the ball and limiting mistakes, tallying 125 assists to just 83 turnovers.
Gonzaga is by far the best team on UVa's nonconference schedule, posing a massive test that has players excited.
"It was nice to hear that we were going to play Gonzaga because we lost our games against Michigan State, Florida and Villanova," Shedrick said. "I think it'd be cool to get a marquee game in before conference play starts. We're all really looking forward to it. We're all really excited we're going to play Gonzaga."
It's been a challenging start to the season for UVa.
Tony Bennett's team slid from No. 4 in the AP preseason poll to where it sits currently at No. 16.
The Cavaliers sit at 4-1 overall with a sizeable group of talented players, but they lost out on chances to play three elite programs. They haven't been tested against a team all but guaranteed to make the NCAA Tournament field. Despite that, they fell in an upset loss to San Francisco and struggled against Kent State.
Citing a need for more games and development after the Kent State win, the Wahoos were handed a scenario the exact opposite of what they wanted. COVID-19 put the program on pause, keeping them apart and out of game and practice action as they aimed to stop the spread of a potential outbreak.
After weeks of inconsistent results and time in isolation as they navigate a pandemic, the Cavaliers feel due for a reward. After several postponements, a marquee matchup added to the schedule is set for Saturday afternoon.
"I just had to move on because I just know we're going to get our opportunity, and I'm looking forward to that on Saturday," Murphy said. "It is a really big game and me and my teammates are very excited to play Gonzaga."