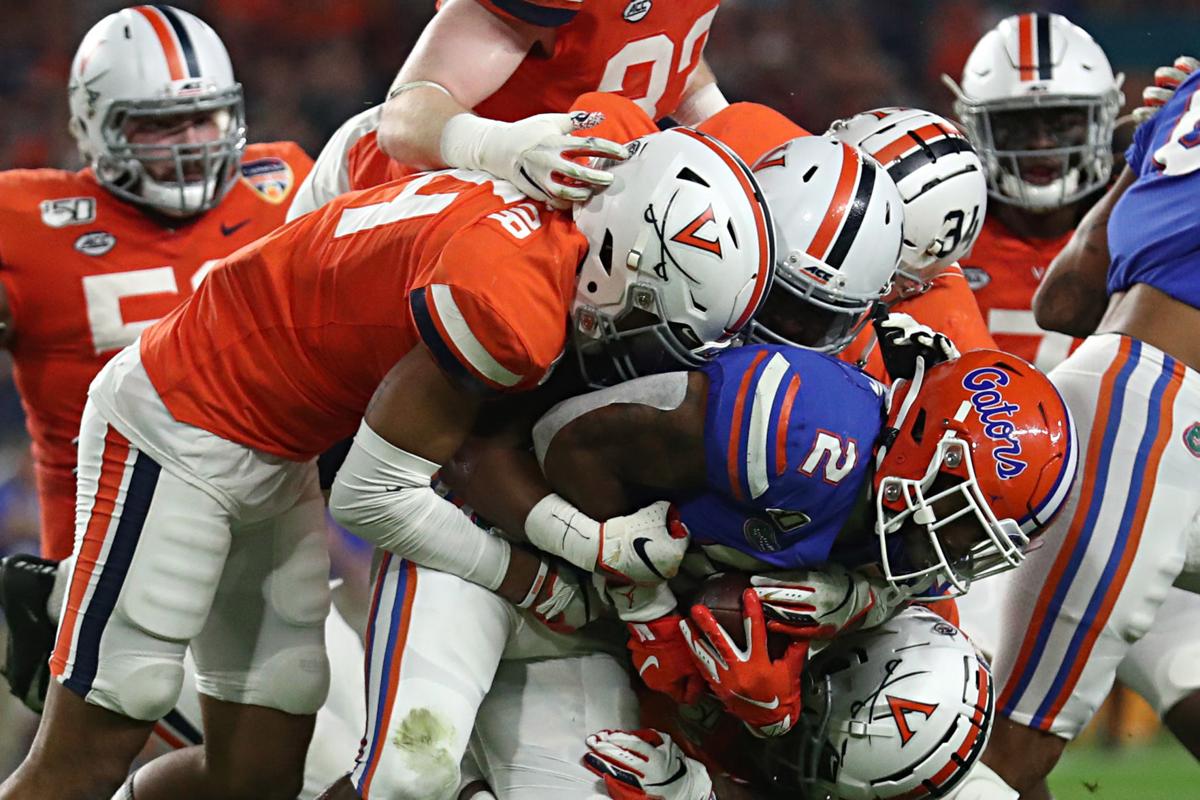 The Virginia football team held each of its regular-season opponents to 35 or fewer points last season. Four of the team's first six foes failed to score 20 points. For the first half of the season, Bronco Mendenhall's group won with defense.
As injuries mounted and opposing offenses improved, Virginia's defense became a liability. In the final two games of the season, Clemson and Florida combined to score 98 points on UVa. The Tigers amassed 62 points and 619 yards, while the Gators turned 549 yards into 36 points.
"We have a bad taste in our mouth right now," co-defensive coordinator Nick Howell said.
Against top-tier teams in the second half of the season, Virginia's defense struggled. North Carolina and freshman quarterback Sam Howell posted 539 yards of offense en route to 31 points against the Cavaliers. Virginia won the game thanks to offensive firepower of its own.
Three games later, Virginia Tech racked up 483 yards of total offense and scored 30 points in a loss to the Cavaliers. Georgia Tech and Liberty scored 28 and 27 points, respectively, in the two previous games. After allowing 27 points or more just once in the first seven games, Virginia allowed at least 27 points in each of the last seven games of the 2019 season.
"We're going like crazy right now and using that as motivation to fix that," Howell said, "and there'll be some tests early in the season with Georgia right there and Clemson and North Carolina all those guys early in the schedule."
Assuming the 2020 season starts on time and games go on as planned, UVa faces three high-powered offenses in the first five games of the season. Clemson, UNC and Georgia all ranked in the top 50 nationally in scoring offense a season ago.
Fortunately for the Cavaliers, they return a formidable defense whenever the season eventually starts up.
On the defensive line, they return Mandy Alonso, Jowon Briggs, Richard Burney and Aaron Faumui. At linebacker, Charles Snowden headlines a talented group that includes Noah Taylor, Zane Zandier and Nick Jackson, among others. The secondary returns Joey Blount, Brenton Nelson and De'Vante Cross as well as other major contributors.
Virginia's defense struggled at the end of last season, but the unit will likely be one of the ACC's strongest in 2020.
"Returning eight starters is phenomenal," Snowden said. "In the linebacker room alone, we have six guys with starting experience. That internal competition will be really good for us. And then I just think a lot of the guys — I know my class, kind of going into our senior year, me, Joey, Zane, Mandy — we'll have a lot to prove and we're really ready to take the next step, like we did last year."
Snowden wants the Cavaliers to have a top-25 defense nationally. A season ago, the Cavaliers ranked 62nd nationally in scoring defense and 48th in total defense.
Returning experience helps the Cavaliers' chances of becoming a top-25 defense, but the Cavaliers lose three critical defensive starters. Eli Hanback was an anchor in the middle of the defensive line, and he could also move to defensive end when needed. Jordan Mack provided tremendous help at linebacker.
Bryce Hall was one of the nation's top corners before suffering a season-ending injury against Miami.
"I think it's kind of like the thing we had two years ago where we kind of said, well, we're only losing Juan [Thornhill], Tim [Harris] and Chris Peace but those were three of our best players," Snowden said. "So, again this year, we're just losing Eli, Bryce and J-Mack but again, three of our best players, two of them were captains."
Losing three critical pieces hurts, but the Cavaliers hold the firepower at each position group to make up for the lost pieces. None of those graduated players can be replaced by an individual, but each position group's total talent and experience levels might surpass last season's starting squad, especially with players like Rob Snyder and Darrius Bratton poised to return from injuries.
An experienced defense also helps a program handle football during the time of COVID-19. With spring practice gone, it's unclear when college teams will take the practice field to prepare for games.
When UVa and other teams do return to practice, it shouldn't take long for the defense to find its rhythm and fly around the field given the chemistry among the returning contributors.
"I think one thing that benefits us with this experience too, if handled correctly, I think we can use that to an advantage defensively," Howell said. "Guys know our scheme, and we should be able to go fast once we get back together."
Be the first to know
Get local news delivered to your inbox!