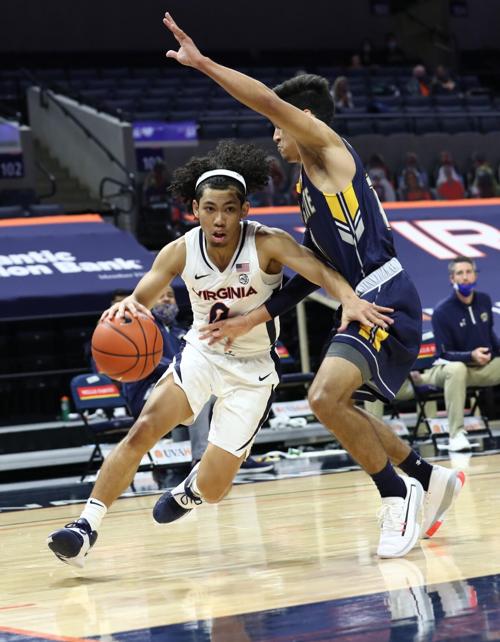 The Virginia men's basketball team returns to game action Tuesday for the first time since Dec. 4.
The Cavaliers come into the game against William & Mary knowing they're talented. They also know they need to improve on both ends of the floor.
Taking a break from team practices for 10 days, which the Wahoos did due to COVID-19, isn't an ideal scenario for a team in need of growth.
UVa (3-1) isn't the only team to pause team activity this season, and it certainly won't be the last. The Cavaliers face an in-state foe Tuesday that spent a week away from the court earlier this season due to COVID-19.
William & Mary's stoppage of practices postponed the initial meeting between the two schools. UVa's issues led to an additional postponement.
Finally, Tuesday, the squads will meet at 2 p.m. in John Paul Jones Arena. For UVa, the Tribe (2-2) appears to be a good opponent to ease back into action against.
"There wasn't a lot of things we did well this afternoon," William & Mary head coach Dane Fischer said after the team's 71-49 loss to High Point on Saturday. "You have to give credit to High Point for the way they came in and played, but I thought we were a step slow really the whole game. We could never get ourselves at the pace we needed to be on offense or defense."
The Tribe returned just one starter from a season ago, and they're leaning on four freshmen to play meaningful minutes. KenPom ranks William & Mary as the 282nd best team in the country. The Tribe rank 330th in defensive efficiency and struggle to generate stops.
"This has been a long stretch for us since we've been out of quarantine — three games in six days, I think it is — and that was maybe a part of it," Fischer said, "but we've got a lot to learn and correct after this one."
Clearly, William & Mary is a work in progress this season after being a top-tier CAA program a season ago.
The inconsistency of the Tribe gives UVa a chance to return from quarantine with a strong performance. The Cavaliers could use a positive showing after starting the season 3-1 with a loss to San Francisco and a tight overtime victory over Kent State.
Virginia hasn't lived up to its preseason hype through four games.
While it won't require a Herculean effort to top the Tribe, Gonzaga waits for Virginia on Saturday in Texas. The Wahoos will face the nation's No. 1 team in less than a week, and they'll need their best to keep the game close.
Through its first four games, Gonzaga is 4-0 with three double-digit wins. The strength of schedule is particularly impressive, with the Zags beating Auburn, Iowa, Kansas and West Virginia to open the year. They scored at least 87 points in each of their first four contests.
Virginia, through four games, has shown little to prove it can defeat Gonzaga.
At the same time, the talent is there. Between Kihei Clark, Sam Hauser and Jay Huff, the Cavaliers possess three of the most experienced and successful players in the ACC.
Team depth is a strong point for the Wahoos, with the Cavaliers possessing the ability to go 10 or more players deep in any given game.
A Virginia team playing well could contend for a national title. The question is when the Wahoos might begin to reach their potential.
Gonzaga will be a major challenge for Virginia, but first, Tony Bennett's team turns its attention toward William & Mary. As shown by the loss to San Francisco and a close call against Kent State, the Cavaliers can't overlook the Tribe.
After 10 days away from practice and more than two weeks between games, every opportunity to play should be cherished by a team in need of development. Tuesday offers a chance for the Cavaliers to get better ahead of a challenging slate of games.
"We got a long way to go," Clark said after the Kent State win. "I know it's a long season. It's early. We just have to learn how to grind it out."