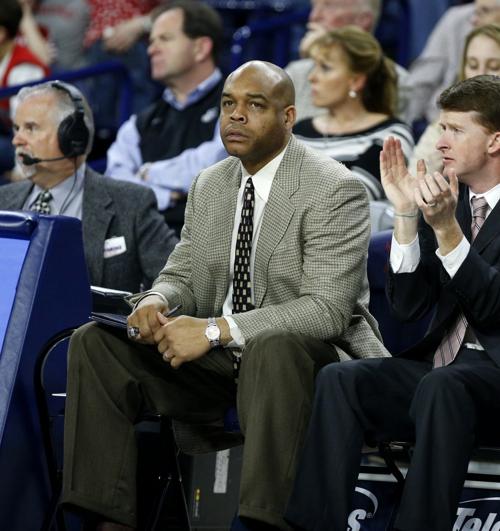 Bryant Stith believed he was taking all the necessary precautions to avoid contracting COVID-19.
Then, in May, Stith let his guard down.
The former Virginia men's basketball star and current Old Dominion men's basketball assistant coach contracted the virus.
"It was quite an experience because I was one of the people who thought that they were doing everything correctly," Stith said. "I stayed in the house. I practiced social distancing. I was sterilizing everything around my family."
Stith attended a 90th birthday celebration for his mother-in-law on Mother's Day. He was around family members, including some who had recently been exposed to the coronavirus without knowing it.
Shortly after the party, Stith faced a nearly month-long battle with the virus.
"I initially dealt with minor symptoms and then it started to affect my respiratory system, and that's when I started to get concerned," Stith said. "I went to the emergency room, and they were able to help me stem the tide and turn the corner. I'm very blessed and fortunate that it didn't turn out to be something more serious."
Stith feels grateful that he committed to his physical fitness and health in the year or so prior to contracting COVID-19. After his college and professional playing days, Stith added weight and lost some of his elite fitness.
He worked to lose some of that weight and get back into shape over the last year, improving his health in the process.
"What I've noticed on the news is that people who had preexisting conditions or underlying conditions tended to fare worse during this pandemic," Stith said. "I'm just thankful, man, that I was able to get my life in order because there's no telling how this could have ended up differently if I wasn't healthier."
The ODU assistant said he got his high blood pressure under control over the past year thanks to frequent workouts. The commitment to his health likely aided Stith in his challenging fight against the coronavirus.
Old Dominion football players returned to campus on June 22 for voluntary workouts, while other athletes at the school are expected to return in stages with all athletes arriving by early August, barring a change of plans.
The return of student-athletes to campuses comes as cases of COVID-19 across the country rise. There are doubts about the fall sports season taking place as scheduled, and schools are doing their best to keep athletes safe while also balancing the financial ramifications of missing a fall season.
Stith misses in-person interaction with his basketball coaching colleagues and the players, but he knows first-hand the importance of practicing proper safety measures to limit the spread of the virus.
"Even though I miss having everybody in the family on campus where we can interact with them every day — I do miss that tremendously — but at the same time I care about all of the people associated with the Old Dominion community that they continue to be safe and practice good health protocols and provisions that have been put in place for us," Stith said.
He admitted that when college students return to campuses, preventing them from gathering in social groups is close to impossible. He stressed the importance of students holding each other accountable.
If you're hanging out with friends, it's OK to question them about where they've been recently.
"You just have to be very vigilant," Stith said. "I had my guard up around strangers, but I didn't contract it from a stranger. I contracted it from family. You're going to be in contact with people who you trust and you have to be absolutely positively adamant to those who you come in contact with that they take this seriously."
While it's different and slightly unusual to place yourself 6-10 feet apart from close friends, it's what health experts recommend in most settings. Stith spent close to a month fighting the virus, and he hopes others take lessons from his ordeal.
Just because you're friendly with someone doesn't mean health protocols should be tossed aside.
"You can do all the right things, and you can follow all the protocols as outlined by our health professionals, but people you come in contact with, you have no control over them," Stith said. "My message is just to be vigilant. Make sure that you practice social distancing in every circumstance, around every person, whether it's friends or whether it's family. Hopefully they learn from my experience and won't have to go down that path that I experienced."
Be the first to know
Get local news delivered to your inbox!