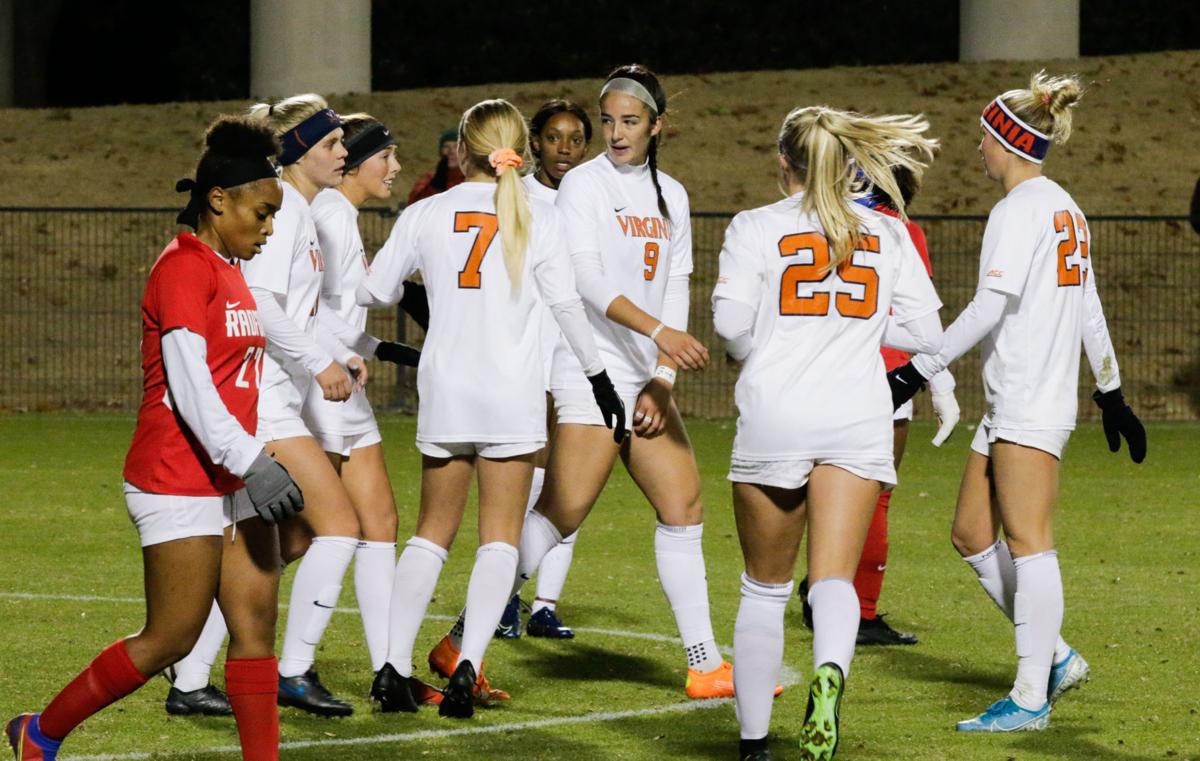 A six-month stretch without University of Virginia sports finally comes to an end Saturday.
The Cavaliers' women's soccer team hosts Virginia Tech Saturday at 6 p.m. to mark the long-awaited return of UVa athletic competition. The lack of sports goes back to mid-March, when the pandemic swiftly ended the NCAA's spring athletic season.
The Virginia baseball team hosted Field Trip Day on March 11 with hundreds of excited kids watching the action. The swimming and diving and men's tennis teams also competed on that day.
During the baseball game, UVa announced that classes would transition online because of the pandemic. The next day, the ACC Tournament was canceled, ending the season for Tony Bennett's men's basketball team.
The cancellation of spring sports followed, sending student-athletes to their respective homes across the country, unsure when they'd come back to Charlottesville.
In early July, athletes began returning to Grounds, but uncertainty remained as conferences across the country canceled fall seasons.
"Personally, I don't think I would have told you that this was ever gonna happen," fifth-year senior soccer player Anna Sumpter said of playing a match this fall. "Two months ago, I think we were kind of in a phase where we were training, but we weren't sure exactly what we were training for and it was all on our own. It's been a really, really weird offseason. Everybody was kind of pessimistic about making it happen, but it's been amazing to see kind of how all the staff and everybody involved has done everything in their power to make it happen."
Saturday's match doesn't signal a return to the way things used to be on the field, but it brings the student-athletes one step closer to athletic normalcy.
COVID-19 still figures to postpone games across the athletic department. UVa announced Thursday the cancellation of a Friday men's soccer scrimmage because a pair of Clemson players tested positive for the virus.
If positive cases within the student body or local community rise to a rate deemed unsafe but local health officials or university officials, there's a chance seasons could be cut short before finishing.
Saturday doesn't mark the finish line for the return to regular athletic competition.
On the other hand, Miami hosted a football game Thursday night against UAB to open the ACC football season. The Duke women's soccer team beat Wake Forest 4-3 Thursday night in a thrilling matchup. ACC programs are competing this fall.
There's a path to playing games, and it includes being tested for COVID-19 three times a week and limited fan attendance at games. It's unusual, but the ACC believes it can work.
Throughout the return to Grounds, UVa's athletic programs have worn masks during practices and followed social distancing guidelines when not competing. The effort to limit exposure to the virus has helped the athletic programs reduce positive COVID-19 cases within each team.
Those efforts have Virginia in a position to return to athletic competition this fall.
"You feel really happy for the players because they've done a lot of work to get here, and a lot hasn't been on the field, it's just been doing the things they need to do to be able to be on the field," Virginia women's soccer coach Steve Swanson said.
The reward for an offseason of following strict safety guidelines is an opening match at home against Virginia Tech. The game against UVa's biggest rival is technically a nonconference match, as the Cavaliers will play three games against ACC teams this season that don't count in the conference standings. Eight games will count as ACC contests.
Hosting the Hokies provides a bit of added intensity in any sport, but after such a long break from athletic competition, the Cavaliers are happy to face just about anyone.
"It's always a competitive and high-intensity game," Sumpter said. "With this season, though, I think we are just so excited to play against somebody other than ourselves that I don't think it would matter who we're playing."
Sumpter says she didn't truly believe a fall season would happen until this week.
"I think it was almost a fantasy for a while," Sumpter said.
Barring a last-minute postponement or cancellation, the match isn't a fantasy. UVa will host Virginia Tech on Saturday night in the first sporting event for the athletic department since March.
It's been a long road, and there's still plenty of work to be done, but the Cavaliers sit on the verge of meaningful athletic competition.
"I think the team deserves a ton of credit for getting this far, and we're excited," Swanson said. "Hopefully we can bring some measure of normalcy this fall to what is an unusual year academically and sports-related wise."
Be the first to know
Get local news delivered to your inbox!