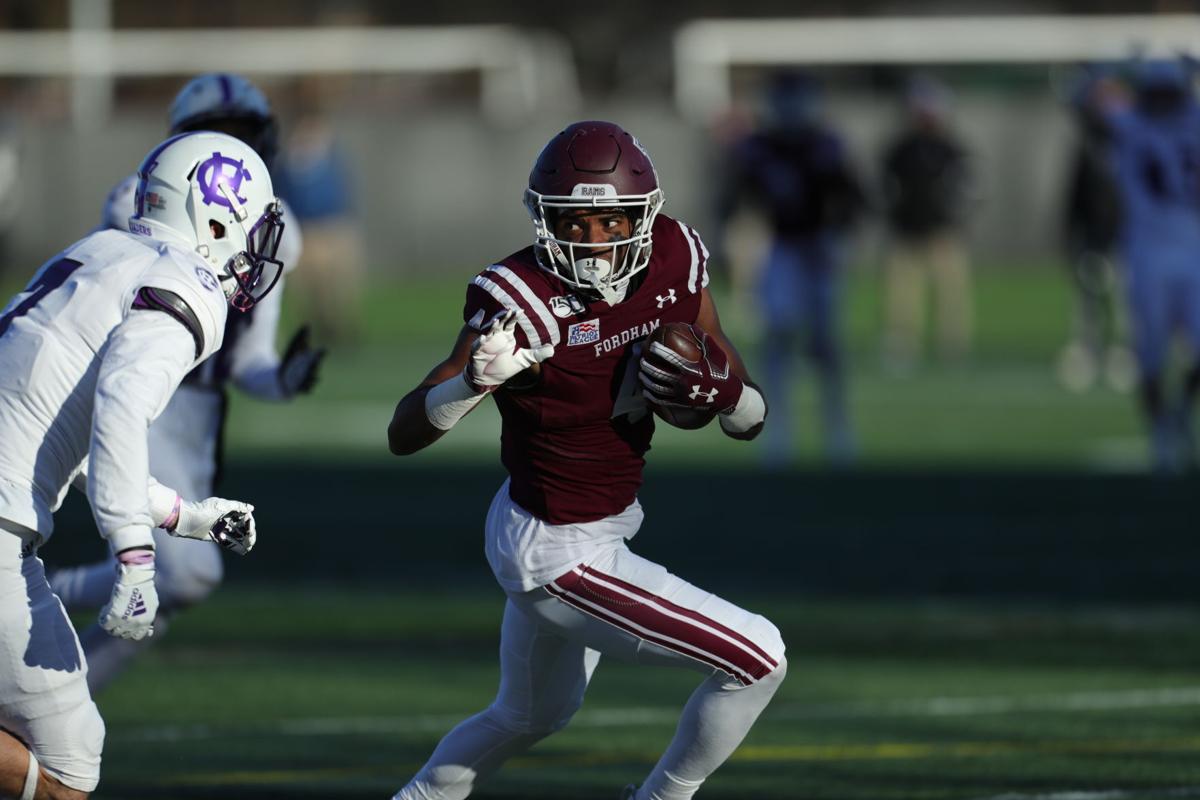 Dequece Carter was known for his big-play abilities during his high school career at Woodberry Forest.
The Louisa County native continued to build on his reputation as an impact player at the college level with a phenomenal first season at Fordham University.
The 6-foot, 190-pound wide receiver took the Patriot League by storm as a true freshman. Carter started all 12 games for Fordham in 2019, tallying 53 receptions for a team-high 723 yards and five touchdowns. He set a freshman school record for catches and receiving yards and ranked second on the team in touchdown receptions.
"After my first season, I found out a lot about myself," Carter said. "I set my goals pretty high. I was happy with the season I had, but never satisfied. I found that I need to recognize coverages more and also work on press release. It was a little easier to run a route in high school without getting pressed."
Carter hauled in a career-high eight catches for 170 yards and a touchdown in a narrow loss to Lafayette. Several weeks later, he garnered national attention after hauling in seven catches for 120 yards and a pair of scores in a homecoming game against Holy Cross, including a one-handed grab that earned a spot on ESPN's "SportsCenter."
"Some of my highest points my first year would have to be the one-handed catch against Holy Cross, being a freshman All-American, getting Rookie of the Week and breaking the school's freshman receiving and reception records," said Carter, who finished his high school career as the area's all-time leading receiver with 153 receptions, 2,815 yards and 32 touchdowns. "I wanted to break more records coming into this fall, as well as making all-league first team, 1,000 yards receiving and All-American for FCS."
The COVID-19 pandemic has altered those plans.
Carter was set to return to New York on June 28, but the date was pushed back to mid-August after Fordham canceled its first three regular season games. With his return to Fordham delayed, Carter has continued to train in Central Virginia this summer.
"All the offseason work was on my own," he said. "I found a local trainer with ADAPT Charlottesville and a home gym and made the most out of what I could. I did a lot of running with my siblings and weightlifting."
The rising sophomore said the summer has been filled with adjustments.
"Off the field, it's been difficult for me to try and stay focused with school and getting that work done," Carter said. "Along with school, being away from my college friends has been a struggle for me. The 2023 class has a strong bond and guys post some memories in the group chat all the time that just makes us want to get back even more."
In terms of football, Carter it's been a smoother adjustment.
"I am good with self-motivation, with staying in shape and working hard even though there is no fall season," he said. "My siblings, who are all athletes, have worked out with me throughout the whole pandemic and they've kept me company."
Last week, the Patriot League canceled its fall sports seasons, joining other FCS conference like the Ivy League and Colonial Athletic Association.
"The news was difficult to deal with, but I saw it coming," Carter said. "I was prepared to play, but at the same time, I was skeptical about how we would be able to play in the fall. I had just woken up and joined the Zoom meeting call when I found out the fall season was canceled."
Carter said Fordham Coach Joe Conlin met with the team virtually and tried to easy any concerns they may have.
"The team could kind of tell that the news was coming, but no one really wanted to hear it," Carter said. "It seemed hard for coaches to let us know, but I think he handled it well. I think most guys are just worried about how this affects the seniors and if we'll get this year of eligibility back."
Patriot League officials have discussed moving the football season to the spring, but that would present challenges for its member schools.
"Football in the spring for us may be difficult," Carter said. "I would enjoy that more to be honest. Some of the games toward the end of the season were freezing, so to be able to play in warm weather the whole season would be a plus for sure. I think it would be difficult due to the sports that also use the field that we play our home games on and without fans would be different."
Despite having no football games to play this fall, Carter says he will have plenty to keep him busy, on the field and in the classroom.
"I want to use this upcoming fall to boost my GPA," he said. "A lot of the football activities will be canceled, so I can focus more on school. As far as on the field this coming fall, I'd like to get bigger and faster as well was strengthening my footwork and [ability] to read coverages. I'll be hitting the books and film all fall."
Carter also hopes to continue to be a role model for his younger siblings as they pursue their athletic and academic dreams.
"I know they all look up to me, so I try to always to the right thing to be a good role model for them," he said. "I try to push them so they can be better than me. Our goal is to not have our parents pay a dime for college."
Be the first to know
Get local news delivered to your inbox!