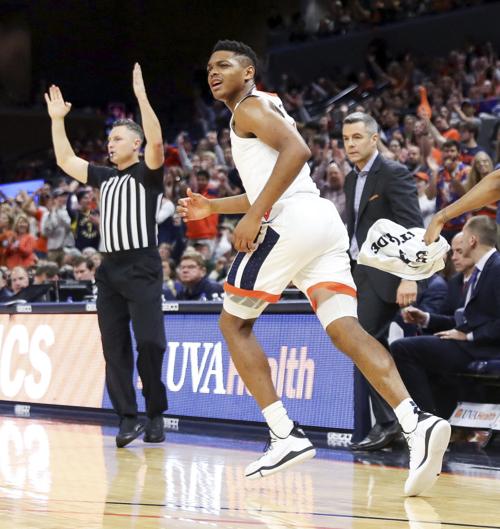 With Mamadi Diakite and Braxton Key graduating and starting their professional basketball careers, Virginia's underclassmen gain an opportunity to contribute meaningful minutes for a contender entering 2020-21. Under Tony Bennett's watch, UVa's 2020-21 roster returns key contributors such as Kihei Clark and Jay Huff, while also adding an impact transfer in Sam Hauser.
"I think next year's team is gonna be one of those interesting teams," Diakite said. "We're gonna see what they'll do, but I believe in them. I think they're gonna go far."
Clark, Hauser and Huff possess the ability and experience to lead the Cavaliers, but three players don't make a team. Several of UVa's underclassmen will see more playing time next season, and the Cavaliers will rely on improved play from those athletes to reach their potential.
Here's a closer look at a few of the Cavaliers' returning underclassmen poised for larger roles.
Casey Morsell
The rising sophomore shooting guard played exceptional defense this season, but struggled with his jump shooting. Morsell made just 15 of his 85 attempts from 3-point range, giving him a 3-point shooting percentage of 17.6%. He shot 27.7% from the field on the season.
Bennett's system values defense first, which makes Morsell a prime breakout candidate. The highly regarded prospect played defense well in his first season in Charlottesville, giving him a case for playing time. If Morsell is able to rekindle the offensive success he found in high school, Morsell will become a staple in UVa's rotation.
Jay Huff played with Morsell in a Nike summer league prior to the start of this season, and he knew what the Cavaliers were getting from Morsell on the defensive end.
"He's a very skilled offensive player, but a lot of what impressed me was his defense," Huff said. "I played with him in the Kenner League the summer before the season started, and I could tell he was a really good defender who's scrappy, quick."
Justin McKoy
The North Carolina product appeared in 14 games for Virginia this season and averaged 7.4 minutes per game. While he didn't play a ton, the rising sophomore forward offers similar ability to that of Key. He's a good defender who rebounds very well and plays with tremendous energy.
Improved shooting range would give McKoy a better chance at significant minutes, but given his defensive prowess and energy, he's likely to see minutes at the small forward and power forward spots next season.
"Justin McKoy, he's an interesting guy," Diakite said. "I see him as Isaiah Wilkins. He just has to accept and be willing to do what is asked for and not go outside of that, and he's gonna be fine."
McKoy went on record saying he loves practicing and enjoyed competing against Hauser, Diakite and Key in practice this season. According to Key, the upperclassmen weren't afraid to challenge McKoy and talk trash to the youngster in hopes of pushing him and raising his game.
The forward handled the challenge well.
"He would attack us every day," Key said. "He's not a guy who will back down because he's a first year and guys are fourth years. Guys will talk trash to him, and he'll talk right back."
With three years of eligibility remaining, it's likely McKoy grows in his role each season, especially given his aptitude defensively. He's a player who doesn't draw much attention, but McKoy's teammates say he's due for a solid sophomore campaign.
"I think that you can be ready for him to have a really good year and a really good career," Huff said.
Kadin Shedrick
Shedrick redshirted this season, giving the 6-foot-11 forward four years of eligibility remaining. He possesses tremendous length, although he's a player who could benefit from added muscle and skill development.
He burst onto the high school recruiting scene with a few solid seasons toward the end of his high school career after playing on the junior varsity squad as a high school freshman. By the end of his career, he was his high school conference's Player of the Year.
"Kadin, he's very raw," Diakite said. "Athletic, long. I think he's gonna have some minutes so he can get used to the rhythm."
Expect the talented big man to take the court at times as either a power forward or center for the Wahoos. With Huff and Francisco Caffaro at the center position, however, it might be hard for Shedrick to find a major role on the 2020-21 team. That depends largely on what the Cavaliers elect to do at power forward.
"He's gonna have to be determined and take on the role he's gonna have and not be discouraged," Diakite said. "Just keep fighting until his turn comes really, until he's the man, but I think he's gonna have a big impact on the team."
Francisco Caffaro
Next season, Caffaro will be a redshirt sophomore. It'll be his third season with the program, and he'll likely serve as a primary backup for Jay Huff.
Caffaro isn't a shooter like Huff, but he's a significantly more physical player. He defends fairly well and sets hard screens. He also uses a few nice post moves to score in the paint. He's a nice change of pace from Huff.
"He's a big body," Diakite said. "I see him as Jack Salt 2.0, probably better offensively and more coordinated than Jack."
Caffaro's redshirt freshman season wasn't without growing pains. There were times when he fouled too frequently or was left out of position on the defensive end.
There's room to improve for the big man, and he'll have time to do so with someone like Huff holding the starting center position.
"When his mind is right, he can hurt people," Diakite said. "Defensively he just has to trust who he's playing with."
UVa's 2020-21 roster is loaded with talent. If the team's underclassmen can fill their roles successfully, the Cavaliers look the part of an ACC title contender.