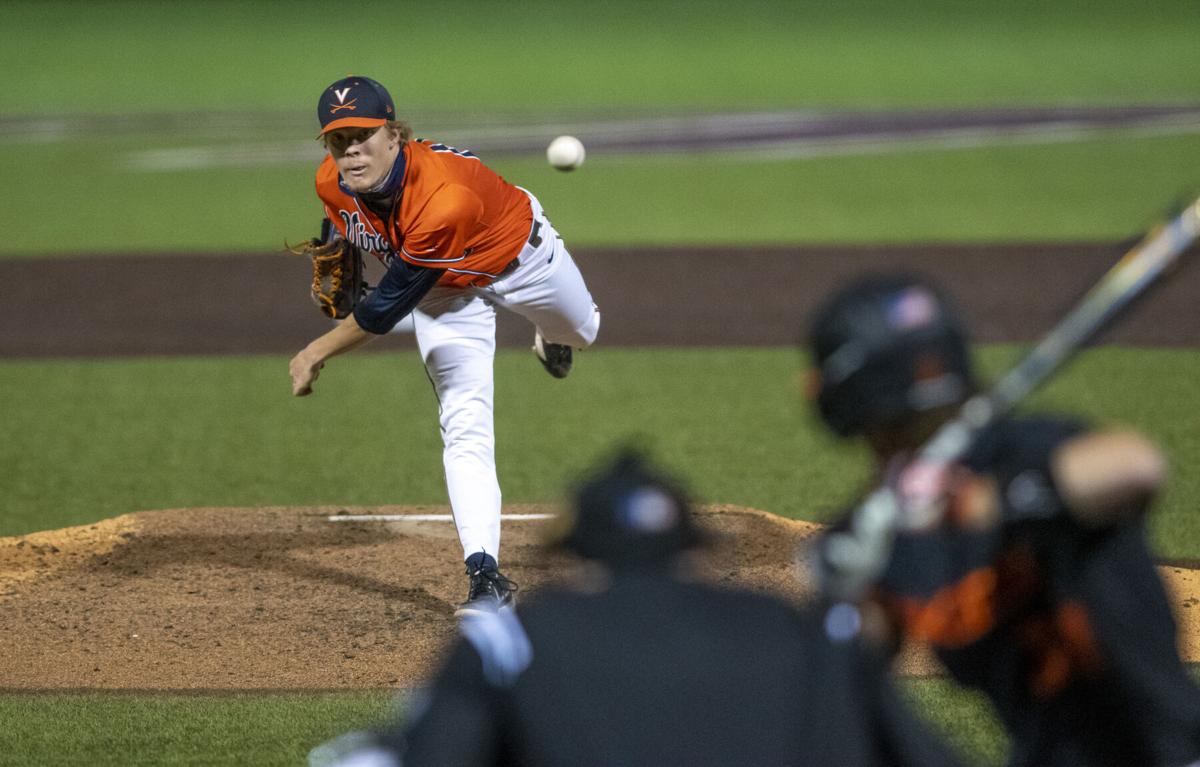 The Virginia baseball team's NCAA Tournament fate hangs in the balance with just two ACC weekends left on the schedule.
The Cavaliers, who missed the NCAA Tournament in 2018 and 2019 after a streak of 14 consecutive appearances, were off this past weekend for final exams. They'll host Wake Forest this weekend, hoping to climb closer to .500 in the ACC while also ridding themselves of the losing feelings from last Tuesday when they blew a 5-0 lead in a 7-5 defeat to VCU.
"We can't let this one hang over us too much," junior pitcher Zach Messinger said. "It should sting, it's a tough loss, but it's just gotta be about getting up tomorrow. The sun's gonna come up tomorrow, and we're gonna get better."
Even with the heartbreaking loss added to the resume, it likely won't doom the Cavaliers' NCAA Tournament hopes.
"VCU's got a really good team," Virginia head coach Brian O'Connor said. "Their RPI is really high. It's disappointing that they beat us both games this year, but they earned it."
The goal in the final two series is to take — at minimum — four of six games from Wake Forest (17-23, 7-19 ACC) and Boston College (20-25, 9-21 ACC).
"If they could run off a couple sweeps of those two teams … that would be great," Baseball America national writer Teddy Cahill said in a phone interview last week. "That would almost certainly put them in, but I don't think it even needs to be that dramatic. Definitely I think they need to win those two series."
Cahill, who plays a significant role in Baseball America's top 25 poll and weekly NCAA Tournament projections, released his latest projected field of 64 Wednesday. He has Virginia (22-21, 13-17 ACC) among the first four teams outside of the field. Cahill said that's where he expected UVa to fall before losing VCU game, and he didn't think the outcome of the midweek showdown would mean all that much to Virginia's resume.
Currently, Cahill lists nine ACC teams in the field. UVa and North Carolina are both in the first four out category.
While UVa has series wins over Georgia Tech, Virginia Tech and Clemson, the team's ACC record is an eyesore, especially when compared to conference peers. Georgia Tech is 18-12 in the ACC and leads the Coastal Division, while Clemson is 15-15. Virginia Tech sits at 16-14 in league play, which is significantly better than UVa's 13-17 mark.
Virginia's RPI stands above some of its conference peers. The Cavaliers have an RPI of 44, while North Carolina and Virginia Tech are tied at 46. Duke (48), Louisville (50) and Clemson (51) all fall behind Virginia's mark.
As for the Hokies, UVa's in-state rival, Cahill feels good about their chances to make the field, but hosting a regional seems less and less likely after losing three consecutive ACC weekends. Assuming the Hokies can win two of their final six ACC games against Duke and Notre Dame, they'd finish at .500 in the league.
Cahill has Virginia Tech playing in the Knoxville Regional in his latest bracket projection, battling it out with No. 7 Tennessee as well as South Carolina Upstate and Southeast Missouri State.
UVa, on the other hand, is on the outside looking in, even after winning two of three in Blacksburg last weekend. It sits in sixth place in the ACC Coastal Division, putting it as the 11th best team in the ACC in terms of conference winning percentage. UNC is barely ahead of UVa as the 10th best team in the conference.
While Virginia's RPI looks strong, limited nonconference schedules nationally bring that number into question. The conference standings are an easy way to differentiate ACC teams competing for spots in the tournament field.
"Being the 10th best team in the league this year, that's something very firm the committee can point to … that is very easy to say, 'Well, objectively, that's worse than the team that's seeded eighth,'" Cahill said.
If UVa can rattle off four to six wins in the final two weekends — especially against two teams with a combined 16-40 conference record — it would put the Cavaliers' conference winning percentage between a 47% and 53%. For comparison, a 53% winning percentage would currently tie the Cavaliers with Virginia Tech for sixth in the ACC.
"I think that's the biggest concern for them right now is just making the ACC record look as close to .500 as they possibly can," Cahill said.
The two upcoming weekends, even against ACC squads with mediocre RPIs and season records, will likely make or break the team's NCAA Tournament chances. Virginia's RPI compares well to its ACC peers, but the overall conference record is holding it back.
UVa needs to come out of the final two series with at least four victories to feel somewhat comfortable about its postseason chances.
"Virginia has really just backed itself into a corner where they need the wins kind of no matter where they can get them in the ACC," Cahill said.