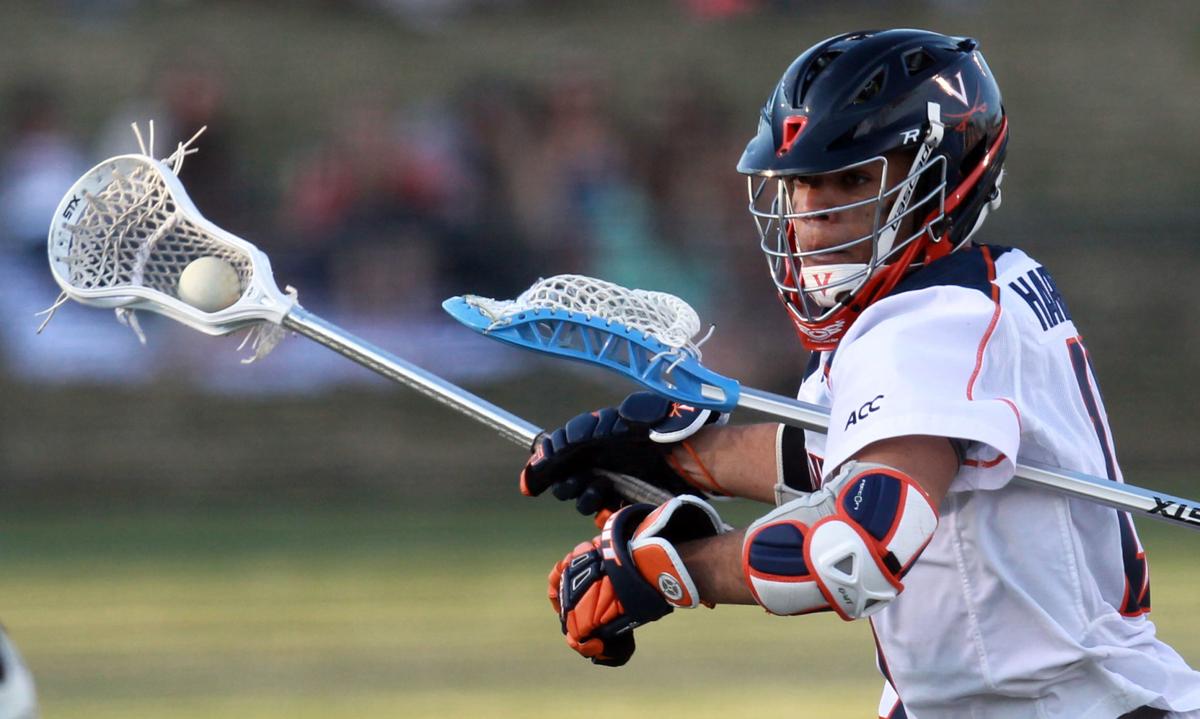 During Pat Harbeson's junior year at Virginia, a group of students from Harlem Lacrosse visited Charlottesville.
The experience left an impact on Harbeson.
"I think what kind of really stood out when they first visited was the fact that you're looking at low socioeconomic families and kids, but the group specifically that came down wasn't your traditional lacrosse team," Harbeson said. "It was filled with a bunch of boys who were mixed race; they were Black or Latino, which was very different than the standard, stereotypical lacrosse player."
Harbeson, a biracial athlete adopted into a white family, experienced racism growing up, but he also experienced certain privileges. He comes from a military family, and he moved around as a child, which helped him learn and appreciate different cultures.
Following George Floyd's death, Harbeson knew he wanted to take action. He saw the racial unrest nationally and wanted to use his platform as a biracial athlete. He also wanted to ensure his words and actions led to meaningful outcomes.
"I looked at it and I said, 'What can we tangibly do to make a change?'" Harbeson said.
Ultimately, Harbeson decided to donate money to Harlem Lacrosse, a nonprofit organization which empowers student-athletes through lacrosse and mentoring.
For every groundball Harbeson picks up during the Premier Lacrosse League's two-week tournament, which began Saturday, he'll make a donation to Harlem Lacrosse.
The former Virginia athlete, who won a national title in 2011, wants to help those in less fortunate situations. The organization predominantly helps students of color.
"I think everyone kind of looks at these low socioeconomic cities in America and they point fingers saying, 'All this violence and negativity occurs in these spots, and for me it's like, 'OK, so let's go into these cities and try to uplift them and equal the playing field and try to assist and help out,'" Harbeson said.
Harbeson's coach at UVa, Dom Starsia, serves on the Harlem Lacrosse Executive Board and is the one who brought the Harlem Lacrosse group to Charlottesville during Harbeson's junior season.
The legendary coach is passionate about Harlem Lacrosse's mission and execution.
"Most of the time when you think about organizations like this, you think about an after-school program, and that's not who we are," Starsia said. "We are a school-by-school program, so when Harlem gets involved with a school, we put a full-time person in the school."
The full-time staff members help students with most aspects of their lives. Reaching practice after school comes as a reward. Students first need to ensure they arrive at school on time and take care of their school work.
Having a full-time staff member in the school allows the staffer to mentor the student on a daily basis and in situations outside of the lacrosse field. Lacrosse plays a key role in the development of the students, but it's not the only focus.
The organization's efforts hit home for Starsia, whose father was a New York City police officer.
"Harlem was always a mysterious place growing up," Starsia said. "It touched me, Harlem Lacrosse did, in a lot of different ways."
Starsia loves the organization's work — the nonprofit has expanded to cities outside the New York area in recent years — and he loves the UVa connections. Former Cavaliers have worked at the nonprofit, and the program's founder, Simon Cataldo, earned a law degree from UVa.
"I particularly enjoy the fact that the Virginia guys are very active, doing what they're doing," Starsia said. "It's great to see what Patrick is stepping up and doing here."
For Harbeson, the fundraiser comes at an important time. With COVID-19 impacting organizations across the country, Harlem Lacrosse is among those feeling the financial hit.
Fortunately, Starsia and others reached out to the lacrosse community, and the organization has had more than 2,000 new donors in the past three months.
Harbeson's fundraiser should add to that total.
A few players, including former Virginia star Adam Ghitelman, and lacrosse organizations reached out to Harbeson on social media after his announcement. Some players will donate to Harlem Lacrosse based off their own stats, while others will match Harbeson's final donation.
"I'm hopeful that more guys jump on board, and it kind of just catches like wildfire the way that social media can run," Harbeson said. "I'm super excited. I'm thankful for guys like Joel Tinney and Adam Ghitelman for jumping on board and getting involved. It's a real tangible way we can make change in people's lives."
With the coronavirus pandemic and racial unrest nationally, it's been a challenging time. The impact of both the pandemic and the racial tension is felt by those within Harlem Lacrosse.
Harbeson's fundraiser helps the nonprofit during a difficult time financially and mentally.
"It's everything," Starsia said. "What I have learned in my lifetime — 42 years coaching college lacrosse and now four or five years out of coaching — what I used to say and what I used to take for granted is that it is about the relationships. It is. I'm very grateful for the fact that we won some championships and we have that, but when I see guys like Patrick being a success and giving back to the community, it means everything, frankly."
Starsia hopes his former player fills up the stat sheet the next two weeks.
"What I think should happen this weekend is when Patrick's playing one of these games that's been decided, people should roll him the ball and knock it out of his stick and roll it back to him again," Starsia joked. "Make him pick it up like 10 times in one short sequence. Let's empty his bank account."
Be the first to know
Get local news delivered to your inbox!