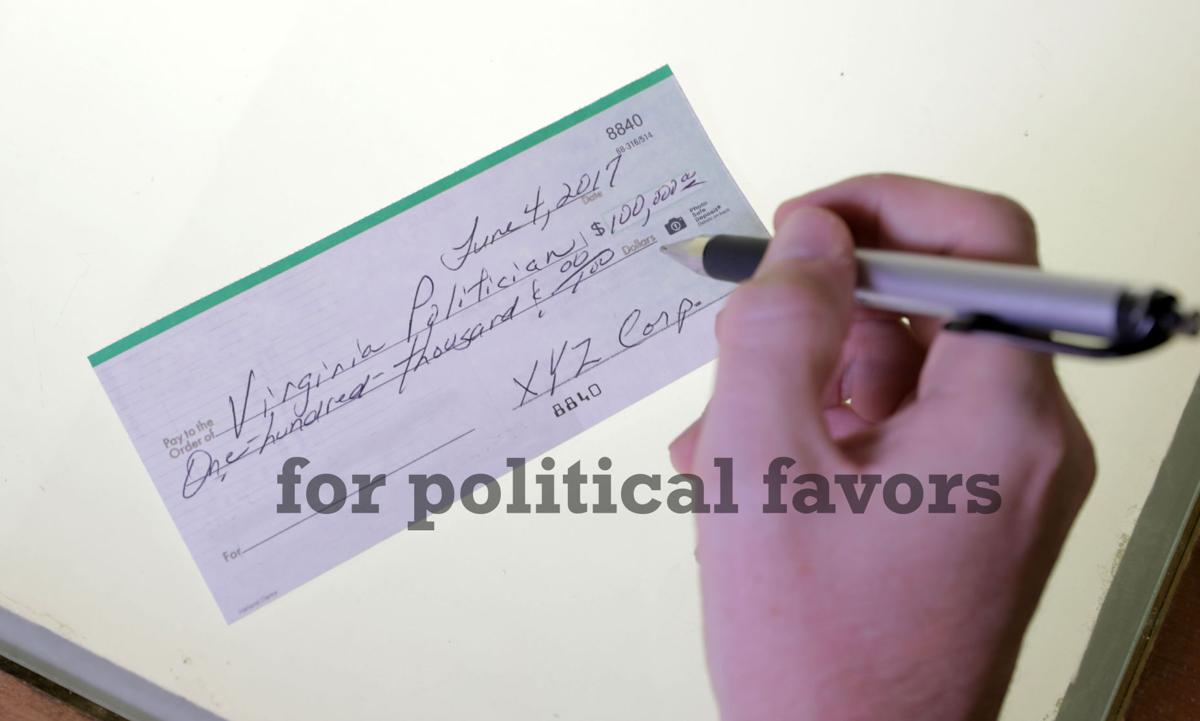 The two Democratic candidates running for their party's nomination for governor are sparring over how and when to clean up our rotten shambles of a state campaign finance system. But there's brighter inspiration for a cynical citizenry.
We can use some. Two polls have found that a landslide majority of Americans — more than three out of four — believe campaign contributions buy results from Congress. Democratic voters are as disgusted as Republicans, and there's little reason to think the bad fragrance doesn't extend to Virginia lawmakers.
Frank Wagner, one of the Republican candidates for gubernatorial nomination, told me awhile back that the loss of public trust in our government because of the flow of corporate campaign cash is "the big dilemma. ...  I can certainly understand the sentiment of some of the public that 'Oh, he received money from them, therefore he is beholden.' I can obviously see that point. I think it's a conclusion that many people would draw."
A faulty conclusion, Wagner added. Along with most other members of the Virginia legislature, he claims they can take the money but not let it influence their votes. "Are you kidding?" he said. "Why would I do that?"
To hear many candidates tell it, they're caught up in a bad system, like weightlifters wolfing steroid pills and pumping furious iron to stay in the contest. They know it's bad — but if they stop, the competition wins!
Both Tom Perriello and Ralph Northam have advanced some ideas for reform, and they also have some 'splainin' to do about their big donors: Perriello's include a big chunk of out-of-state support, and Northam has taken Dominion Energy money — as have dozens of state legislators of both parties.
Public finance of campaigns is the missing puzzle piece that would wean candidates away from their corporate sugar-daddies.
Exhibit A is Dominion Energy. You remember: that's the state-regulated, fossil-fuel-burning power utility that is also the biggest corporate campaign financier for state lawmakers from both parties. The same folks who have voted Dominion a decade's worth of handsome, profit-boosting legislation. The decade during which Dominion has donated more than $7.4 million to their war chests, including $770,000 in 2016-2017 alone, according to the nonprofit, nonpartisan Virginia Public Access Project.
But House of Delegates member Sam Rasoul has stepped away from Dominion Energy donations, along with 59 Democratic, five Green and two independent candidates for that office.
Del. Rasoul, D-Roanoke, has gone even further: He'll decline campaign donations above $5,000 from anyone and will take no more campaign cash from any special-interest PACs and corporations. Have you asked your state office-holders, running or sitting, whether they'll make that same pledge, or at least decline Dominion Energy's help in the future? Are they making lots of noise about public financing for election campaigns?
Maine, Connecticut and conservative Arizona offer this deal to every candidate: The state will help fund your campaign if you agree to accept only small donations. They're still tinkering, but they've had great success.
You can win without Dominion and the other big donors. In both Maine and Connecticut, the majority of lawmakers are elected with public financing — in recent elections more than 80 percent of them.
How much is a Virginia Clean Elections program going to cost us taxpayers? Maine's costs about $4 per eligible voter — or something like seven one-hundredths of 1 percent of the state's annual budget. A bargain, to restore public trust.
I invited Ed Youngblood, a Republican who served three terms in the Maine legislature, to offer friendly advice to anyone standing for election in Virginia, and to the rest of us. "I ran three times using the public finance option," the retired banker told me. "I could have raised the money very easily. But I don't believe that anyone should be under the thumb of lobbyists or anyone else. We should be able to talk with them with a clean face.
"I think it worked very, very well for me," he said. "I beat the incumbent, and it was directly related to telling everyone that I was not accepting money from anybody."
Youngblood also offers a warning: "In my estimation, people are just absolutely fed up."
Virginia doesn't yet have a Clean Elections program, of course. So I asked a spokesman for Every Voice, one of many nonpartisan groups working on this issue, to help me and any of our state's candidates think that through.
"What we say to them is, fight for a different system," Nick Nyhart told me. "We won't accept it if someone says, 'Well, that's just the way it is. Nothing can be done.' Make it a cornerstone of your campaign: 'I will clean up this system by putting forward legislation for a small-donor option for candidates.' That's what they can do: become a champion of this issue."
Rasoul's big pledge doesn't measure that whole distance, and he knows it. "It's not perfect until we have public financing of campaigns, or some other mechanism to limit dollars so people are playing on a level field," he told me. "What I did is not the whole solution, but it was the biggest step I think I could take right now to send a clear message to the people of Virginia, or across this country, that we are not beholden to special interests — that we are operating in the interests of the people."
Are the candidates you're looking at voicing that message, at the tops of their lungs? Why not?
Stephen Nash is visiting senior research scholar at the University of Richmond's Journalism Department. From the Charlottesville branch of the Southern Environmental Law Center, he has won the Philip D. Reed Award for outstanding journalism about Southern environmental issues, for "Blue Ridge 2020," and is the author of "Virginia Climate Fever — How Climate Change Will Transform Our Cities, Shorelines and Forests" as well as the forthcoming "Grand Canyon for Sale: Public Lands and Private Interests in the Era of Climate Change."
» "Republic, Lost: How Money Corrupts Congress — and a Plan to Stop It" by Lawrence Lessig.
Catch the latest in Opinion
Get opinion pieces, letters and editorials sent directly to your inbox weekly!