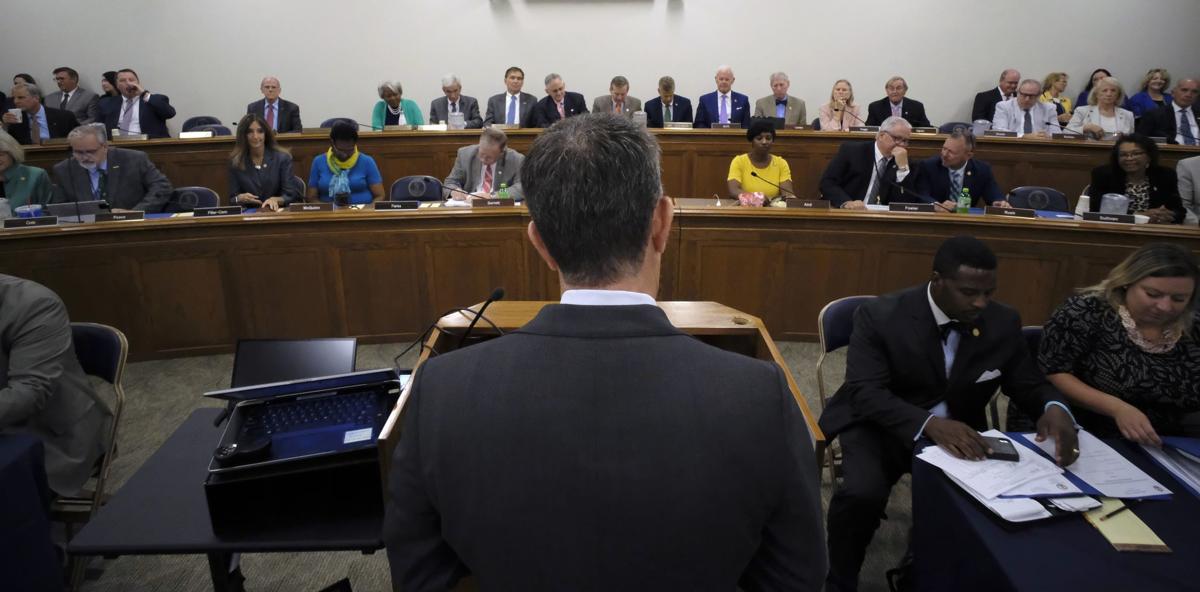 In July, the president of the Virginia AFL-CIO, Doris Crouse-Mays, met privately with Gov. Ralph Northam in his third-floor office overlooking the state Capitol.
Anticipating the legislative elections in November and the prospect that Democrats could be in charge in January, Crouse-Mays wanted to know if Northam — elected with the backing of organized labor — had its back.
That included whether Northam would sign a bill junking Virginia's 72-year-old prohibition on compulsory union membership as a condition for a job — the so-called right-to-work law, which keeps labor weak by restricting its growth and denying it leverage with management for better wages and benefits.
Northam, according to multiple sources, said no.
With a single word, the governor strengthened his stance on an issue on which he was wobbly as a candidate.
Ahead of the Democratic primary in 2017, Northam told a union audience he supported the right-to-work law but he ducked saying whether he would veto repeal legislation.
Crouse-Mays, a transition adviser to Northam after his landslide victory and recently reappointed to his workforce training board, would not discuss details of her sit-down with the governor, saying only that the AFL-CIO's agenda is broad.
It includes, she said, raising the minimum wage, increasing unemployment pay, strengthening education and job-training programs, as well as eliminating the law — in place in Virginia and 26 other states — that leaves it to workers whether to join a union.
Northam's office also had little to say about the meeting or what he told Crouse-Mays about a potential rollback of right-to-work, which senior Democrats insist is unlikely — despite Republican fearmongering.
"The governor carefully reviews all legislation that reaches his desk," press secretary Alena Yarmosky said in an email. "As he often says, one of his top priorities as governor is ensuring every Virginian has access to a safe, high-quality, and fairly paid job."
Northam's reported position is unlikely to endear him to blue-collar Democrats, possibly dampening their enthusiasm in the run-up to the high-stakes General Assembly elections.
That would explain his silence. He wants a robust union turnout on Nov. 5.
It will likely reassure white-collar Democrats, independents and Republicans troubled by their party's unbusinesslike ways in the Trump era. That could keep corporate money flowing to Northam's PAC, which is steering fat contributions to Democratic candidates.
But Northam's stance is a reality check.
It is a reminder that in a state government again completely controlled by Democrats — if it happens — Democrats won't always get their way; that a governor of their party will get in their way, arguing that for the sake of the party's future, the party must be protected from itself.
Northam is the latest in a continuum of Democratic governors since the early 1980s who ran for office and ran the state by being nonthreatening, by straddling the political center, where most voters are.
That's where Northam has been, voting Republican for president in the early 2000s and not proclaiming himself a Democrat until he ran — successfully — for his first office, the Virginia Senate.
Veering sharply to the left — more importantly, straying from what is widely perceived as common sense — is politically perilous.
So, when it comes to sharing the wealth — something this commonwealth doesn't do well — there is an enduring, bipartisan consensus that Virginia's resistance since 1947 to a closed shop has contributed to its economic evolution and that unionization, while not discouraged, can be a part of that.
Still, to the unions, the right-to-work law is a hindrance, stunting the "growth of the state's labor movement and the growth of the state as a whole," said Crouse-Mays.
It's been a quarter-century since the Democratic Party commanded all three branches of government. A backlog of wants and needs has accumulated during its wilderness years. At the same time, the Democratic Party has changed.
What was, at the state level, a center-left coalition mindful of Main Street and ecumenical on the economy has become an imitation of its federal sibling: left-leaning and increasingly hostile to the corpocracy.
Not that the Big Boys — as the populist Henry Howell described the banks, insurance companies, utilities and giant manufacturers — don't have it coming.
Dominion Energy — a threatened strike against its antecedent inspired the right-to-work law — became an object of ire among greens and consumer groups by using its deep pockets to convince lawmakers puzzled by the arcana of electricity regulation to put in place rules widely seen as favoring shareholders over customers.
This shift reflects a shifting Virginia — from heavily white rural backwater controlled by from-here's to racially diverse suburban dynamo in which a majority of residents are come-here's.
And these days, this manifests itself in tribal politics, something for which Northam — as the doctor who wants to get along with all of his patients, because their care depends on it — has little appetite.
Jeff E. Schapiro is a writer for the Richmond Times-Dispatch, where this column originally appeared. Contact him at (804) 649-6814.