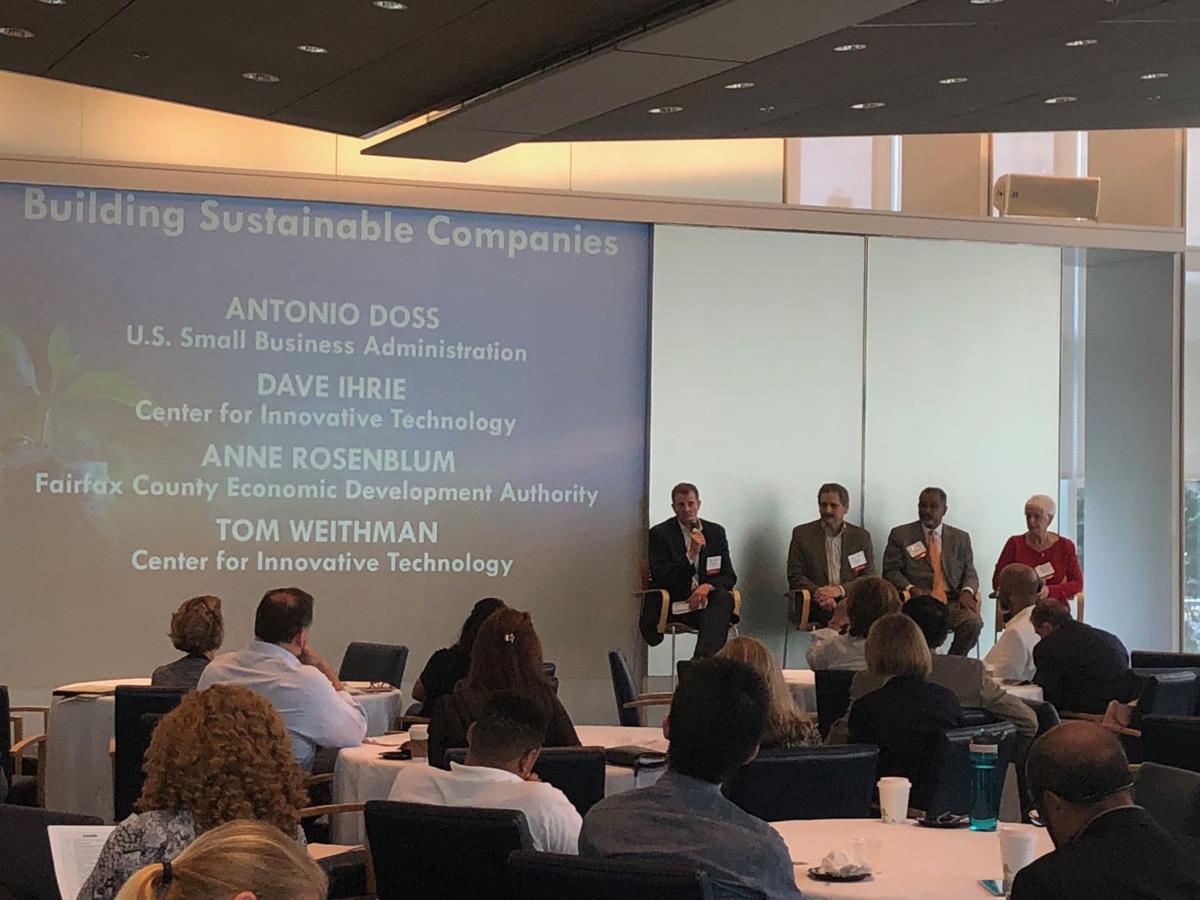 Across the U.S., venture capital is disproportionately focused in large metropolitan areas. Often, entrepreneurs who do not locate their companies within these areas struggle to garner the same attention as those based in cities, and thus receive less venture investment.
To add to this disparity, certain groups, including business founders of color and female founders, receive fewer investment dollars than their white male counterparts.
And so, after 15 years of sourcing and investing in companies from across Virginia, the Center for Innovative Technology is eager to begin paying special attention to strengthening and growing companies in less populated areas. We want to be on the front lines of change for these communities.
It's easy to believe that great ideas just bring in the money. But there is nothing easy about being an entrepreneur, and finding success requires the perfect recipe of firsthand experience, a Rolodex of contacts and resources and, of course, early access to capital.
However, entrepreneurs in traditionally underserved geographic areas or demographic groups may lack adequate access to these key ingredients. For this reason, we have decided to launch a new endeavor called the Virginia Founder's Fund — a venture funding program aimed at expanding new business start-up capital for underrepresented entrepreneurs.
Since 2005, the CIT GAP Funds, a family of funds placing equity investments in Virginia-based technology, life science, and clean-tech companies, has invested in over 200 high-potential start-ups in Virginia, providing necessary start-up capital and validation to achieve rapid growth and significant economic return.
CIT's investments have helped draw over $600 million of private placements onto the balance sheets of our portfolio companies. Investment returns from the GAP Funds portfolio will be redeployed into the Virginia economy in the form of capital backing for the Virginia Founders Fund.
In designing the Virginia Founder's Fund, we wove together three objectives, with a renewed focus on minority and geographically underserved founders:
» We sought to address the obvious challenge of expanding access to early-stage equity investment for regions and populations traditionally overlooked by risk capital providers.
» We wanted to complement investment resources and entrepreneurial support programs emerging in the regional innovation communities around the commonwealth — communities that we believe will play an increasingly critical role in Virginia's technology future.
» We aimed to enhance the ties between these innovation communities and the company growth resources available through CIT's large and growing investor network.
In line with our first objective, companies seeking investment consideration by the Virginia Founders Fund must meet one of the following criteria: The founding team must include a female, minority or veteran member, or the company must originate from a geography outside of Northern Virginia.
While CIT GAP Funds has always invested in female, minority and veteran-owned companies, and has historically placed about one-third of its investments outside of Northern Virginia, we believe that by committing to these investment objectives, the Virginia Founders Fund will attract greater deal flow from traditionally underserved communities.
Supporting our second objective, CIT anticipates working closely with a number of regional partners in the Virginia ecosystem in sourcing, qualifying and closing new deals. We look forward to expanding our relationships with organizations such as the Charlottesville Angel Network, CAV Angels and the i.Lab at the University of Virginia, as well as Lighthouse Labs and Startup Virginia in Richmond, 757 Angels and the 757 Accelerator in Hampton Rhodes, The Launch Place in Danville, and the RAMP Accelerator in Roanoke.
Through partnerships with these organizations, we will together provide an expanded pool of investment opportunities and capital support services than might otherwise be available to targeted companies. 
To fulfill our final objective, CIT will execute the Virginia Founder's Fund as a "feeder fund" to CIT GAP Funds, specifically looking for early-stage opportunities in tech, clean tech, tech-enabled services and life sciences that can grow to take advantage of downstream funding opportunities from CIT and its network of funding sources. Through the new fund, we look forward to increasing the number of Virginia's high-growth companies, creating a more robust and diverse pipeline of opportunities for all stakeholders in our network, and helping to build a more connected entrepreneurial ecosystem throughout the commonwealth.
We are off to a fast start. At April's Tom Tom Founders Festival in Charlottesville, entrepreneurs and investors from around Virginia helped the Northam administration and CIT celebrate the launch of the Virginia Founders Fund.
Thanks to our regional partners, we have a strong and growing pipeline that will likely far exceed our 10-12 new investment per year goal. So far, we have closed three investments — EdConnective, INF Robotics and Status Identity — and we are excited to celebrate the creativity and entrepreneurial drive of Virginians by making it easier for budding entrepreneurs to find the backing they need.
We invite you to follow along as we embark on this journey, and we call on other VC's, in Virginia and across the country, to seek out and support startups that may be overshadowed by their metropolitan based colleagues. This may be "a fund for all Virginians," but it is truly a shift that deserves attention beyond the commonwealth.
Thomas Weithman is managing director of CIT GAP Funds and chief investment officer at Mach37.