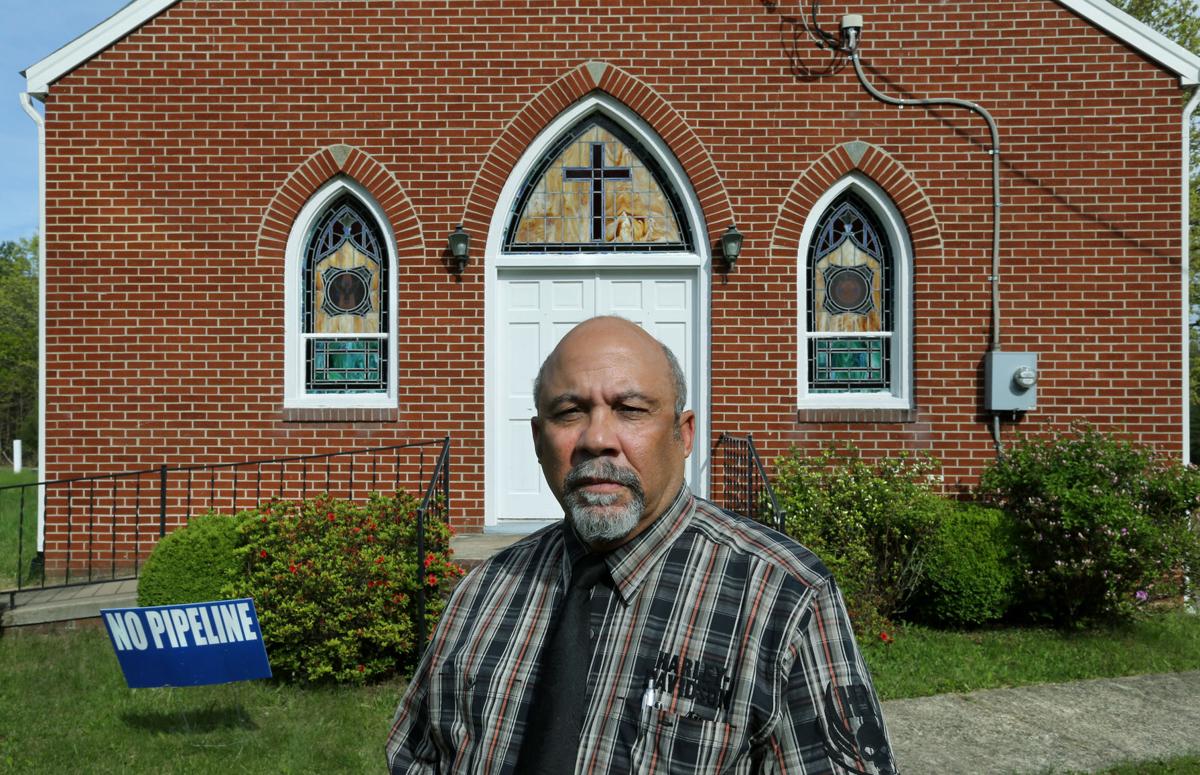 BUCKINGHAM — As a youngster growing up in New Jersey, Richard Walker spent summers in Union Hill, a Buckingham County community whose roots extend to emancipation and beyond.
"Over 100 years we've owned that land, since my ancestors were slaves," said Walker, now a Richmond resident with fond memories of grazing cows and horses in Union Hill. "There are seven generations of Harpers that have come through here."
But the future of this pastoral community — dotted with family plots and churchyard burial grounds, with some families who trace their lineage to local plantations — is clouded by Dominion Energy's plan to build a gas-fired compressor station in Union Hill that would pump fracked natural gas through the proposed $5.5 billion Atlantic Coast Pipeline.
Opponents say the station will emit toxins that cause respiratory problems, allergies, fatigue and other health issues and that its depressurizing "blowdowns" will be as loud as a jet engine. They contend that the pipeline and compressor station — still winding their way through the permitting process — represent an assault on a historically significant black community and an environmental injustice that would leave Union Hill's properties worthless to sell or pass down.
Preservation Virginia agrees, citing Union Hill among its endangered places in 2016.
"Post-Emancipation African-American settlements and burial sites, like those at Union Hill in Buckingham County, reveal the successes and struggles of generations of African-Americans in Virginia," the nonprofit wrote.
Advocates for Union Hill detect a pattern, citing a civil rights complaint by North Carolina advocacy groups that federal regulators failed to assess the Atlantic Coast Pipeline's disproportionate impact on people of color.
Bucolic Buckingham, a Piedmont-region locale of 17,000, lies south of the James River (and south of Charlottesville via U.S. 29).
An 1810 census of the county counted 11,675 slaves among a total population of 20,059. In 1860, enslaved blacks (8,224) still outnumbered whites (6,041) and free persons of color (947), according to "The Hidden and the Forgotten: Contributions of Buckingham Blacks to American History," by Buckingham resident Charles W. White.
A door-to-door census of 98 households in Union Hill found that 85 percent of its residents are African-American and one-third are descendants of freedmen from Variety Shade or other plantations, said Chad Oba, co-founder of Friends of Buckingham, which conducted the survey. Most of these residents are elderly.
Mary Finley-Brook, a member of the Governor's Advisory Council on Environmental Justice, said there are as many as 500 slave burial grounds in Buckingham. On the Variety Shade acreage, "I have been to the site and seen the estimated 400 graves," she said.
The 53,783-horsepower compressor station in Buckingham would be the only one on Virginia's leg of the Atlantic Coast Pipeline, which stretches across 600 miles between West Virginia and North Carolina.
The compressor station issue festered for two years before the Buckingham Board of Supervisors approved a special use permit for the facility in January 2017, despite overwhelming opposition from residents.
At that meeting, Supervisor Donnie Bryan said he had contacted county administrators and health departments in Loudoun, Fairfax and Fauquier counties — jurisdictions with compressor stations — and found "no significant health issues" or complaints about noise.
Dominion Energy spokesman Aaron Ruby said in a recent email that the project would attract jobs and generate more than a million dollars a year in new local property tax revenue for Buckingham, "money the county can use to improve the public schools, police and fire departments, roads and other vital local services."
But those who live closest to compressor stations ask: At whose expense?
Opponents note that the owners of a 68-acre tract of the former Variety Shade tobacco plantation fetched a $2.5 million price from Dominion for the compressor station site. Meanwhile, Union Hill residents — including descendants of the enslaved — have not even received crumbs for land that could soon be worth peanuts.
"They offered me not any kind of compensation or anything," said Ella Rose, who lives 150 feet from the compressor station site.
Or as Lakshmi Fjord, a cultural anthropologist and visiting scholar at the University of Virginia, said: "Union Hill gets nothing. More than that, they lose everything."
Ruby said where burial grounds and other historic resources are concerned, Dominion Energy has "extensively surveyed the route to make sure we avoided these resources" and developed strict protocols for preserving any resources found during construction.
To build relationships in the community, the company formed a Community Advisory Group in 2016 to help develop its plans for the compressor station, with several Union Hill residents participating, Ruby said.
"Based on their valuable input, we made several changes to the facility, all with the goal of minimizing its impact on the community. For example, we added sound buffers and full station silencers to minimize noise during normal operations and 'blowdowns' that occur every five years," he said.
But a May 18 email from a Dominion Energy employee contradicts that "every five years" scenario.
When asked in an email from Finley-Brook about protocols to limit the number of blowdowns, Molly Plautz, Dominion Energy's federal affairs policy adviser, said the operator scenario under consideration was "10 per unit per year for maintenance purposes only."
As for relationship-building, the Rev. Paul Wilson, whose Union Hill and Union Grove Baptist churches have become the epicenter of resistance to the project, said Dominion Energy officials did not meet with his congregations until late May, 15 miles from Union Hill in Dillwyn.
Jeeva Abbate, a participant in the advisory group as a representative of Yogaville, five miles from the compressor station site, said the utility failed to address community members' concerns about safety, noise and pollution and was resistant to a presentation about the danger of fire and explosions, such as the 2008 explosion at the Transco Pipeline in Appomattox.
Oba said the advisory committee met only three times. Dominion Energy wanted input on the station's color and landscaping, but "were never open to hearing people that did not want the project," she said.
Finley-Brook, an associate professor of geography and the environment at the University of Richmond, was critical of Dominion's lack of a detailed evacuation plan. "They're taking first responders trained for barn fires or agricultural emergencies you would have in a rural place like Buckingham, and you're giving them a little extra boost," she said.
Ruby said Dominion will provide annual training for the county's emergency responders and added that Union Hill "has safely co-existed with four major [Transco] natural gas pipelines for several decades."
He added that Dominion Energy would install "best-in-class emission controls" in Buckingham that would reduce some air pollutants by as much as 50 to 80 percent below normal levels at a typical station. And the company's studies show that noise levels to the station's nearest neighbors "will be virtually inaudible," he added.
Opponents remain deeply skeptical about these sound- and emission-reduction measures, which they say are untested. Finley-Brook said the 50 to 80 percent range "shows they have no idea" and added that even a 50 percent reduction would be too much exposure to dangerous toxins. And opponents note that the relatively powerful Buckingham station — with more distance than usual between it and other compressor stations — is a poor test case.
Hidden and forgotten is an apt metaphor for Union Hill as it battles a powerful utility.
"Dominion has not really treated our community well," Wilson said. "They treated us as though we didn't even exist."
It's a common industry practice for utilities to ram such projects through marginalized communities "and make you appear to be nonexistent," Wilson said. "In the end, you're really just collateral damage, and that's how they treated us. And we refuse to be treated that way."
Catch the latest in Opinion
Get opinion pieces, letters and editorials sent directly to your inbox weekly!