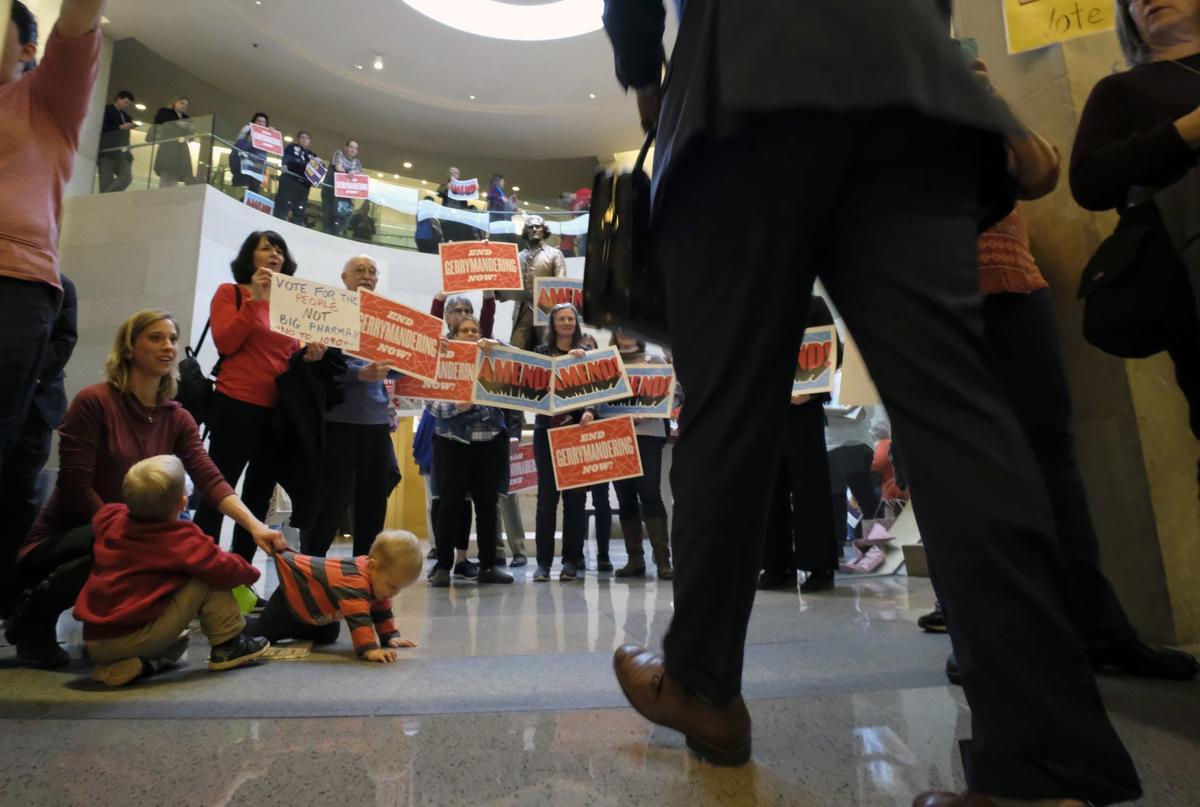 On March 6, nine members of the House Democratic Caucus stuck to their campaign commitments and joined every Republican delegate to approve a landmark constitutional amendment to stop partisan gerrymandering.
By a 54-46 vote, the House sent to Virginia voters a Nov. 3 referendum to create a bipartisan redistricting commission of citizen and legislator members.
The Democratic Caucus had been sharply divided over the amendment for weeks. Some members who had voted for it last year — when Republicans ruled — thought they could do better now that Democrats run the General Assembly.
Compromise isn't always easy — especially in a high-stakes political atmosphere in which more than half of a caucus was willing to scrap last year's deal now that it controls the field of play.
The commission, which is likely to win voter approval this Nov. 3, is designed to redraw legislative district lines, taking that task away from the Assembly.
Like many other state legislatures, Virginia's had become quite expert during the past 40 years at drawing lines to enshrine its own majority partisan preferences. Both parties excelled at the dark art.
The nine Democrats who pushed the constitutional amendment along to voters withstood weeks of pressure from fellow caucus members who had other ideas, some involving the prospect of Democratic majorities drawing new legislative districts in 2021.
The nine included Dels. Sally Hudson of Charlottesville, Sam Rasoul of Roanoke and Ken Plum of Reston. The other six were Dels. David Bulova and Dan Helmer of Fairfax County, Dawn Adams and Schuyler VanValkenburg of suburban Richmond, Steve Heretick of Portsmouth and Suhas Subramanyam of Loudoun County.
Some good government group might consider giving them profiles in courage awards for maintaining their reform positions.
They stayed true to their party's overwhelming position from when it was in the minority in 2019. In last year's House, 86 delegates cast a strong bipartisan vote for the same constitutional amendment.
Del. Rob Bell, R-Albemarle, noted that a vote against the constitutional amendment this year would have snuffed out any chance that the Virginia Constitution would include redistricting reform before next year's reapportionment session.
"It was a closer call in 2020, but it made it through, and now will go to the voters," Bell said. "I hope they will pass it this November."
In all, 28 of 76 Democrats in the House and Senate voted this year to approve the amendment while all 64 General Assembly Republicans voted for it now that the GOP is the legislature's minority party.
The amendment enjoys the support of Eric Holder, President Obama's former attorney general and current field general for redistricting political reform, as well as Arnold Schwarzenegger, the former California governor and a national GOP reform leader.
Sen. Creigh Deeds, a Democrat whose Virginia Senate district stretches from Albemarle County to the West Virginia line, has spent decades pushing for anti-gerrymandering reform and said he feels this compromise is far from perfect.
"I voted for the amendment because I told people before the election that I would," Deeds said March 10.
"I worry that it is a shadow of the amendment I carried for so many years and, frankly, of the OneVirginia2021 proposal," he said of the bipartisan reform group of Virginians pushing the past seven years to end gerrymandering in the state.
Deeds quickly added, "It may be the best we can get to the ballot, though."
OneVirginia2021, the anti-gerrymandering reform group, was founded in 2013 by Charlottesville lawyer Leigh Middleditch. It has gathered 120,000 supporters pushing for the amendment, myself included.
The group lobbied legislators to approve the amendment, citing three principle reasons:
» The amendment enshrines the Voting Rights Act into the Virginia Constitution.
» It ends gerrymandering on the basis of race and partisanship.
» It stops mid-decade redistricting. If any party were to decide to redraw lines in four or five years, this is the only way to prevent a party from tearing up the 2021 maps and putting their own new partisan stamp on legislative districts.
Plus, it is the right thing to do.
Brian Cannon, executive director of OneVirginia2021, said the group will spend more than $1 million to help ensure passage of the amendment by voters Nov. 3.
He said gerrymandered states from Pennsylvania and Maryland to North Carolina and Tennessee are looking at Virginia with an eye toward following our state's example of getting a legislature to give up the power to draw its own district lines.
Bob Gibson is communications director and senior researcher at the University of Virginia's Cooper Center for Public Service. The opinions expressed here are his own and not necessarily those of the center.
Catch the latest in Opinion
Get opinion pieces, letters and editorials sent directly to your inbox weekly!