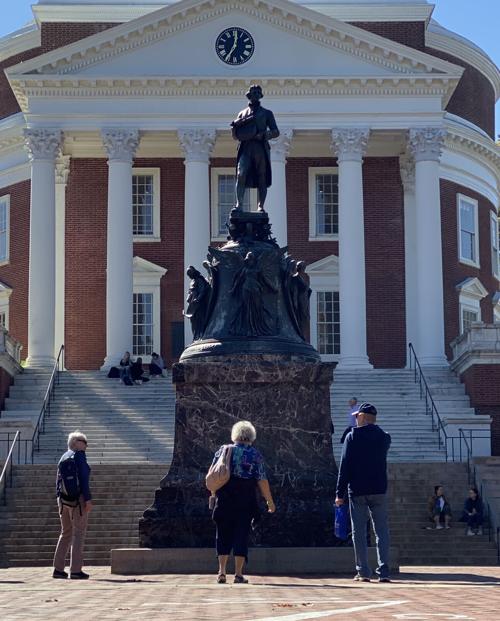 University of Virginia President Jim Ryan's statement that UVa "will not walk away from Thomas Jefferson" as long as he is president has received widespread coverage and social media comment — and with good reason.
UVa should not walk away from its founder, the man who also helped found this nation on the very principles, now more fully realized, that encouraged equality and paved the way for diversity.
Mr. Ryan's decision — in concurrence with the university's rector and general counsel — to allow a profane and offensive protest sign to remain on the Lawn also has received widespread coverage and social media comment — and with good reason.
The sign on a residence door uses a coarse four-letter expletive and rants against real and perceived abuses: "UVa operating cost, KKKops, genocide, slavery, disability, black-brown life."
But however offensive (and therefore potentially counterproductive in positively swaying public opinion), the sign is certainly covered by the First Amendment as a political statement on university life. Freedom of speech is one of those fundamental liberties supported by Mr. Jefferson and his cohorts.
These two elements of Mr. Ryan's Oct. 2 address to the university encapsulate the president's challenge in steering the school through a period of rapid change while also preserving the best elements of its history.
As for Thomas Jefferson, the university already has said that his iconic statue in front of the Rotunda will be "contextualized" with a more complete description of his life, expected to include acknowledgement of his ownership of enslaved persons, the use of enslaved labor to build the university and his other "contradictory writings and actions," according to a Board of Visitors statement.
This is only one of a series of steps the university is taking to broaden its approach to diversity.
As Mr. Ryan has said, some might think this step — or even all of them in total — is insufficient. Some might think it goes too far. But seeking a balance on an orderly path forward is commendable.
Mr. Ryan reiterated that equality is a core national value, boldly declared by Mr. Jefferson in the Declaration of Independence. Energized by that vision, countless oppressed and marginalized groups have pushed their way through barriers to claim their rightful places as Americans.
Jefferson should be accepted both for this amazing accomplishment as well as for his own failures to embody the same values he so eloquently proclaimed.
"I do not believe the statue should be removed, nor would I ever approve such an effort," Mr. Ryan said. Good for him.
Along with equality, freedom to speak openly — even to vigorously condemn those in power — is another fundamental right endorsed by Mr. Jefferson. And so, the offensive sign on the UVa Lawn is protected as political expression, even if some see it as misguided.
We agree with Mr. Ryan that the university's — indeed, civilization's — core value of reasoned debate and civility should be pursued, but instead was abused in this instance. But that does not mean the university should in turn abuse the nation's constitutional values by removing or outlawing the sign.
All in all, Mr. Ryan took the right tone — measured, balanced, comprehensive — in addressing many of the university's current challenges. His approach won't please everyone, but it seems to present a reasonable way of negotiating a path through these unsettled times.
Catch the latest in Opinion
Get opinion pieces, letters and editorials sent directly to your inbox weekly!