---
 Welcome to Monday, Jan. 13!
---
A programming note: I am now an assistant city editor at The Daily Progress!
I am settled into my new gig as assistant city editor for The Progress, but since we're still without a dedicated higher education reporter, I wanted to pop back in, wish everyone a happy spring semester and highlight a few of our top UVa and PVCC stories from recent weeks.​
Here's an abridged version of "In Other Words."
---
UVa, CPD at odds over Asado brawl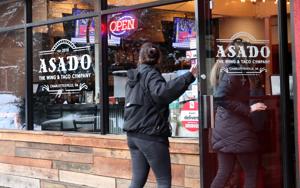 ANDREW SHURTLEFF THE DAILY PROGRESSThe Asado Wing & Taco Co. restaurant, located on The Corner. The restaurant, across the street from the University of Virginia, was the scene of a brawl in November.
A bar fight at Asado Wing & Taco Co. on the Corner in November has led to a strange detente between the university and Charlottesville's police chief, who claims the university interfered in a criminal investigation.
But other officials -- including the city prosecutor -- say Chief RaShall Brackney is misrepresenting the situation.
---
Dr. Fern Hauck models refugee care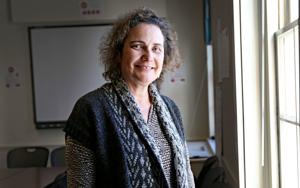 ERIN EDGERTON/THE DAILY PROGRESS"We've learned a lot along the way," Dr. Fern Hauck said. "… When we started, it was me and one other doctor, and one nurse who kind of worked with us."
Hauck, who started UVa's International Family Medicine Clinic, has formulated a unique approach to offering health care to refugees and immigrants arriving in the Charlottesville area.
She was selected as one of the Progress' annual "Distinguished Dozen" cohort, which celebrates people making a difference in the area. More profiles of honorees are online here​.
---
 UVa approves 2020-21 tuition increase
UVa's Board of Visitors approved new tuition and fee rates in December that will increase charges by about 3% for many students (UVa charges different groups, schools and levels of students different rates, so summarizing the changes is difficult). 
The board also discussed sustainability efforts, which include a new partnership with the College of William & Mary to reach carbon neutrality by 2030.
---
UVa reinstates gun salute after outcry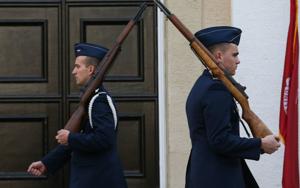 ERIN EDGERTON/THE DAILY PROGRESSUniversity of Virginia Air Force ROTC cadets William Sexton (left) and Otto Medinilla participate in a 24-hour Veterans Day vigil for prisoners of war and those missing in action at UVa's McIntire Amphitheater.
The Progress wrote about the university canceling its traditional 21-gun salute at its Veterans Day event this year, prompting dismay from veteran's groups and other local residents.
​President Jim Ryan then said the decision was a mistake, and said the salute will return next year.
---
Quick Hits
---
Good dogs
I haven't had time to find any good dogs myself, but a UVa staff member pointed me to this UVa Today​ story about a police therapy dog trained by Sgt. Ben Rexrode! I hope he gets his own business card like the hospital dogs.