Welcome to March 24!
Jeez this all escalated very quickly. I've been working from home for more than a week now and it's been presenting challenges.
Despite that, I still care about my loyal subscribers and want to bring you the quality content you've come to demand of me.
There's only a few stories in this edition, but I tried to lead off with the stories that aren't related to the coronavirus to give everyone a respite. Stay safe out there.
---
Commission backs second phase of South First Street redevelopment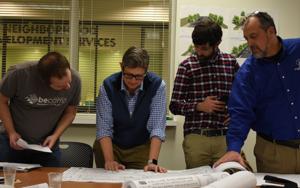 NOLAN STOUT/THE DAILY PROGRESSCharlottesville Planning Commissioners Rory Stolzenberg (from left), Lisa Green, Lyle Solla-Yates and Gary Heaton review a site plan for the second phase of redevelopment of public housing on South First Street on Tuesday.
Although city officials were unable to review the final site plan, the Planning Commission signed off on the layout of the second phase of the redevelopment of public housing on South First Street.
The Planning Commission unanimously approved the plan barely three hours after it was submitted to the city.
Phase two will replace the existing 58 units with 113 multifamily units. It also includes a 7,000-square-foot community center and 3,000 square feet of office space.
Under the plan, the 18 existing buildings on the site would be demolished and replaced with 23 new structures.
Phase two is estimated at $26.7 million and includes $3 million in local funding.
Riverbend Development and Collins Engineering are doing design work.
The first site plan was submitted on Jan. 8, followed by a revised plan on Jan. 27.
---
Council approves New Hill extension, Harris Street apartments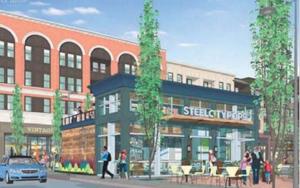 New Hill Development Corp.'s plans for Charlottesville's Starr Hill neighborhood focus on redeveloping City Yard, adding housing and enhancing the Jefferson School African American Heritage Center.
SUBMITTED RENDERING
New Hill Development Corp. got more time to work with Charlottesville officials to craft the future of the Starr Hill neighborhood.
The City Council has extended the deadline for the Planning Commission to consider New Hill's plan.
The Starr Hill neighborhood is 47.7 acres and home to about 235 people. Its population has increased by 37% since 2010, a quicker rate than other areas of the city.
The plan focuses on an area bounded by Preston Avenue to the north, Ridge/McIntire to the east, the CSX railroad to the south and the Norfolk Southern railroad to the west.
In November 2018, the council gave the corporation $500,000 to create a small area plan and community vision for the Starr Hill neighborhood.
New Hill presented its 80-page plan in November 2019 centering much of Starr Hill's future on redeveloping City Yard, adding housing and enhancing the Jefferson School African American Heritage Center.
In other business, the council narrowly approved a special-use permit for a planned development on Harris Street. The permit allows Woodard Properties to construct a six-story building on 2.4 acres across three parcels at a sharp turn near Allied Street and McIntire Road. Councilor Sena Magill and Mayor Nikuyah Walker cast the dissenting votes.
---
Council holds mostly electronic public hearing on budget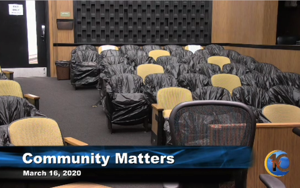 COURTESY CITY OF CHARLOTTESVILLETrash bags cover unavailable seats at the mostly empty meeting of Charlottesville's City Council on March 16. The out-of-service seats enforced social distancing, and only 30 attendees were allowed at the meeting.
As the world around it ground to a halt, Charlottesville City Council tried its best to continue with business as usual.
The chambers were unusually empty for the most recent council meeting amid the coronavirus pandemic.
Attendance at the meeting was limited and discouraged, with occupancy capped at 30 people. Fewer than 10 people showed up, with trash bags covering a majority of the seats in chambers. About 33 people signed up to participate online.
Despite all the closures and requests for people to stay away, the council was required to hold a hearing on the $196.7 million proposed budget for fiscal 2021, which begins July 1, and the proposed tax rate.
The proposed budget has been contentious because it recommends about $1.8 million less than the school division has requested and doesn't provide any additional firefighters, although the department requested 12 positions to help staff ambulances.
None of that contention was present on Monday as the council chambers sat mostly empty. Residents were able to sign up to view the meeting remotely and participate electronically in the public hearing.
---
Homeless shelters adjust operations amid virus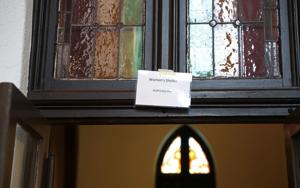 ERIN EDGERTON/THE DAILY PROGRESSPeople and Congregations Engaged in Ministry, commonly known as PACEM, has consolidated its women's shelter at The Haven, in downtown Charlottesville, to minimize exposure to those it serves and its volunteers.
Local homeless shelters and other agencies that serve vulnerable populations are facing new challenges as the pandemic worsens. But they are pledging to keep their doors open.
The Haven, Salvation Army and People and Congregations Engaged in Ministry, commonly known as PACEM, are still serving the community.
The Shelter for Help in Emergency, a local domestic-violence shelter, also is staying open, and the Piedmont Housing Alliance has established an assistance fund to help its most vulnerable residents.
The virus has forced PACEM to change its model. 
The Charlottesville City Council lifted the restrictions on a special-use permit for The Haven to allow it to coordinate with PACEM for a stable shelter for women during the local declaration of an emergency.
Per the conditions of its original permit, The Haven is allowed to operate as a day shelter between the hours of 7 a.m. to 7 p.m. At night during winters, PACEM coordinates with local churches to provide overnight accommodations.
Lifting the restrictions on The Haven allows for a centralized location as a shelter. Mueller said that on Wednesday, The Haven became that place for women. The decision was made after consulting with the Thomas Jefferson Health District.
---
Hundreds of Charlottesville doctors, nurses sign petition raising alarm on supply shortage
Hundreds of medical professionals have signed onto a petition urging Gov. Ralph Northam to address a growing supply crisis amid the coronavirus pandemic.
Dr. Paige Perriello, who started the petition and works at Pediatric Associates of Charlottesville, said that many of her colleagues "feel scared" about a possible shortage in vital equipment.
"Everybody feels worried that they're not going to have enough stuff or not have the right level of stuff so it feels like quite a pressing issue," she said.
The petition focuses on personal protective equipment, such as face masks and hand sanitizer.
Support Cville has launched a site, Equip Cville, to get necessary supplies to local health care workers.
---
Magill awaiting virus test results; Snook also attended conference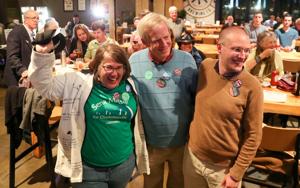 Charlottesville City Councilors-elect Sena Magill (from left), Lloyd Snook and Michael Payne celebrate their victory on Nov. 5.
DAILY PROGRESS FILE PHOTOS
Charlottesville City Councilors Lloyd Snook and Sena Magill attended a national conference earlier this month where two people tested positive for COVID-19.
The two attended the National League of Cities conference in Washington, D.C., and were in the area from March 7 to March 9.
Magill, 47, is in self-quarantine and awaiting test results after showing coronavirus symptoms. She has tested negative for the flu and strep throat. She received a coronavirus test on March 17 and is awaiting results.
Snook, who turns 67 next month, said two officials from Colorado and one from Utah who attended the conference have tested positive for the virus. The league notified attendees of the tests on March 17.
The conference was scheduled from March 8 to March 11. Snook said the two were staying with his sister in Loudoun County and returned together on March 9.
Magill said she has been in isolation since returning home and has only ventured outside for doctor visits. She participated electronically in a City Council budget work session on March 12 and council's regular meeting on March 16.
Snook, who is an attorney, physically attended the council's meetings on March 12 and March 16. He spoke to The Daily Progress on Monday over the phone from his office.
Snook said that he has not experienced any symptoms and is not in self-isolation or quarantine. He is not attending court and has cut down on his interactions with other people.
"I've been trying to minimize my out and aboutness," he said.
According to the CDC, people are most contagious when they are showing symptoms. However, two recently published studies estimate that about 18% of people infected with the virus could be asymptomatic.
Snook appeared on the I Love Cville Show on Thursday, where he sat less than the recommended six feet away from the host.
"The danger is caused by the people who are showing no symptoms who sit there and say, 'Why are you telling me to stay home? I'm not sick,'" he said on the show.
Magill's symptoms worsened after she returned home on March 9. Snook said she wasn't exhibiting any symptoms when they were together.
"At no time did I sit there and say, 'oh my god, she's got it, I'm exposed,'" he said. "But on the other hand I'm conscious of what the governor wants us to do."
---
Hey-Hey Whaddya Say
There's no hockey ... or sports at all. I feel like we could use some good dogs to make us feel better so here's one.
---
Odds & Ends
Normally I'd let you get a look at all sorts of headlines across the country. However, many of them are related to this virus and you've probably already seen them all.
---
Your tax money pays for most of the services in Charlottesville. Your thoughts, opinions and questions matter to shape public policy and being informed on the issues is the best way to make your voice heard!
If you enjoy this newsletter and like sharing things, send your friends and colleagues to this link. We need your help to grow the newsletter and others provided by our staff!